Assad Says U.S. Foreign Policy in Syria Responsible for Civil War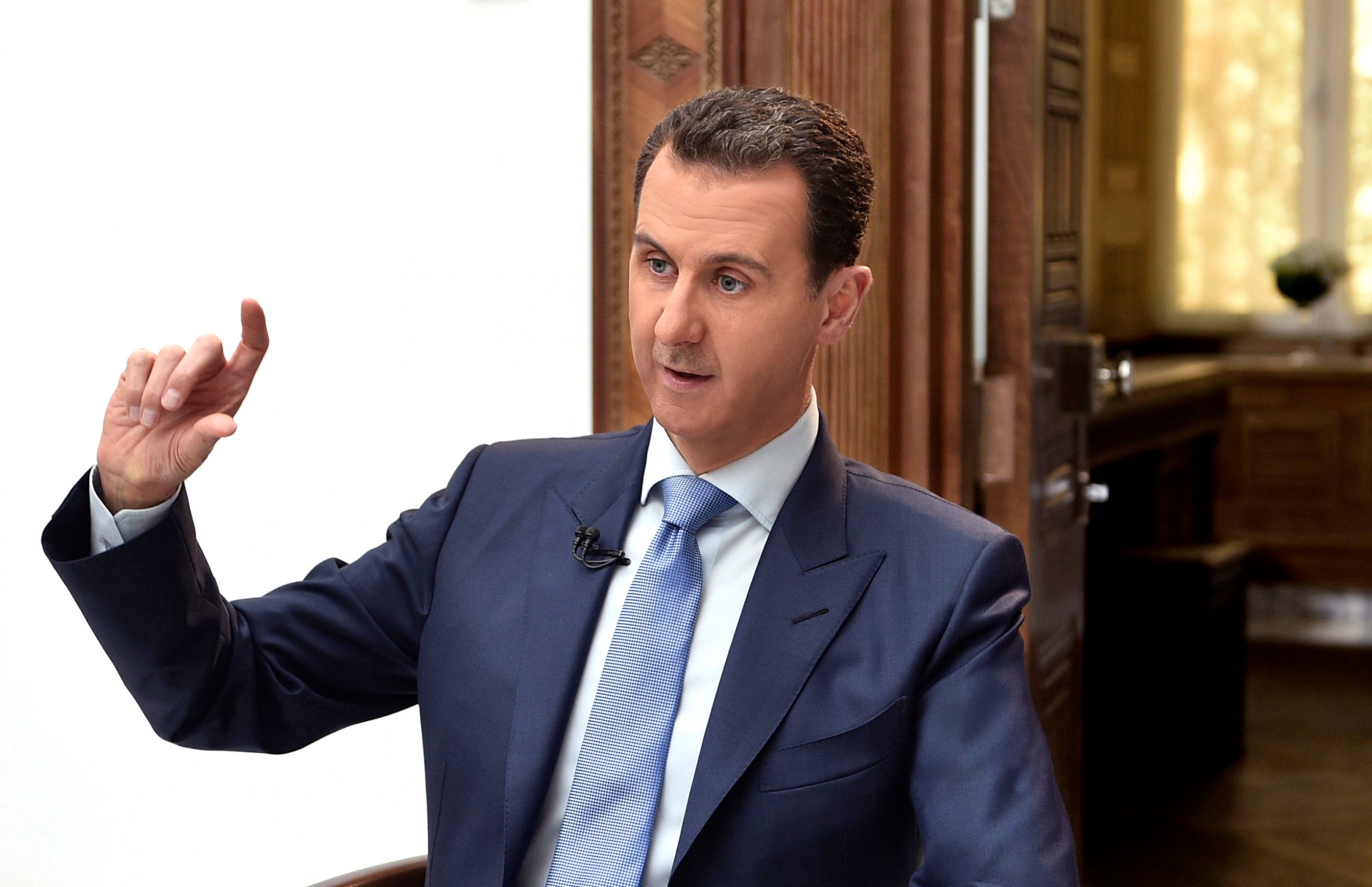 Syria's President Bashar al-Assad accused the U.S. of intentionally destabilizing foreign nations and said his army must win the country's six-year civil war in order for Syria to have a viable future.
Assad made the remarks during an interview with Croation newspaper Vecernji List that was published Thursday. The Syrian leader, whose army has battled various insurgent groups since 2011, echoed previous comments in which he said the conflict would be finished within months without foreign support for opposition groups and called out the U.S. for having trained and equipped Syrian rebels under former President Barack Obama. He also criticized Washington's current military deployment, which supports the Kurd-dominated Syrian Democratic Forces (SDF) in their battle against the Islamic State group, also known as ISIS.
"American policy is based on creating chaos in different parts of the world and creating conflicts among states. This is not new. It has been going on for decades, but in different forms," Assad said, according to the state-run Syrian Arab News Agency.
"Through these conflicts, it secures a foothold through the contradictions and through its proxies who are already there but were able to become prominent because of the new circumstances. And then it takes part in bargaining in order to secure its interests in that region," he added.
Assad asserted that although Western nations led by the U.S. claimed to intervene in the Middle East in order to stem the spread of jihadist militants, they actually assisted ultraconservative Sunni Muslim movements by sponsoring Syrian rebel groups, some of which went on to forge links with Al-Qaeda and ISIS. These groups have been on the forefront of the ongoing Syrian conflict that has killed hundreds of thousands and displaced millions more.
"The Western countries which declared war on terrorism still support it up till now. They do not fight it. It is used only in name for domestic consumption," Assad said. "The fact of the matter is that they use terrorism as a card to achieve different political agendas, even when this terrorism backfires and claims victims in their own countries. But they do not acknowledge this fact."
Assad previously said he would welcome U.S. troops in Syria to fight ISIS—under the condition that they coordinated their campaign with his ally, Russia. Last year, he also said President Donald Trump could be a "natural ally" in the fight against terrorism after Trump indicated that Assad's government was preferable to other factions vying for control of Syria. While the White House said in January it was open to such cooperation, it ultimately backed an SDF offensive on Raqqa—the de facto capital of ISIS in northern Syria—without permission from Damascus or Moscow.
The SDF has maintained relations with both the Syrian government and rebels. It has grown closer to Damascus in recent months as the Syrian army secured strategic victories across the nation and rebels sought the support of Turkey, which considered the SDF a terrorist organization due to its links to militant Kurdish nationalists in Turkey. Kurdish advances have raised speculation that Kurds might seek greater autonomy in northern Syria. During his interview with Croatian media, Assad said such federalism was up to "the will of the people," but that he believed the general desire among Syrians was to keep the country united. He also said losing the war would result in Syria being "deleted from the map" and that the nation did "not have any other option except victory" for the Syrian army and its allies.
Assad has been accused by a number of Western nations, including the U.S., of perpetrating a chemical weapons attack against civilians Tuesday in the northwestern, rebel-held city of Idlib. Trump said Wednesday that Assad had "crossed many lines" and that his views toward the Syrian leader had "changed very much." Russia argued that the incident, which reportedly killed dozens of people, was the result of a Syrian military airstrike on a site being used by rebels to manufacture chemical weapons.