U.S.-Funded Broadcaster's Belarus Outlet Labeled as Extremist, Reporter Held in Jail
Radio Free Europe/Radio Liberty, an agency funded by the U.S. Agency for Global Media, has been labeled an extremist broadcaster by the Belarusian government.
Its Belarusian outlet, Radio Svaboda, was added to the government's registry of extremist organizations and one of its journalists, Aleh Hruzdzilovich, was arrested on Thursday, while fellow journalist Andrey Kuznechyk was ordered to be investigated under a criminal probe.
Hruzdzilovich has been charged with preparing for a gross violation of public order. The potential charges against Kuznechyk are unknown, although he was detained last month and continues to be held in prison.
Radio Svaboda is among more than 300 independent media outlets to be designated as extremist in Belarus. These outlets helped to cover the mass protests that rang out across the country after its August 2020 election, the validity of which has been denounced by critics as fraudulent. As a result, the government of President Alexander Lukashenko began cracking down on protesters and opposition activists. More than 35,000 people were arrested.
Hruzdzilovich is one of 31 Belarusian journalists in jail accused of different perceived crimes against the government. Opposition leader Sviatlana Tsikhanouskaya spoke in support of Radio Svaboda on Thursday.
"It is a fear that journalists will continue to expose corruption schemes, investigate who orchestrated the migrant crisis [on the borders with the EU] and how, [and] write about horrible torture in prisons," she told the Associated Press. "For Radio Svaboda, it is an evaluation of its work, [a] recognition of its necessity and effectiveness."
Radio Free Europe/Radio Liberty, which receives funding from the U.S. government, has come under fire in recent years on accusations of being a propaganda machine for the U.S.
In 2016, Gizmodo's Matt Novak wrote that the programs produced by the organization, referred to by its former name of the Broadcasting Board of Governors, "are explicitly forbidden from being broadcast inside the United States under laws that prohibit the government from releasing propaganda domestically."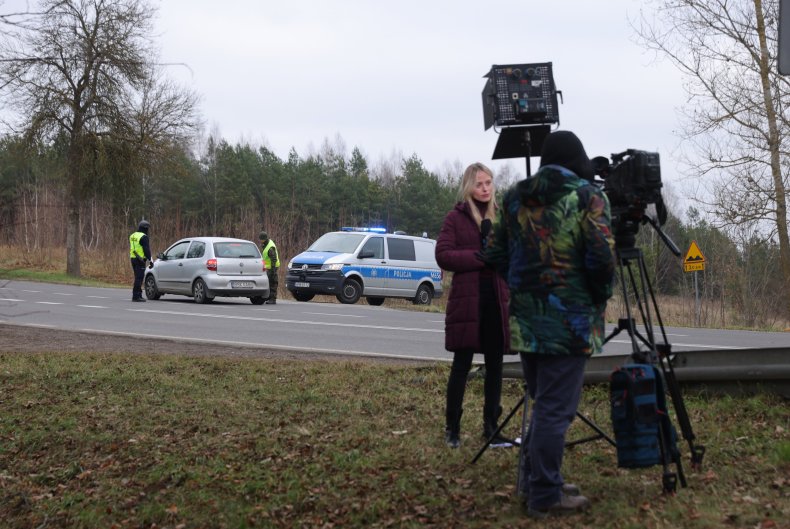 Earlier this month, a court in the Belarusian capital Minsk ruled to designate the social media pages of Radio Svaboda as extremist.
Journalists and members of the public in Belarus may face up to seven years in prison for disseminating content produced by "extremist" outlets.
Hruzdzilovich, 63, was detained in his home in Minsk, Belarus' top human rights group Viasna said, after masked law enforcement officers broke a door into his apartment. He may be imprisoned for up to four years if convicted.
Last Thursday, prominent blogger and journalist with Radio Free Europe/Radio Liberty Ihar Losik was sentenced to 15 years in prison by a court in the city of Gomel.
"Journalism in Belarus has been equated with a criminal offense, and dozens of colleagues have been thrown behind bars for merely fulfilling their professional duties," said Andrei Bastunets, the head of the Belarusian Association of Journalists. "For freedom of speech in Belarus, standards of North Korea have been set."
Tsikhanouskaya, who ran against Lukashenko in the 2020 election and was pressured by the authorities to leave the country shortly after the protests broke out, told AP on Thursday that "the truth can't be beaten up by batons and put in prison."
"The regime hopes in vain that repression against journalists will help them," Tsikhanouskaya said, commenting on the move against Radio Free Europe/Radio Liberty.
The Associated Press contributed to this report.