U.S. General: Iran Forces Acting Without Supreme Leader Pose 'Greatest Threats' at Sea
The head of the U.S. military's Central Command has pinned a number of ongoing attacks against international oil tankers on Iran, but argued that the operations were directed by lower-level military officials, not the country's leadership.
Acts of sabotage against foreign vessels carrying petroleum products emerged in spring 2019 as U.S.-Iran tensions escalated sharply a year after former President Donald Trump abandoned a multilateral nuclear deal with Tehran and major world powers.
No group or country has ever claimed responsibility for the attacks, which took place in the Gulf of Oman, but the U.S. has accused Iran's elite Islamic Revolutionary Guard Corps, or IRGC, of orchestrating them.
The incidents helped promote the establishment of the International Maritime Security Construct, a naval group now consisting of eight nations.
During remarks at a virtual event hosted Tuesday by the American Enterprise Institute, CENTCOM commander General Kenneth F. McKenzie Jr. referred to the group as well as the 34-nation Combined Maritime Forces initiative as "a very effective tool for us" in countering threats at sea, including those posed by the Revolutionary Guard acting independently of higher command.
"The greatest threats probably to commerce in the region would be the IRGC Navy doing something that was not sanctioned by higher authority," McKenzie said, "and I'll just say that the activities we typically see in the IRGC Navy are not necessarily activities that are directed by the Supreme Leader, from the Iranian state, rather irresponsible actions by local commanders on-scene."
He said U.S. military forces involved were "very careful to ensure that we don't get into a provocative cycle as a result of that"
"Luckily, our guys are pretty good," McKenzie added. "Our sailors are very well-trained, they're very capable, they're very mature and they're able to de-escalate these situations, which is what you always seek to do when you do that."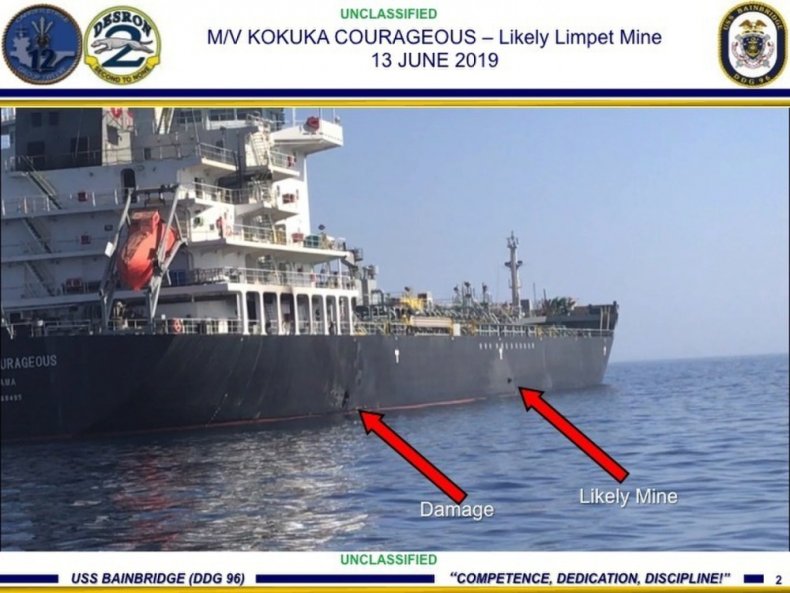 The Revolutionary Guard is one of two parallel military entities that exist within Iran, with the other being the Iranian Army, which also possesses a naval fleet. The country's commander-in-chief powers are vested in Supreme Leader Ayatollah Ali Khamenei, while the formal position entitled commander-in-chief has been held by Revolutionary Guard Major General Hossein Salami since April 2019, a month before the first tanker incident in the Gulf of Oman.
Iran has always denied responsibility for the attacks.
The Revolutionary Guard has occasionally seized other nations' ships accused of violating the rules of maritime navigation in the Strait of Hormuz, the world's most important seaborne oil traffic chokepoint, and attacks against both Iranian and Israeli ships in the strategic Red Sea have also emerged amid renewed tensions in the region.
McKenzie's remarks Tuesday came a day after the U.S. Navy 5th Fleet released footage of what it called "an unsafe and unprofessional action" performed earlier this month by the Revolutionary Guard's Navy when the force's Harth 55-class boat Shahid Nazeri crossed in front of the U.S. Coast Guard patrol boat USCGC Monomoy in the southern stretch of the Persian Gulf on April 2.
It was the first such incident in about a year, when CENTCOM accused the Revolutionary Guard's fast-attack craft of circling its warships in a series of maneuvers that prompted social media threats by then-President Donald Trump, along with a response shared with Newsweek by an Iranian official.
Footage of yet another incident involving the Revolutionary Guard and U.S. personnel was shared hours after McKenzie's comments. This time, the 5th Fleet purported to show that three of the rival fleet's fast inshore attack craft "rapidly approached" U.S. Navy patrol coastal ship USS Firebolt" and U.S. Coast Guard patrol boat USCGC Baranof "to an unnecessarily close range with unknown intent" on Monday.
The degree to which the Revolutionary Guard acts independently of the Iranian government, specifically the administration of President Hassan Rouhani, has been a controversial source of debate within the Islamic Republic.
In a previously unpublished recording leaked to the United Kingdom-based Iran International outlet and published earlier this week, Iranian Foreign Minister Mohammad Javad Zarif claimed there were limits to the constraints of civilian government on military activities.
"In the Islamic Republic, the military field rules," the top Iranian diplomat said at one point, claiming to "have sacrificed diplomacy for the military field rather than the field servicing diplomacy."
The remarks sparked a backlash within Iran and were downplayed by government officials, who condemned what they branded a criminal as an unauthorized release of private, unofficial comments meant to cause harm to the country.
"We believe this theft of documents is a conspiracy against the government, the system, the integrity of effective domestic institutions, and also against our national interests," Iranian government spokesperson Ali Rabiei told a press conference Tuesday.
He said Rouhani had ordered an immediate investigation into the alleged plot.
Iranian Foreign Ministry spokesperson Saeed Khatibzadeh defended Zarif, whose remarks he said had been taken out of context.
"This conversation was recorded only for recording in the organizational memory of the government and was not intended to be published," Khatibzadeh said, "and it is not clear by whom and with what goals and intentions it was selectively published in cyberspace."
He lamented "the increasing political immorality that we are witnessing these days" and asked for judgement to be reserved until the full conversation was published.
The reaction came shortly after the Iranian Foreign Ministry issued a rare denial of statements by a senior Revolutionary Guard official, former Petroleum Minister Rostam Qassemi, who claimed that Iran had offered military training and advisers to support the Ansar Allah, or Houthi, rebel movement currently engaged in a six-year civil war with a Saudi-backed government in Yemen, a view echoed by Washington and Riyadh.
His remarks "are contrary to the reality and policies of the Islamic Republic of Iran in Yemen," according to a statement published Saturday by the Iranian Foreign Ministry.
"Iran's support for Yemen is of a political type, and the Islamic Republic backs the peaceful resolution of the Yemen crisis and the U.N.'s efforts to settle the disastrous war in a political way," the ministry said.
The stakes of Iranian politics have escalated as President Joe Biden's administration pursues negotiations aimed at returning the U.S. to the nuclear deal just months before Rouhani's second and final term is set to end with elections scheduled for June. Qassemi announced his candidacy on Monday, making him one of a growing pool of conservative contestants expressing skepticism toward diplomacy with the West as they vie for the presidency.
This article has been updated to reflect that the International Maritime Security Construct consists of eight nations and the Combined Maritime Forces partnership consists of 34.