As U.S. Gets Closer to Coronavirus Vaccine, Fewer Americans Say They'll Get It
The U.S. has continued to move closer to a vaccine for the novel coronavirus, but fewer Americans are saying they'd get one, according to a new poll.
The poll, which was conducted by CNN/SSRS, found 56 percent of Americans saying they'd try and get vaccinated for the virus if one were widely available at a low cost. Forty percent of respondents said no, they wouldn't try to get vaccinated and 3 percent said they had no opinion.
The poll's findings show a decrease by 10 percentage points from a previous poll conducted in May. The CNN/SSRS poll from May found 66 percent of Americans saying they'd get vaccinated, while 33 percent said no, and 2 percent said they had no opinion.
CNN/SSRS surveyed 1,108 U.S. adults from August 12 to August 15 and the survey has a margin of error of plus or minus 3.7 percentage points.
A separate poll, conducted by Gallup, also showed a decrease in the number of Americans saying they'd get a vaccine. According to the poll, 65 percent of respondents said they'd accept a vaccination for the virus, if one was approved by the Food and Drug Administration (FDA), while 35 percent said no.
The Gallup poll surveyed 7,632 U.S. adults from July 20 to August 2 and has a margin of error of plus or minus 2 percentage points.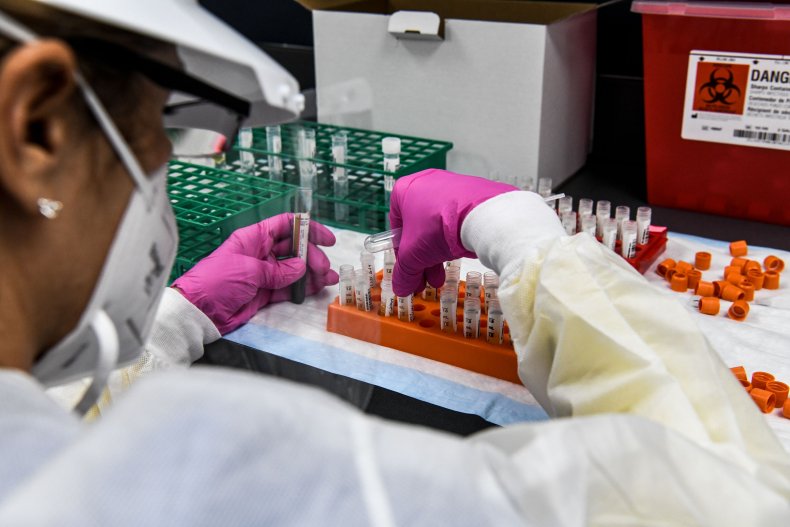 The poll's findings come as the U.S. has continued to make major steps in developing a vaccine for the virus, as the White House's Operation Warp Speed has tried to speed up vaccine trials and developments.
According to a vaccine tracker published by the New York Times, there are currently 31 vaccines in the human trial phase. Across the U.S., Moderna became the first company to begin Phase 3 clinical trials on July 27.
On the same day, the German pharmaceutical company BioNTech and Pfizer announced the beginning of its Phase 2 and 3 trial. The trial consisted of 30,000 volunteers from the U.S., Brazil, Germany and Argentina.
Novavax, a Maryland-based company also recently announced results from two preliminary studies on August 4. One of the studies showed 56 volunteers having high levels of COVID-19 antibodies.
President Donald Trump has continued to urge speed in developing a vaccine and recently suggested that one could be ready by the November 3 presidential election.
On the other hand, many prominent medical professionals, such as Dr. Anthony Fauci, director of the National Institute of Allergy and Infectious Diseases, has said that a vaccine will take much longer.
During a recent interview with the Washington Post, Fauci said "I think as we get into 2021, several months in, that you would have vaccines that would be widely available."
Newsweek reached out to the Centers for Disease Control and Prevention (CDC) for comment but did not receive a response in time for publication.