U.S. to 'Go After' Russian Oligarchs Who Stand Behind Putin: Janet Yellen
Secretary of the Treasury Janet Yellen reiterated the Biden administration's intentions to "impose severe consequences" on Russian President Vladimir Putin and his wealthy supporters in a speech Wednesday.
Yellen spoke at the University of Illinois Chicago's Innovation Center the day after President Joe Biden's State of the Union address and stated that the Treasury Department has made it a priority to "go after oligarchs or Russian elites who are key to President Putin's corrupt power."
"We have sanctioned many of these individuals and we are working with Justice Department colleagues and our international allies to uncover, freeze and seize their wealth around the world," she added.
As Russia continues to invade Ukraine, firing on its cities and killing at least 142 civilians, according to Newsweek's live updates on the situation, the U.S. and other western countries have responded with a series of sanctions. The most recent sanctions, announced earlier Wednesday, targeted both Russia and Belarus for "enabling" Russia's actions.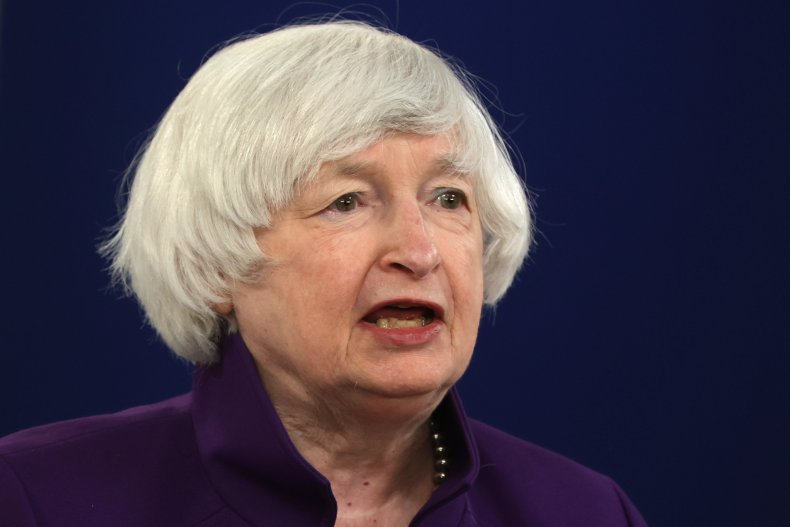 The U.S. Department of Justice (DOJ) also announced Wednesday that it would put together a task force to enforce the sanctions. Attorney General Merrick Garland said the department "will use all of its authorities to seize the assets of individuals and entities who violate these sanctions."
In her speech, Yellen said that 80 percent of Russia's banking assets are under restrictions from the Treasury Department and that half of the assets in Russia's central bank have been immobilized, adding that Russia is "increasingly on an economic island."
"The Treasury Department and finance ministries around the world together have isolated the Russian economy and made it harder to finance Putin's war of choice," Yellen said.
Following her speech, Yellen told reporters that the Treasury Department would also keep an eye on the sanctions' effects and adjust them should any of the sanctioned individuals or organizations find workarounds.
Russian Foreign Minister Sergei Lavrov said last week that the sanctions on him and Putin were an example of the west's "absolute impotence" regarding foreign policy. The Biden administration announced it was joining the European Union and the United Kingdom in sanctioning the two on Friday.
"As President Biden conveyed in last night's State of the Union Address, American economic policymaking is a powerful tool in service of democracy," Yellen said. "In recent days, we've used it to weaken Russia. I'm proud of the role the Treasury Department has played—and will continue to play—in these efforts."
Update 03/02/22, 6:40 p.m. ET: This story was updated to add more information.