Is U.S. Going to Attack Syria Again? Russia Thinks So and It's Getting Ready for Action
Russia has warned that the U.S. and may gearing up for a new round of military action against Syria, where Washington-led strikes against the Moscow-backed government have traditionally followed reports of the use of chemical weapons.
The Russian Ministry of Defense issued a new warning Monday suggesting that the Pentagon was building up its naval capabilities in the Middle East in anticipation of a chemical weapons attacks that would be followed by U.S.-led missile strikes on pro-Syrian government forces preparing to storm the final rebel-held bastion of Idlib in northwestern Syria. The U.S. has accused Syrian President Bashar al-Assad of using internationally-restricted toxic gas assaults and committing other war crimes against opposition fighters and civilians, but his Russian and Iranian allies have backed the Syrian leader in dismissing the claims and at times blaming his local and international detractors for staging such events.
"The United States keeps building up the cruise missile carriers group in the Middle East as part of preparations for another provocation in Idlib Province to be presented as an alleged use of chemical weapons," Russian Defense Ministry spokesperson General Igor Konashenkov told media outlets, according to the state-run Tass Russian News Agency.
Pointing a finger toward alleged Western backing for the jihadi coalition that dominates Idlib, Konashenkov said "these preparations are fresh confirmation of U.S. intentions to use as a pretext a likely simulation of the government forces' chemical attack, which Hayat Tahrir al-Sham militants are plotting with active support from British secret services."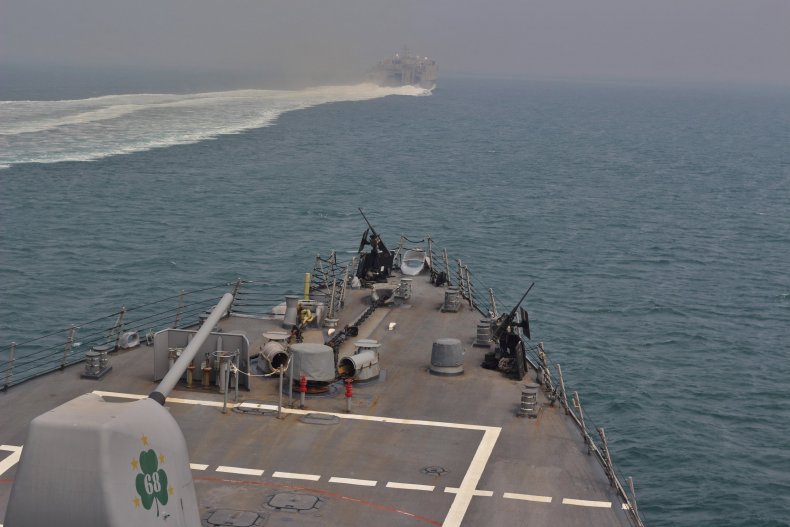 The U.S. was a supporter of Syrian insurgents trying to topple Assad in the wake of a 2011 uprising but drew back assistance as the opposition grew increasingly influenced by Islamist and jihadi forces. In 2014 the U.S. formed a coalition to begin bombing the Islamic State militant group (ISIS), which took about half of Iraq and Syria and, the following year, Russia entered the conflict to support the Syrian government against both ISIS and other forces seeking to overthrow the government.
While their leaders have sought to reach some degree of cooperation over the conflict, the U.S. and Russia have accused one another of war crimes and spreading misinformation about their rival missions. The Russian Defense Ministry's comments Monday came just two days after similar findings were published by its Russian Center for Reconciliation of Opposing Sides in Syria, which also found that "Western countries are increasing the grouping of carriers of cruise missiles in the Middle East."
"The destroyer USS Sullivans of the US Navy arrived in the Persian Gulf with 56 cruise missiles on board. And at the Al-Udeid Air Bases in Qatar, the strategic bomber B-1B of the US Air Force was redeployed with 24 cruise JASSM air-to-surface missiles. Thus, the West is ready once again to support terrorists and, in violation of all norms of international law, to commit an act of aggression against a sovereign state, which will inevitably cause another sharp deterioration of the situation in the Middle East region and a breakdown in the process of a peaceful settlement of the Syrian conflict," the center wrote in its daily report.
Under President Donald Trump, the U.S. has twice attacked Syria in response to the alleged use of chemical weapons. Russia and Iran condemned both attacks and has called on the U.S. to withdraw unless it cooperated with the Syrian government, which has reclaimed most of the country with the help of its international allies, in efforts to find a solution that would end the seven-year war.
Russia has also threatened to take action to protect its forces in Syria. On Saturday, the Russian Defense Ministry said that its Black Sea Fleet's Admiral Grigorovich and Admiral Essen Kalibr cruise missile-armed vessels were making their way into the Mediterranean to "augment the Navy's task force" there, according to Tass.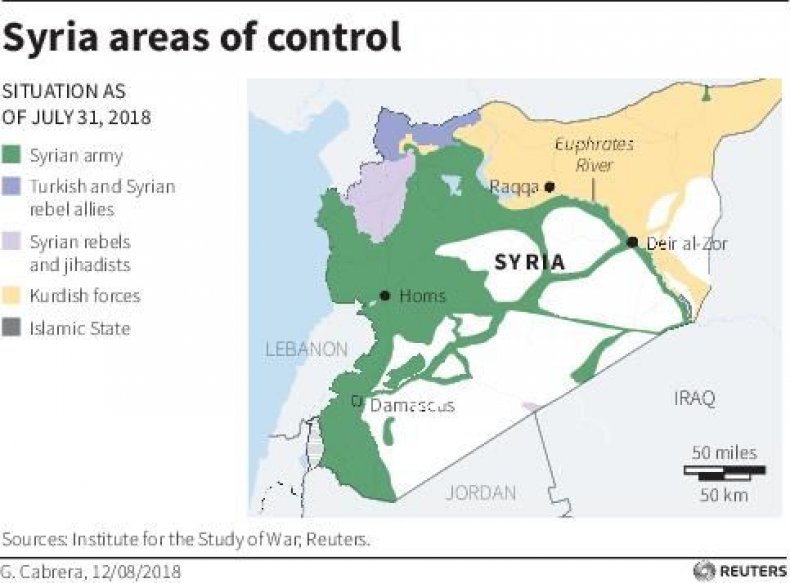 "According to press reports, Russia is already moving additional naval assets into the region allegedly in preparation for any U.S. attack against Syria. There is absolutely nothing of value in Syria that warrants even the potential for a military clash between Washington and Moscow. We gain nothing by keeping troops in Syria—at all—and it would be in our national interests to withdraw them immediately. All it does for us to have those few troops on the ground is increase the strategic risk we incur," Daniel Davis, a retired Army lieutenant colonel and senior fellow at think tank Defense Priorities, told Newsweek, noting the risk of "intentionally or accidentally being attacked by Russian, Iranian, or Syrian troops."
"If Russia wants to continue backing the bloody regime of Assad, they will get bogged down into spending enormous of money and in the process weaken their own armed forces," he added. "If anyone is going to get bogged down in Syria, let it be Russia, not the U.S., and by all means, we should avoid any military action there unless American security is directly threatened, and only then if Congress authorizes it."
The recent Russian reports came amid warnings from Western countries over the potential use of chemical weapons by the Syrian military. Joshua Landis, head of the University of Oklahoma's Center for Middle East Studies and the blog Syria Comment, told Newsweek that this "back and forth" appeared to be "a replay of the lead up to the Ghouta Campaign," located in the recently-retaken suburbs of Damascus and "in which both sides accused the other of planning the use of chemical weapons."
"I don't know what to make of the U.S. and Russian war of words over the potential use of chemical weapons in Idlib. The final reports on the use of chemical weapons in Ghouta were not definitive. There was no evidence found for the use of nerve agents, but controversy over the use of chlorine gas. The rebels had reason to carry out a false flag operation, as the regime and Russians suggested, but the regime refused to let U.N. inspectors in to test for chemical weapons until after a lengthy delay, which was suspicious," Landis said.
"There is a history of chemical use and particularly chlorine gas use by Syria as well. A similar situation leading up to the battle of Idlib is unfolding now. The Americans are warning Syria not to use chemical weapons or they will intervene and the Russians are countering that the US and Syrian opposition are planning a false flag operation in order to provide a pretext for the Americans to fire off cruise missiles and punish the Assad regime for launching its effort to retake Idlib province, the last independent enclave of Syrian rebels," he added.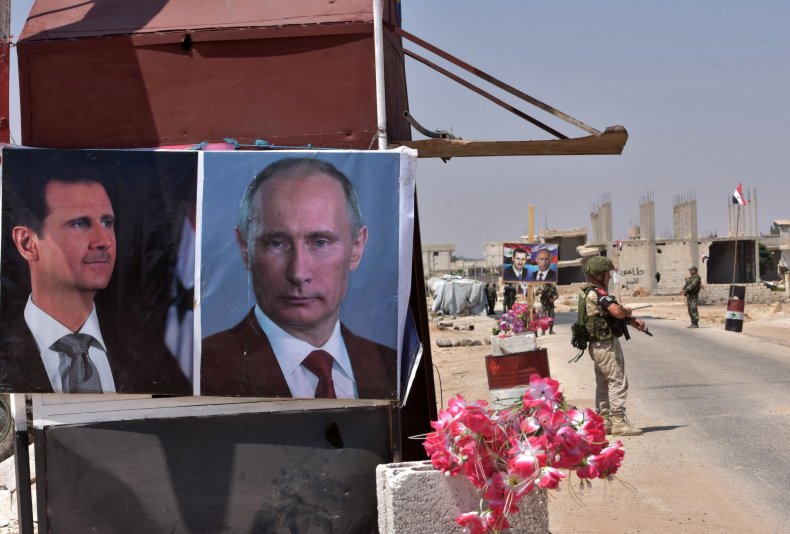 French President Emmanuel Macron said Monday he would be willing to repeat his decision in April to contribute to U.S.-led airstrikes if reports emerged that the Syrian government had used chemical weapons in Idlib, but maintained that "I have considered ISIS to be our principal enemy, and I have never made the ousting of Bashar al-Assad a condition of our diplomatic or humanitarian action in Syria," according to Agence France-Press.
U.S. National Security Adviser John Bolton warned Russian officials in Geneva Thursday that the U.S. had intelligence on a potential upcoming Syrian chemical attack and warned that the U.S. response would be stronger than ever, Bloomberg reported Friday citing people familiar with the talks. Following Tuesday's joint U.S. Mission to the United Nations statement threatening further attacks on Syria in response to chemical warfare, Bolton also spoke of a potential Syrian chemical attack Wednesday, something he said he was "obviously concerned about" ahead of "plans for the Syrian regime to resume offensive military activities in Idlib province."
"Just so there's no confusion here, if the Syrian regime uses chemical weapons we will respond very strongly," Bolton told a press briefing during his visit to Israel. "They really ought to think about this a long time before they come to any decision because there is no ambiguity in the U.S. position on this point."