The United States has restored sanctions waivers on Iran's nuclear program, allowing other countries to deal with the Islamic Republic's civil nuclear sector, a step a State Department spokesperson told Newsweek would be necessary for the final stages of talks to restore full compliance to a 2015 nuclear deal.
But the spokesperson noted that this was not necessarily indicative of an impending return to the agreement, known as the Joint Comprehensive Plan of Action (JCPOA).
"We decided to restore a sanctions waiver to enable third party participation in nuclear non-proliferation and safety projects in Iran due to growing non-proliferation concerns, in particular with respect to increasing stockpiles of enriched uranium in Iran," the State Department spokesperson said.
"Absent this sanctions waiver, detailed technical discussions with third parties regarding disposition of stockpiles and other activities of nonproliferation value cannot take place," they added.
The spokesperson also pointed out that former President Donald Trump's administration "provided a similar waiver for years, even after its reckless decision to leave the JCPOA, in recognition of this non-proliferation value." Trump left the JCPOA in 2018, instituting intensive sanctions against Iran, but allowed countries to continue conducting certain activities in the Islamic Republic for two years.
Back in 2019, Trump's own State Department noted that waivers "help preserve oversight of Iran's civil nuclear program, reduce proliferation risks, constrain Iran's ability to shorten its 'breakout time' to a nuclear weapon, and prevent the regime from reconstituting sites for proliferation-sensitive purposes."
Today, under Biden, the State Department spokesperson said "we are now returning to that status quo."
This status quo was critical for allowing talks to move forward.
"Additionally, the technical discussions facilitated by the waiver are necessary in the final weeks of JCPOA talks, and the waiver itself would be essential to ensuring Iran's swift compliance with its nuclear commitments," they said. "If talks do not result in a return to the nuclear agreement, such technical discussions could still contribute to achieving our non-proliferation goals."
However, there was still no guarantee that such progress would ultimately be achieved.
"This is not a signal that we are about to reach an understanding on a mutual return to full implementation of the JCPOA," the spokesperson said.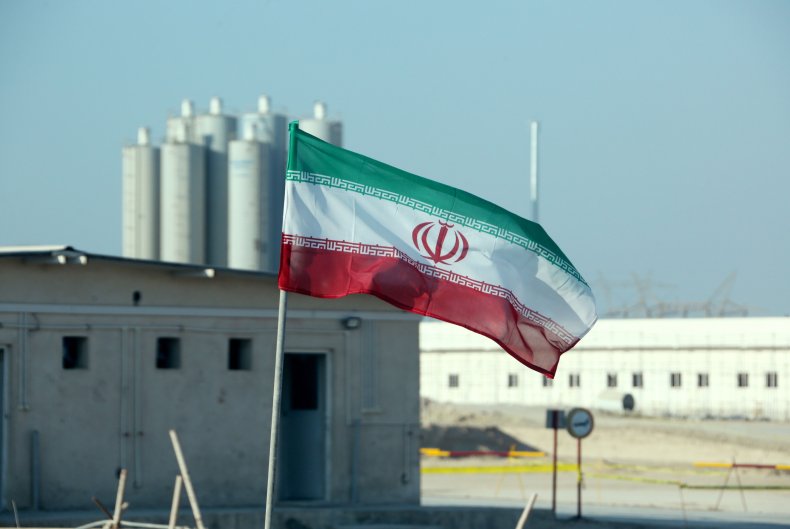 As to why President Joe Biden's administration has opted to reinstate these waivers now, after eight rounds of indirect U.S.-Iran talks alongside other original JCPOA signatories China, France, Germany, Russia and the United Kingdom taking place in the Austrian capital of Vienna, the State Department spokesperson said it was for a "simple reason."
"It will enable some of our international partners to have more detailed technical discussions to enable cooperation that we view as being in our non-proliferation interests," the spokesperson said.
And given the ongoing debate about the utility of reentering such a pact given ongoing tensions between Washington and Tehran, the spokesperson also emphasized that "this is not a concession to Iran."
"The nuclear non-proliferation and safety projects enabled by this waiver are in our vital national interest as well as the interest of the region and the world — and will continue to be regardless of the outcome of talks in Vienna," the spokesperson said. "The waiver was issued as a matter of policy discretion with these objectives in mind, and not pursuant to a commitment or as part of a quid pro quo."
While Iran and other JCPOA signatories remain parties to the accord, Washington has expressed concern over Tehran's decision to enrich uranium at higher levels than allowed by the deal. Iran has justified the move by arguing that Western powers have not lived up to their end of the deal as they have not promoted promised trade ties for fear of triggering U.S. sanctions.
Last month's latest round of negotiations in Vienna appeared to make substantive progress to achieving a deal, and a senior administration official told reporters Monday that 'we are in the final stretch."
"This can't go on forever because of Iran's nuclear advances," the senior administration official said. "This is not a prediction. It's not a threat. It's not an artificial deadline. It's just a requirement that we've conveyed indirectly to Iran and to all our P5+1 partners for some time, which is that given the pace of Iran's advances, its nuclear advances, we only have a handful of weeks left to get a deal, after which point it will unfortunately be no longer possible to return to the JCPOA and to recapture the nonproliferation benefits that the deal provided for us."
A second reason, according to the senior administration official, was that the latest negotiations in Vienna "were among the most intensive that we've had to date."
"We made progress narrowing down the list of differences to just the key priorities on all sides," the senior administration official said. "And that's why now is a time for political decisions. Now is the time to decide whether – for Iran to decide whether it's prepared to make those decisions necessary for a mutual return to compliance with the JCPOA."
That same day, Iranian Foreign Ministry spokesperson Saeed Khatibzadeh also told reporters that progress had been made and blamed the U.S. team for the slow pace of the 10-month process.
"The negotiations have made good progress in the past three weeks," Khatibzadeh said. "There has been some sluggishness in the negotiations because the other side has not made decisions and has not shown initiatives."
He rejected the idea of "forged deadlines" and said a deal was possible.
"If the other parties to the negotiations, especially the United States, has made its decisions when it returns to Vienna and ratifies the legitimate demands of the Islamic Republic of Iran and does not demand more from JCPOA," Khatibzadeh added, "we can surely reach a lasting and reliable agreement."
Newsweek has reached out to Khatibzadeh for comment on the latest development.