A series of unconfirmed reports have come out stating that security forces allied with the Ethiopian federal government have conducted mass detentions, killings, and forced expulsions of the Tigrayan ethnic group, leading the U.S. State Department to release a statement expressing that it is "gravely concerned."
Amnesty International and Human Rights Watch (HRW) told Reuters that armed forces in the Amhara region have "stepped up" the killings, mass detentions, and expulsions referenced by the State Department. Additionally, the agency reported, but could not independently confirm, that an Ethiopian air raid killed 28 people in southern Tigray.
The Tigray region and its people have found themselves at odds with the Ethiopian government after a series of internal national political moves resulted in Tigrayans being removed from federal positions of power. As the region's influence waned, its leaders made moves to gain greater regional independence from the larger state which the Ethiopian government deemed illegal, prompting it to go on the offense as a maintaining control.
As of December 2, the United Nations Office for the Coordination of Humanitarian Affairs (OCHA) reported that roughly 1.2 million people have been displaced from the western region of Tigray which has seen some of the worst violence. In this region, the Amhara, another Ethiopian region led by the Amhara ethnic group, and Tigray forces face a dispute over claims to land. The State Department release ties the killings, detentions, and expulsions to Amhara forces.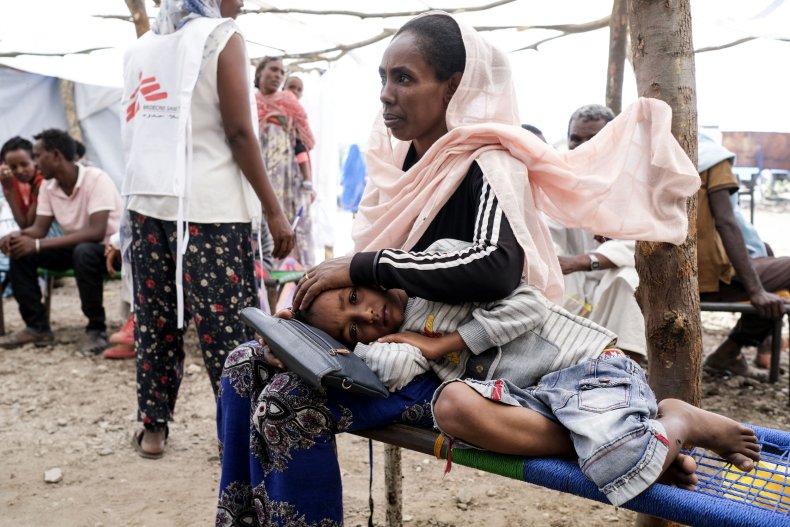 "The United States is gravely concerned by unconfirmed new reports alleging mass detentions, killings, and forced expulsions of ethnic Tigrayans in western Tigray by Amhara security forces," State Department spokesperson Ned Price said in a statement.
"We call on Amhara leaders to renounce violence against civilians. We also reiterate our call on Eritrea to remove its forces from Ethiopia. We urge the Ethiopian authorities to investigate these reports to determine their veracity and to commit to inclusive, transparent processes to hold responsible those accountable," the statement continued.
Amhara regional spokesperson Gizachew Muluneh called the allegations of abuse in western Tigray as "groundless and unjustifiable," Reuters reported. Legesse Tulu, a spokesperson for the Ethiopian government, said "Tigrayan forces were to blame for any atrocities," Reuters wrote.
The U.S. government has called on the Ethiopian government to end the conflict and to open an "inclusive national dialogue" with Tigray forces.
"We call on all armed actors in Ethiopia to renounce and end violence against civilians. We also reiterate our call for a cessation of hostilities, an immediate end to human rights abuses and violations, negotiations without preconditions, unhindered humanitarian access, and the start to an inclusive national dialogue," the Price statement read.