U.S. And Greece to 'Strengthen Cooperation' on Border Security and Share Intel
Over the past three years, the U.S. has seen its borders all but shut under the leadership of President Donald Trump. Immigration advocates in Greece fear their country may soon follow suit under the leadership of recently elected Prime Minister Kyriakos Mitsotakis.
In recent months, Greece's new government has announced measures to strengthen border security and clamp down on overcrowding at migrant camps on islands neighboring Turkey.
Not only has the Mitsotakis administration pledged to deploy more officers to Greek borders and expedite the processing of cases, but the government has also vowed to shut down at least three of the country's largest migrant camps and replace them with facilities immigration advocates have branded "detention centers."
If it seems like Greek officials are taking a page from the U.S.'s immigration playbook, that hunch might not be far of. Giorgos Koumoutsakos, Greece's alternate minister of citizen protection, who oversees immigration matters, told Newsweek about plans to "strengthen cooperation" between the two countries in an interview last week.
'Guardian' of the West
Speaking in Koumoutsakos' office in Athens, the immigration official discussed the details of a recent "productive" meeting with recently appointed U.S. Department of Homeland Security Acting Secretary Chad Wolf.
"We had very good discussions," Koumoutsakos said of the meeting in late November.
According to the official, there were three areas where the two government officials determined they could potentially "strengthen our cooperation": security, border control and removals.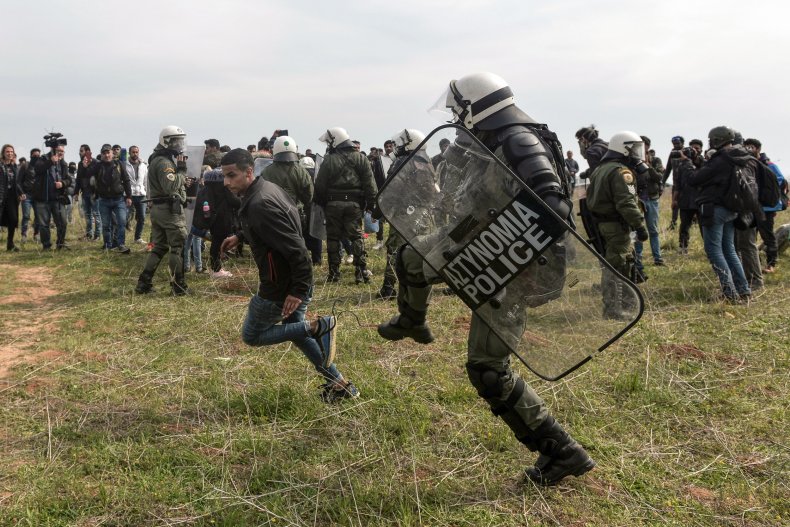 Ultimately, Koumoutsakos said, Greece "is the guardian of the European borders and the borders of the West." As such, he said, it made sense for the U.S. and Greece to "exchange data" on border control and surveillance. Asked what kind of surveillance information the two countries could potentially share, the immigration minister did not expand. However, he said his government was "very sensitive" to U.S. concerns on immigration and vice versa.
In a statement sent to Newsweek, a DHS spokesperson agreed that the November meeting between Wolf and Koumoutsakos was "productive."
"Both the United States and Greece have experienced record surges in irregular migration in recent years," the spokesperson said. "So, the two leaders discussed their respective experiences and potential opportunities to enhance cooperation against the threat of terrorists and other bad actors seeking to exploit migration routes."
While the DHS spokesperson told Newsweek that "no specific arrangements" had been made to share intel or enhance cooperation with Greece at the time, officials on both sides said they expected discussions to continue in the near future.
That premonition appeared to come true this week, with Wolf tweeting on Tuesday about his "productive meeting" with the Greek Ministry for Citizen Protection's top official, Minister Michalis Chrisochoidis, on "U.S.-Greece partnership."
Specifically, Wolf said, the DHS "is committed to helping Greece strengthen capacity to address surging migrant flows that could be exploited by Foreign Terrorist Organizations."
"The security of our nation & allies is my top priority," he said. Newsweek has contacted the DHS for more information on what was discussed during the meeting.
'The situation...has become unsustainable'
In recent years, both Greece and the U.S. have experienced significant numbers of arrivals of migrants, asylum seekers and refugees. Greece has seen at least 69,214 arrivals so far in 2019 as of December 8, according to data published by the United Nations Refugee Agency (UNHCR).
That number marks a slight increase from 2018, which saw more than 50,5000 arrivals. However, it is significantly lower than the surge Greece saw at the height of the European migration crisis in 2015, when the country had more than 860,000 arrivals, the vast majority of those being by sea.
The majority of people arriving to Greece are coming from Afghanistan, Syria, the Democratic Republic of the Congo, Iraq and Palestinian territories.
Meanwhile, in the U.S., the Customs and Border Protection agency saw a sharp increase in arrivals in fiscal year 2019, with nearly 980,000 people apprehended or deemed inadmissible at the southwest border, compared to just over 521,000 stopped at the border in fiscal year 2018. In fiscal year 2015, when President Barack Obama was still been in power, the U.S. saw nearly 445,000 arrivals.
While the Trump administration has overseen a widespread immigration crackdown at the border and across the country, Greece has also sought to control its borders, with migrant camps on islands like Lesbos and Samos facing severe overcrowding.
At Moria refugee camp on Lesbos, Koumoutsakos noted: "For a camp for 3,000 people, you have 12,000 and even more."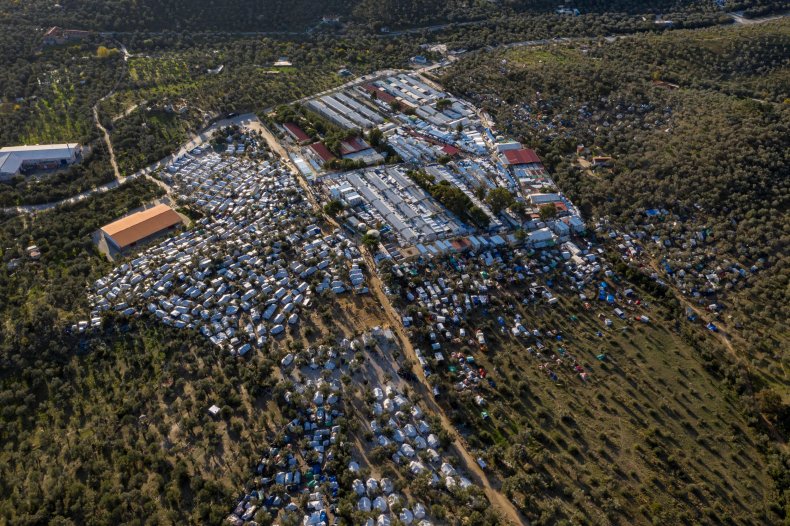 "The situation with the camps has become unsustainable," the immigration minister said.
That is why, he continued, the Greek government plans to make sweeping changes to its immigration system, including a decision to move at least 20,000 people from the islands to Greece's mainland and shutting down camps in favor of tightly-regulated detention facilities.
Those who have had their immigration applications denied, Koumoutsakos said, will be placed in "detention or controlled pre-departure camps."
Asked what will happen with those whose cases are still being processed, including many families who arrive on Greece's shores, the immigration minister said he did not have enough information to expand on the matter.
"I don't know...I'm not pretending that I don't know the answer," he said. "I focus very much on the international dimension."
'Look for the answer in Turkey'
Koumoutsakos did, however, seek to push back against criticisms that Greece's new government could risk worsening the situation for migrants, asylum seekers and refugees by turning to detention centers as a solution.
"It's not a crackdown," he said. "There was a spike of arrivals. There was no crackdown. There were problems that surfaced because of the spike in the migration flows."
The Greek official also laid much of the responsibility for the rise in arrivals at the country's shores on Turkey's shoulders due to the neighboring nation's own tightening regulations on immigration.
"I have to tell you, we should look for the answer in Turkey," Koumoutsakos said. "Their policies have totally changed and [become] more strict."
The immigration official said he believed the country's clampdown was largely influenced by growing outcry from residents of communities receiving the lion's share of arrivals of migrants, asylum seekers and refugees.
Turkish President Recep Tayyip Erdogan's repeated threats to open the "floodgates" and send millions of refugees to Europe if it branded his military offensive in Syria an invasion have also not helped the situation, Koumoutsakos said.
"This is an open invitation...because if you repeated the same message that one day the floodgates will be open...This is an open invitation both to migrants and to the smuggling networks to say to their clients that you should come closer to the doors, because the doors will be open," he said. "It's an invitation for people to move westwards, which, by itself, is pressure to the Turkish borders and pressure to Greece."
"We recognize that Turkey has a very heavy burden to carry," he said. But, he later added, "we all have to admit that Turkey has a central role in this."
'Migration fatigue'
In addition to pressure from Turkey, Koumoutsakos said Greece's government has also faced demands from the country's own citizens, with some communities calling for tighter restrictions on immigration.
"This is a very hospitable region. Most of this is our way of life," the immigration head said. But, he added: "I need to stress the fact [that] the very same people who...opened their hearts, their houses, their arms, they supported those people who were coming from Syria and other places during the big migration crisis, the same people now, they stay behind closed doors and they have locked their doors and probably their hearts because there is a migration fatigue that has been established."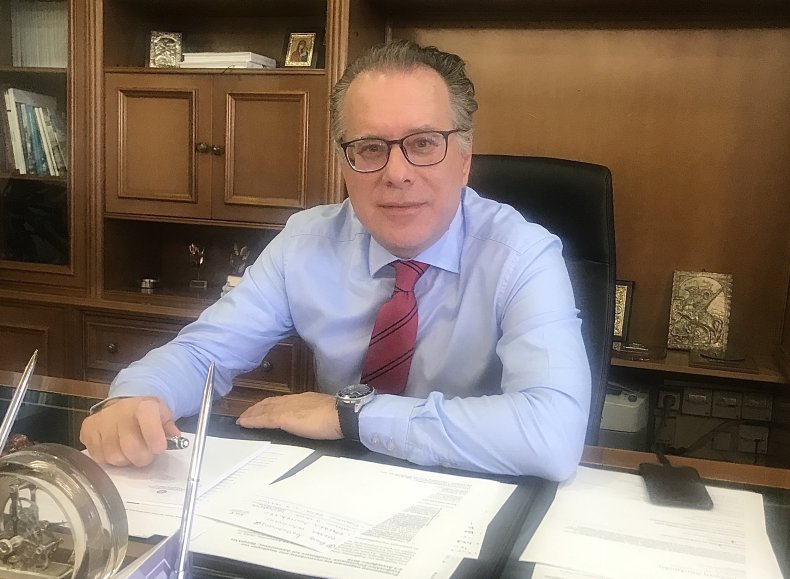 "You should take care of the feeling of insecurity of your own country," he said. "You are obliged to take and give that necessary attention."
Branding his administration's "philosophy" on immigration policy as "democratic strictness or fairness," Koumoutsakos said Greece's leadership was trying to "find the right balance between fully respecting the commitments when it comes to human rights, but at the same time...securing our borders."
'The new Trump'
On the streets of Athens the very next day, hundreds of protesters, many of which were university students, appeared to refute that sentiment, accusing Greece's new government of failing to act in the best interests of the country and those seeking refuge within its borders.
For weeks, protesters have been taking to the streets in rallies that started with opposition against a decision to end a campus asylum rule barring police from entering school premises unless necessary. However, in the months that have passed since the protests began, demonstrators have also been fighting against other issues, including the government's immigration plans.
Speaking to Newsweek at a weekly protest on Thursday, a 20-year-old university student at the National and Kapodistrian University of Athens, whose identity has been withheld over fears of retribution, said they believed the government's plans to detain asylum seekers in closed facilities and to clamp down on border security were racist.
"Our demands are also that this racist attack of the government should stop. We want our universities open and we want them open to refugees," they said.
The government, the university student claimed, "might want to seem as if they are a center-right government, but inside they are also fascists."
"They are the new Trump, the new Salvini of Europe," they said referring to President Donald Trump and fellow immigration hardliner Matteo Salvini, the former Italian Deputy Prime Minister of Italy.