U.S. Greenhouse Emissions See Biggest Drop Since World War II in 2020
U.S. greenhouse gas emissions dropped by 10.3 percent in 2020 as the coronavirus pandemic gripped the country, marking the largest emissions decline since World War II.
A report released Tuesday by the Rhodium Group shows that the economic impact on the transportation, electric power and industry sectors last year resulted in a bigger emissions dip than during the Great Recession of 2009, when levels dropped by 6.3 percent.
The drop puts U.S. emissions 21 percent below 2005 levels, outpacing a previous pledge made to reduce levels by 17 percent below 2005 under the Copenhagen climate agreement.
The transportation sector lead the decline, with a sharp emissions drop of 14.7 percent from 2019 levels, as travel diminished across the country at the start of the pandemic in March.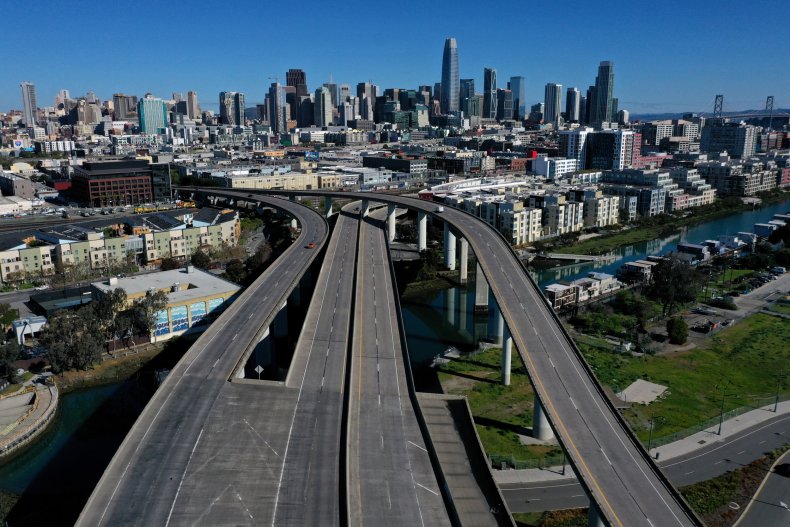 But the report's authors warned that the new data does not mean the U.S. is on perfect track to reach the more ambitious goal of cutting emissions by up to 28 percent, under the 2015 Paris climate agreement.
"2020 should not in any way be considered a down payment toward the U.S. meeting its 2025 Paris Agreement target of 26-28% below 2005 levels. The emission reductions of 2020 have come with an enormous toll of significant economic damage and human suffering," the report said.
"With coronavirus vaccines now in distribution, we expect economic activity to pick up again in 2021, but without meaningful structural changes in the carbon intensity of the US economy, emissions will likely rise again as well."
President Donald Trump announced the withdrawal of the U.S. from the Paris Agreement in June 2017 and officially removed the country on November 4, 2020. Over the past four years, Trump's administration has rolled back over 100 environmental regulations covering clean air, water, wildlife and greenhouse gases.
President-elect Joe Biden said he will rejoin the Paris accord as soon as he is inaugurated on January 20. Biden has outlined an ambitious climate-action plan and intends to set the country on a path to net-zero emissions by 2050.
In December, Biden tied his climate plan to economic recovery from the pandemic, calling for 500,000 new electric vehicle charging stations, construction of 1.5 million energy-efficient homes and public housing units, and the creation of a Civilian Climate Corps to initiate climate and conservation projects.
"Folks, we're in a crisis," he said on December 19. "Just like we need to be a unified nation to respond to COVID-19, we need a unified national response to climate change."
Mark Nevitt, an associate professor of law at Syracuse University who specializes in climate change law and policy, previously told Newsweek that Biden's administration could represent the "first real chance" of climate change legislation in many years.
"The U.S. is the world's largest historical emitter of greenhouse gas emissions and the second-largest annual emitter behind China. The world needs U.S. leadership and innovation on the climate stage," he said.
Newsweek reached out to the Rhodium Group for additional comment but did not hear back in time for publication.