U.S. Gun Sales Spike Amid Pandemic and Protests
After firearm purchases peaked near the start of the novel coronavirus outbreak, vendors in a number of United States regions said sales increased again recently.
According to reports from local news outlets throughout this week, vendors in Florida, Alabama and North Carolina have noted substantial rises in demand from their communities.
One Alabama vendor, Rick Lowell, voiced concerns about the upward trend in comments to WALA FOX10 News on Thursday. "You've got a lot of people buying guns that are not real familiar with guns, and a gun is a dangerous tool," he told the outlet.
Both vendors and financial analysts have discussed a possible link between heightened firearm sales and demonstrations that have taken place across the U.S. since Minneapolis resident George Floyd died in police custody on May 25. Those rallying to protest systemic police violence and racism, in light of multiple deaths that occurred under similar circumstances just this year, have largely done so nonviolently, though some people have committed looting and other crimes amid demonstrations.
In response, leaders have imposed curfews while police have used tear gas, rubber bullets and other means of force to disperse crowds. Drawing a possible link to rising firearm sales and stocks, financial analyst Cai von Rumohr told Business Insider on Tuesday that "civil unrest could bolster near term gun demand."
A report published Monday by research organization Small Arms Analytics & Forecasting (SAAF) estimated that more than 1.7 million firearms were purchased across the United States in May, using data collected by the FBI's National Instant Criminal Background Check System. According to SAAF, the sales estimate represented an 80 percent increase compared to numbers reported in May 2019.
"Yet again, firearms sales have surged in unprecedented ways," SAAF's chief economist, Jurgen Brauer, said in a statement released alongside the research agency's latest May report, noting dramatic increases in nationwide handgun purchases over the last few months compared to last year's figures.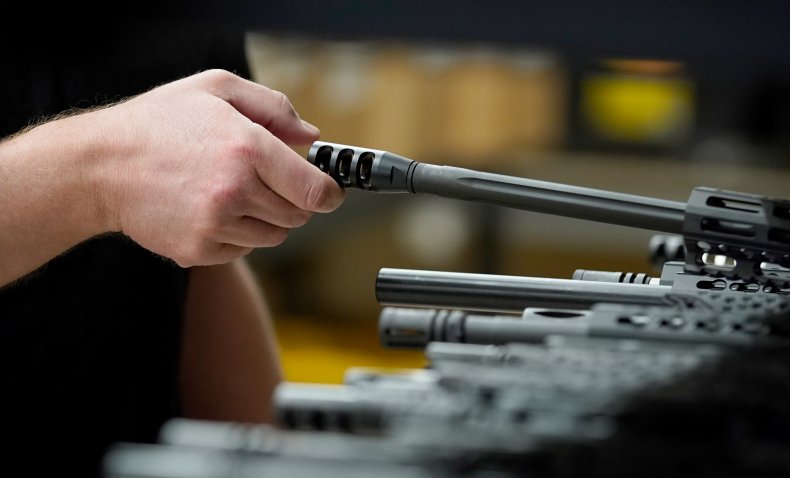 In a subsequent report published Tuesday, SAAF shared a monthly breakdown of U.S. firearm sales since the start of 2020, evaluated against monthly breakdowns from 2019. Monthly sales in 2020 were higher than they were during the first five months of 2019. Sales increased considerably after January and February. In March, April and May, sales were between 70 and 85 percent higher than numbers reported during those months last year.
Firearm sales were highest during the third week in March, with about 2.5 million purchases estimated, according to SAAF. The organization's previous reports said firearm sales in April were similar to sales in May. Brauer said the March surge in sales was "undoubtedly due to the global and national COVID-19 crisis," in an additional statement.
Newsweek reached out to the National Rifle Association for further comment but did not receive a reply in time for publication.