The U.S. Has Consigned My Innocent Husband to a Moroccan Jail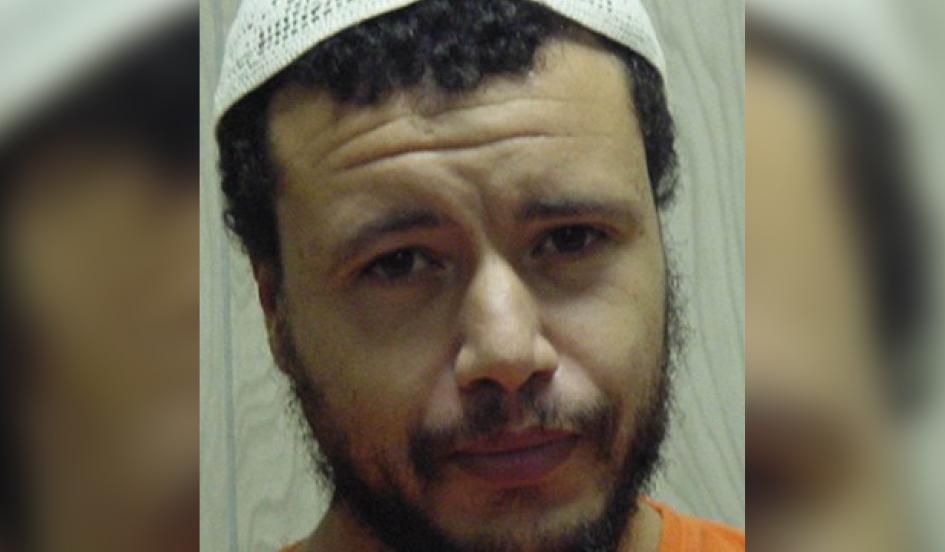 I fainted when I got the call that my husband, Younous Chekkouri, had finally left Guantánamo Bay: 14 years of worry, misery and loneliness. Our life together splintered. All that was going to end.
He was going home to Morocco. The U.S. government apparently had "diplomatic assurances" from the Moroccans guaranteeing his quick release and his freedom.
But now, a month and a half later, I am still living my nightmare. My husband is still in prison, and going before a judge November 4 to face possible charges. I can barely say it.
Related: 'Groundhog Day From Hell': Released From Guantánamo Bay, Rearrested in Morocco
Those charges are based on the false information which was concocted out of the violent early days of Guantánamo interrogations, and then sent by the Americans to their Moroccan counterparts. The "diplomatic assurances" were supposed to correct that. Both governments were supposed to have agreed that the information was nonsense.
I want to ask Secretary of State John Kerry why he is allowing this to happen to Younous and me all over again.
He may not care about us, or about atoning for what the U.S. did to my husband. But how is President Obama ever going to close Guantánamo if these diplomatic assurances are shown to be worthless? How will America ever be able to deal with this prison in a way that upholds its values? How many cleared men like my husband will stay there for want of safe destinations to go?
I last spoke to Younous over a crackly phone line on August 25. He told me that he would be released soon. I told him I was terrified: So many awful things have been published about him, I just knew that people wouldn't accept that he is innocent.
They should. In 2010, six U.S. agencies—including the CIA and FBI—looked at every detail in my husband's file and all agreed he should be cleared for released. At the same time, when Younous's lawyers managed to challenge the legality of his detention in a U.S. court, the government was forced to withdraw almost every allegation because it had no reliable evidence. But I know how these lies can stick.
Younous told me not to worry. He told me about the assurances from the Moroccan government. He wouldn't be detained for more than 72 hours. He wouldn't be charged. The Moroccans understood that all the allegations against him were false—based on nothing but torture and bribery of desperate prisoners during the early days of Guantánamo.
Three weeks later, I got a call from Younous's family to let me know he had arrived in Morocco. They said he was being interrogated, and that we'd just have to wait until after the weekend of the Eid festival for him to be released.
I hated the thought of him being interrogated again. He has had 14 years of endless questions. I've lived through that too: 14 years of asking myself every day why this nightmare was happening, and what he and I could possibly have done to deserve it.
But 72 hours came and went. Silence in my house. The same silence there has been for the last 14 years. Waiting for his voice at the end of the line. Now nearly two months have gone by, and I'm still waiting. I won't say this to him, but I don't have much more strength.
The U.S. government's secrecy is not helping. I am told that Younous's lawyers cannot even present the Moroccan court with the defense evidence that was used by Reprieve in U.S. court. The U.S. government has classified that information, and is refusing to release it—even though it proves my husband's innocence.
Many Americans think that the torture that took place in Guantánamo all those years ago is now in the past. I am not so lucky: It is my daily reality. I have lost 14 years of my life to that torture, and the false slurs it created against my husband.
If he was the man described in those allegations, why would I have married him? Do you think I would have spent 14 long years waiting for him?
Secretary Kerry, I am asking one thing of you. Hold the Moroccan government to its promises. Please get them to release my husband from prison. After 14 years of injustice, I just want this nightmare to end. I just want Younous back by my side.
Abla Chekkouri is the wife of former Guantánamo prisoner Younous Chekkouri.