Syria Claims U.S. Military Launched Deadly Airstrike Against Syrian Forces, But Washington Says It Wasn't Responsible
Syrian state media accused the U.S. of launching airstrikes against Syrian military targets in the east of the country which caused deaths and injures, though the U.S. military has denied any involvement.
The attack took place in al-Harra, southeast of the town of Albu Kamal, state media said, citing a military source who gave no breakdown of casualties other than saying there "were several martyrs and others were wounded."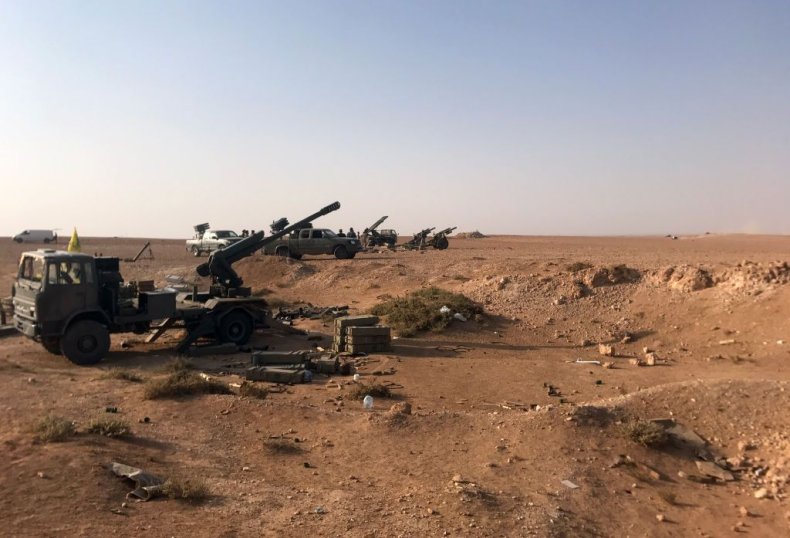 A commander in the alliance fighting alongside Damascus told Reuters that drones which were "probably American" bombed positions of Iraqi factions between Albu Kamal and Tanf, as well as Syrian military positions.
The commander, who is not Syrian and spoke on condition of anonymity, said the strike killed and injured some Iraqi fighters, but did not give a toll.
In Baghdad, Iraqi officials told the Associated Press that state-backed Shiite militias came under attack south of the town of Qaim, just across the border from Boukamal. They said 20 fighters were killed and dozens were wounded, adding that the cause of the attack was not immediately clear.
Major Josh Jacques, a U.S. Central Command spokesman, said: "No member of the U.S.-led coalition carried out strikes near Albu Kamal."
The U.S. led-coalition supports Arab and Kurdish militias in their battle against the Islamic State militant group (ISIS) northeast of Albu Kamal. The militant group has been ousted by the Syrian and Iraqi military and U.S.-led coalition from virtually all the territory it once controlled in Iraq and Syria, but still controls pockets of territory along the border of the countries.
President Bashar al-Assad's army, with the help of Iran-backed militias including Hezbollah and Iraqi groups, drove ISIS from Albu Kamal and its environs last year, but the jihadis have since staged attacks there. Last week they launching an attack on Boukemal that reached the outskirts of the town before being driven back by Syrian government forces.
The Syrian Observatory for Human Rights said unidentified planes had struck Lebanon's Shi'ite Hezbollah and other allied foreign militias around Albu Kamal.
The U.K.-based war monitor said the strikes killed 40 people.
Asked about the reported air strikes, an Israeli military spokeswoman said: "We do not comment on foreign reports."
Throughout Syria's seven-year war, Israel has carried out scores of strikes within the neighboring country against what it describes as Hezbollah or Iranian targets.
Israel, alarmed about the clout of arch enemies Iran and Hezbollah, has pressed Russia, Assad's other key ally, to make sure Tehran does not entrench its military sway in Syria.
President Donald Trump in March said that the U.S. "would be coming out of Syria very soon," indicating a possible U.S. military withdrawal from the country.