U.S. Has Evacuated 2,000 People from Afghanistan in 24 Hours, Pentagon Says
More than 2,000 people, 325 of them U.S. citizens, were evacuated from Afghanistan on 18 flights over the last 24 hours, according to the Pentagon.
Pentagon spokesperson John Kirby said at a Wednesday press conference that the U.S. military has a goal of moving 5,000 to 9,000 people to safety per day, the Associated Press reported.
Kirby added that the military is in communication with the Taliban to get Afghans into the airport. It also hopes to improve the paperwork process, including for Afghans who applied for Special Immigrant Visas.
About 4,500 U.S. troops are currently on the ground in Afghanistan to secure the airport and assist with the airlift, with several hundred more anticipated to arrive in another day. Kirby also said that the troops have discharged warning shots along the airport's perimeter to control crowds.
For more reporting from the Associated Press, see below.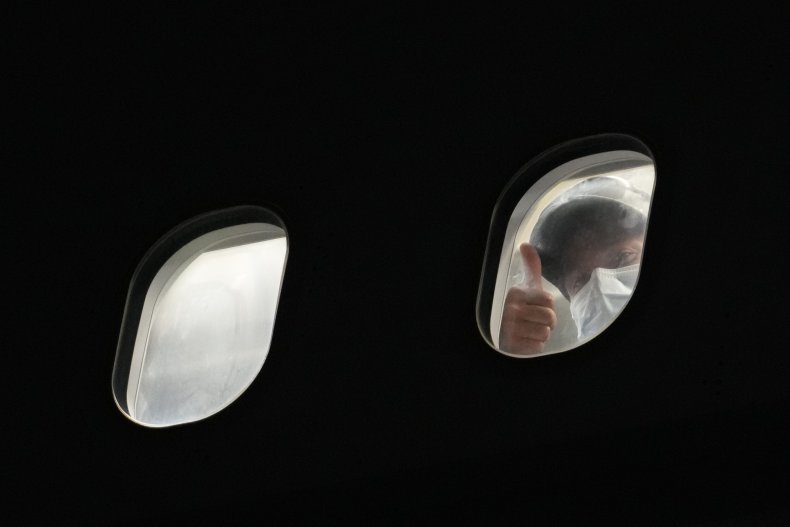 Britain trying to speed evacuation process
Britain's ambassador to Kabul says his team has "days, not weeks" to speed up the evacuation of British nationals and Afghans who worked with U.K. forces.
Laurie Bristow said his team helped 700 people fly out on military flights on Tuesday, and the goal is to help 1,000 people each day.
"We are trying to scale up the speed and pace over the next couple of days," he told Sky News. "We're working on the basis of days, not weeks, so we really do have to get those numbers through."
Gen. Nick Carter, head of the British armed forces, said he expected seven aircraft to head to Kabul to enable another 1,000 people to leave on Wednesday.
Bristow said the Taliban are supporting the operation and his team is working with them "where we need to, at a tactical, practical level."
"My assessment is that they see it as in their interests to help it to happen in an orderly and clear way," he said. "Obviously it's in our interests for them to see it that way."
Prime Minister Boris Johnson said earlier on Wednesday that authorities had so far secured the safe return of 306 British citizens and 2,052 Afghans, with a further 2,000 Afghan applications completed and many more being processed.
Save the Children committed in Afghanistan
Save the Children is warning that the unfolding crisis in Afghanistan is exacerbating what was already an extremely dire situation in the country.
The aid organization's regional director for Asia, Hassan Noor, says the aid group paused its Afghanistan operations and closed its offices as of Sunday, pending an assessment of the security situation. The group has 1,500 national staff in the country and had been working in 10 of Afghanistan's 34 provinces, reaching hundreds of thousands of children.
Speaking to journalists at an online press briefing, Noor said the future of Afghanistan's population, particularly women and children, was "very concerning," particularly with regards to how their humanitarian needs will be met.
Even before this latest conflict, Afghanistan held the world's largest internally displaced population, with 2.9 million people displaced across the country at the end of 2020. Hundreds of thousands have fled their homes in the past few weeks as the Taliban advanced.
Noor said Save the Children has decided to remain in Afghanistan for now and is committed to resume delivering aid as soon as the security situation allows.
Italian Air Force takes 86 from Kabul to Rome
An Italian Air Force jet has ferried 86 passengers to Rome's main airport from Kabul.
The Foreign Ministry said the passengers who arrived on Wednesday afternoon included Italians as well as European Union and NATO personnel plus "numerous" Afghan citizens who worked with Italy and their family members.
Italian Army Col. Diego Giarrizzo told reporters at the airport that in addition to "hundreds" of previously designated Afghan citizens, the number of those needing evacuation will "grow" since the humanitarian air bridge continues "as long as security conditions allow."
Wednesday's flight was the second such evacuation mission this week, and Italy said it is deploying a total of seven military jets to fly passengers out of Kabul airport.
"We'll make every effort to bring out as many as possible,'' the colonel said.
Among those arriving in the latest flight was a female Italian humanitarian aid worker.
Giarrizzo said Kabul airport security conditions were currently OK but stressed that they are "very fluid." U.S., British and Turkish military forces were helping to keep the airport entrance more orderly, he added.
Asked about efforts to help terrified women flee Kabul, Giarrizzo said that of "all those who need (to leave) and make a request, we are trying to bring them via this humanitarian air bridge" to Italy. "We will evaluate them swiftly....do everything possible, considering this is a humanitarian emergency."
NATO to discuss developments in Afghanistan
NATO Secretary-General Jens Stoltenberg says he will chair an emergency meeting of foreign ministers from the 30-nation military alliance on Friday to discuss developments in Afghanistan.
Stoltenberg tweeted on Wednesday that he has convened the videoconference "to continue our close coordination and discuss our common approach on Afghanistan."
On Tuesday, Stoltenberg blamed a failure of Afghan leadership for the swift collapse of the country's Western-backed armed forces, but he conceded that NATO must also address flaws in its military training program.
NATO has been leading international security efforts in Afghanistan since 2003 but wound-up combat operations in 2014 to focus on training the national security forces. NATO helped build up an army some 300,000 strong, but that force withered in the face of the Taliban offensive in just days.
Stoltenberg says that around 800 civilian personnel from NATO countries continue to work in Afghanistan, many in Kabul helping with air traffic control, refueling and communications at the airport.
Denmark sets up "air bridge" from Kabul
Danish Prime Minister Mette Frederiksen said Denmark had set up an "air bridge" between Kabul and Copenhagen via Islamabad in Pakistan, and has evacuated 84 people, including local Afghan employees and interpreters.
She said that the Taliban takeover means "the rules of the game were changed in a short time and the situation is very chaotic."
Frederiksen also said: "This was not the way we wanted to leave Afghanistan."
Danish Foreign Minister Jeppe Kofod said "a base" had been established in Islamabad for the airlifts. "The operation is in full swing. We do everything we can," he added.
The Scandinavian country's Defense Minister Trine Bramsen said Denmark also has been able to evacuate Danes, Norwegians and Americans
Turkey says there have been 62 evac flights from Kabul
Turkey's defense minister says at least 62 evacuation flights were made from Kabul's international airport in the past two days, after security was restored at the airfield.
Hulusi Akar told state-run Anadolu Agency on Wednesday that Turkish troops and other NATO soldiers were involved in the effort to restore calm at the airport. Turkish air force planes were meanwhile, evacuating Turkish citizens from Afghanistan, he said.
Turkey last month took over running the airport as U.S. troops were completing their pullout from the country.
Akar also said Turkey was engaged in talks with the United States, other NATO allies as well as other nations over Ankara's proposal for Turkish troops to continue protecting and operating the airfield.
"We have stated that we are considering continuing our work if the necessary conditions are met," Akar was quoted as saying. He did not elaborate.
Meanwhile, the first military cargo plane sent by Spain to Kabul has left the airport, but Spain's defense ministry is not yet giving any more details on how many people are on board or who they are.
The Dutch defense ministry says that a C-17 military transport plane has flown out of Kabul carrying around 35 people with Dutch, Belgian, German and British passports. The plane is headed for Tbilisi in Georgia.
Third Czech evacuation flight leaves Kabul
The third Czech evacuation flight in three days has left the Afghan capital of Kabul and is heading for Prague.
Foreign Minister Jakub Kulhanek says Afghan interpreters with their families, including children, and Afghan nationals with permanent residency in the Czech Republic are onboard the flight Wednesday.
Defense Minister Lubomir Metnar says there are 62 passengers on the flight plus crew.
The previous two flights from Kabul to Prague on Monday and Tuesday carried a total of 133 people, including Czech and Afghan nationals and two Polish women.
Four Afghans are being transported at the request of another European Union member state—Slovakia—that has pledged to grant asylum to 10 Afghans who recently cooperated with EU states. Slovakia's transport plane has yet to receive approval to fly to Kabul.
Poland evacuating people from Afghanistan
The Polish government says it's in the process of evacuating people from Afghanistan, most of them Afghans who have worked with the Polish mission there.
Poland has sent three military planes to Afghanistan to carry out the evacuations.
A government official, Michal Dworczyk, said 250-260 people have expressed a wish to be evacuated, but that not all of them might be able to reach the Kabul airport to leave. Officials said Wednesday that a first group of 50 people was flown from Kabul to Uzbekistan.
Prime Minister Mateusz Morawiecki said a Dreamliner was on its way to Uzbekistan to bring the people to safety in Poland.
Some of those being evacuated are Polish citizens but the majority are Afghans who have worked with Poles in Afghanistan.
Albania preparing for arrival of Afghans
Albania is preparing for the arrival of Afghans who worked with Western peacekeeping forces in Afghanistan and are now threatened by the Taliban.
A students' campus in the capital, Tirana, is among places that will temporarily shelter the Afghans while the United States processes their visa requirements. Some hotels at the nearby port city of Durres will also take in Afghans.
Government sources, who spoke anonymously under regulations, said that about 300 Afghans are expected to arrive on a military plane late on Wednesday.
Albania was among the first to offer temporary shelter to the Afghans leaving their country after all Western military left and the Taliban have usurped the power.
But some Albanians were upset. Llesh Perkola, a Tirana resident in the capital Tirana, wondered who had decided so fast to shelter them. Perkola said that "Albania is a small country and bringing that many people from Afghanistan is not a good thing."
Others say Albanians were in the same position after the collapse of the communist regime and the anarchy of 1997. Ylli Suberaku, 66, remembers Albanians fleeing the country toward "the world's streets." They were welcomed and integrated in the societies of the host countries.
U.S. Ambassador to Tirana Yuri Kim said Tuesday: "We've been deeply moved by the gesture of the Albanian people, the decision to give temporary refuge to those who are in greatest need."