U.S. Has Only Counted 10 Percent of Coronavirus Cases, CDC Director Says
One day after the U.S. reported its highest single-day increase in new COVID-19 cases, the director of the Centers for Disease Control and Prevention (CDC) said the real number of infected American citizens was likely far greater than health officials realized during the early days of the pandemic.
Recent data gathered by the CDC shows a greater number of young Americans under the age of 45 are now testing positive for the virus, Robert Redfield, the agency's director, said.
The data reflects increased testing capacity in states across the country, according to him.
"In the past, I just don't think we diagnosed these infections," Redfield said during a Thursday media briefing. "Our best estimate right now is that, for every case that was reported, there actually were 10 other infections."
As states' testing capacity has expanded, so too have efforts to test those who may have been exposed to the virus—not just Americans who are experiencing symptoms common with COVID-19.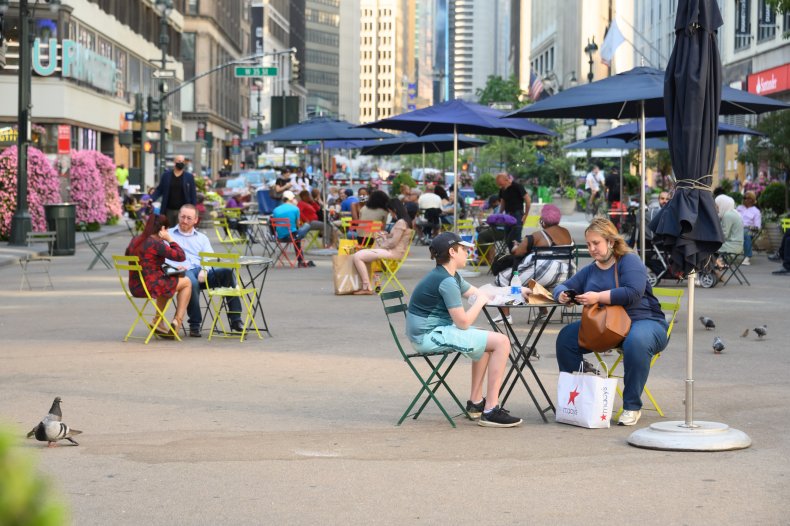 By Thursday, there were more than 2.4 million total cases of the novel coronavirus in the U.S., according to data compiled by Johns Hopkins University. The day before, the U.S. reported more than 36,000 new cases—the largest single-day increase since the virus was first identified in a Washington state resident in January.
Several states have been experiencing record-breaking increases of new cases. Though all states have begun lifting restrictions put in place earlier this year to control the spread of the virus, Texas announced Thursday it was halting its reopening as a surge in cases threatened to overwhelm the state's hospitals. On the same day, Florida's governor also made a similar announcement as that state's case count continued to climb.
The federal government's response to the pandemic has been harshly criticized for its lack of consistent messaging and the time it took to expand access to testing throughout the country. After initial delays in testing were blamed for enabling community transmission to go undetected, Americans' increased testing access has been identified by Redfield, President Donald Trump and several others as one of the reasons case counts are climbing.
During his first campaign rally in months in Tulsa, Oklahoma last weekend, the president told his supporters he wanted to "slow the testing down" because of the rising number of new cases. Earlier this week, Trump's administration said it planned to cut federal funding for several virus testing sites around the country, a decision Texas' two Republican senators have said they do not support.
The CDC did not respond to Newsweek's request for comment regarding federal support for testing in time for publication.
On Thursday, Redfield said that although the number of reported cases has increased, the current U.S. hot spots only represent about 3 percent of the country.
"When you look right now at some of the maps you've seen on television, it looks like this substantial portion of the United States is red. But in reality, we have probably about 110, 120 counties that we consider as having significant transmission," Redfield said. "When you see that it basically looks like the whole state is red, I do think that can have a mixed message for the public health response."
Redfield denied that he was downplaying the seriousness of the country's continued battle against the virus when questioned by a reporter.
"I'm not playing it down at all. This is a significant event," he said. "This is still serious. It's significant."