When Will The Heat Wave End? Flash Flood Warnings for Mid-Atlantic, Tennessee Valley and Mississippi Valley, Forecast Updates
Flash flooding is expected on the East Coast of the U.S. from today following the extensive heatwave. The National Weather Service (NWS) advises that severe thunderstorms will pose a slight risk to parts of the mid-Atlantic to southern New England today through to Wednesday.
The Tennesse Valley is also at risk from excessive rainfall from parts of the Eastern Tennessee Valley across parts of the Central Appalachians into parts of Northern Mid-Atlantic.
The heatwave, which has caused blackouts in New York City overnight, is expected to break today as a front drops southward across parts of the east, accompanied by showers and thunderstorms, according to the NWS alert. This will result in the risk of flash flooding. This affects the Western Tennessee Valley and Lower Mississippi Valley as well.
The southeast of the U.S. and the Gulf Coast is going to cool down with temperatures 10 degrees Fahrenheit below average. However, with a tropical depression or storm potentially brewing in the Gulf of Mexico, this might not last long.
A heat advisory remains in effect until 7:00 a.m. EDT today for the east coast, with high temperatures reaching up to 105F.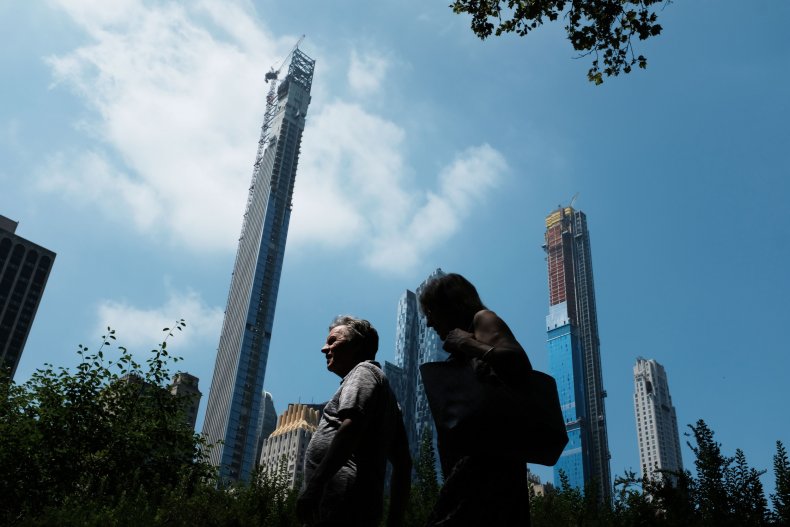 Over the weekend, events were canceled across the country such as New York City's Times Square commemoration of the 1969 moon landing as well as an outdoor festival featuring soccer star Megan Rapinoe, musician John Legend and Daily Show host Trevor Noah.
New York City also experienced a power outage overnight as utility company Con Edison (Con Ed) shut off the power to allow for repairs to avoid further and larger blackouts. However, Twitter users expressed concern over the measure as some families were shown to be sleeping in their cars.
The NWS advises that people should "drink plenty of fluid, stay in an air-conditioned room, stay out of the sun, and check up on relatives and neighbors." Americans living in at-risk areas are also advised to take extra precautions, especially if they work or spend time outside. The NWS says "anyone overcome by heat should be moved to a cool and shaded location" and that "heat stroke is an emergency, call 9-1-1."
Six lives have already been lost due to excessive heat, according to CBS News. Four people died in Maryland, one died in Arizona and another died in Arkansas.
It is not the first time that extreme heat has resulted in deaths in the U.S. In 1995, more than 700 people died over three days during a heat wave in Chicago as temperatures rose above 97F, according to Associated Press. Many of the dead were poor, elderly and lived alone.