U.S. Historians Are Fighting to Stop ICE From Erasing Records of Agency's Treatment of Immigrants
U.S. historians are rallying to stop federal immigration agencies from destroying records of their treatment towards immigrants.
In a letter addressed to the National Archives and Records Administration (NARA), which instructs federal agencies on how to maintain their records, the American Historical Association has demanded that the regulatory body shut down any "threats to the preservation of records relating to the treatment of immigrants by the U.S. Border Patrol and Immigration and Customs Enforcement (ICE)."
The letter, signed by AHA Executive Director James Grossman, comes after it was revealed that ICE had sought permission from NARA to begin destroying years' worth of data, including information on reports of sexual abuse, solitary confinement and in-custody deaths.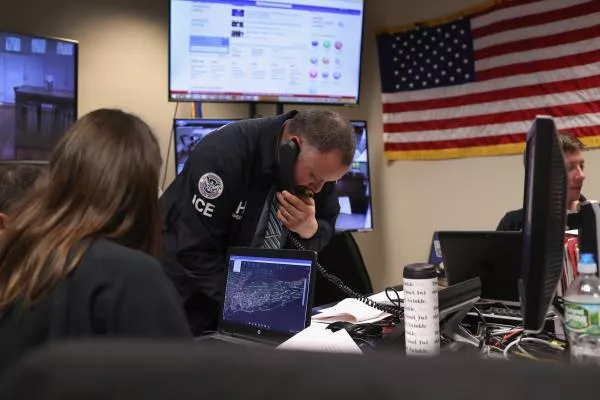 The AHA alleged has alleged that the request to destroy at least 11 "record sets," which also include logs about people detained in ICE facilities and regular detention monitoring reports, was approved on June 20, 2017.
However, the American Civil Liberties Union has said that NARA had since agreed to "review ICE's proposal more closely," after the ACLU intervened.
NARA spokesperson Laura Sheehan told Newsweek the records body had never formally approved ICE's request and said the application was still in the "public comment period" of the review and approval process.
"Federal agencies may not dispose of federal records until authorized to do so under a NARA-approved schedule," Sheehan said. "The approval of a records schedule occurs after all comments are adjudicated and the schedule completes formal internal review and it has been signed by the Archivist of the United States."
At a public meeting last month, Chief Records Officer Laurence Brewer said that NARA is currently working with ICE records management staff on "revisions to the schedule," according to the AHA.
In the AHA's letter, sent to NARA on July 25, Grossman pleaded with NARA to "deny any request for authorization to permit ICE or the Border Patrol to destroy records related to individuals in their custody.
"The potential historical significance of the events recorded in these records makes it incumbent upon NARA to ensure their preservation for the long term," Grossman wrote. "NARA should require that all records of investigations related to detainees should be retained, regardless of the outcome of the case."
Sheehan told Newsweek it is standard policy for agencies, including ICE, to be able to delete records after a certain period of time. "The majority of records created by agencies are considered temporary and subject to disposal after a set period of time," she explained.
The NARA spokesperson said the records authority estimates that only 2 to 3 percent of federal records are scheduled for permanent preservation and transferred into the National Archives.
The ACLU has maintained, however, that "an entire paper trail for a system rife with human rights and constitutional abuses is at stake."
The civil rights union has warned that given the Trump administration's plans to "increase the size and scope of the system substantially, it is all the more disturbing that the agency wants to reduce transparency and accountability."
Grossman said he was "dismayed" by the current threat hanging over the preservation of ICE's records, writing that the agency's data should be considered to be "of vital importance to historians and the American public.
"When historians look back on this period of U.S. history, it is vital that official records related to this work be available as sources," Grossman said. "Without the retention of such important and vital sources, our knowledge of history, culture, and politics will suffer."
Sheehan said that while NARA "recognizes that records not meeting our appraisal criteria for permanent preservation may nevertheless be of significant interest to the public.
"In such cases, a long-term temporary retention period ensures that interested parties may request the records from the originating agency through the Freedom of Information Act (FOIA) process."
Sheehan said NARA is currently working on a "revised schedule" covering the handling of its records, which she said would be published in the Federal Register.
ICE has not immediately responded to a request for comment.
Updated: This article has been updated with statements from the National Archives and Records Administration.
{{#isDisplay}} {{/isDisplay}}