Eight Cuban officials had their visas restricted as the U.S. government announced a travel ban on the eight unnamed officials it says have been complicit in the hostile actions taken toward protesters in Cuba since last summer.
In a statement announcing the decision, Secretary of State Anthony Blinken said all eight of the officials are connected to the "detention, sentencing and imprisonment" of peaceful protesters that have rallied against blackouts and other shortages since last July.
The Biden administration says about 600 protesters remain imprisoned for participating in the protests, sentences Blinken called "harsh and unjust."
"The United States took steps to enforce visa restrictions in response to Cuban government attempts to deny Cubans their freedom and rights through continued intimidation tactics, unjust imprisonment, and severe sentences," Blinken said.
The demonstrations that started last summer were the most significant in recent history, with some protests continuing into the fall to advocate for a change to the Communist government, or demanding Miguel Diaz-Canel, the leader of the Communist party in the nation, step down from his position as President.
The President banned the public demonstrations, saying they are part of a "destabilization campaign" backed by the United States to overthrow the Cuban government.
The protests started over the summer as the island nation was in the midst of its worst economic crisis in decades as the tourism-dependent economy was suffering after dealing with over a year of COVID restrictions on travel.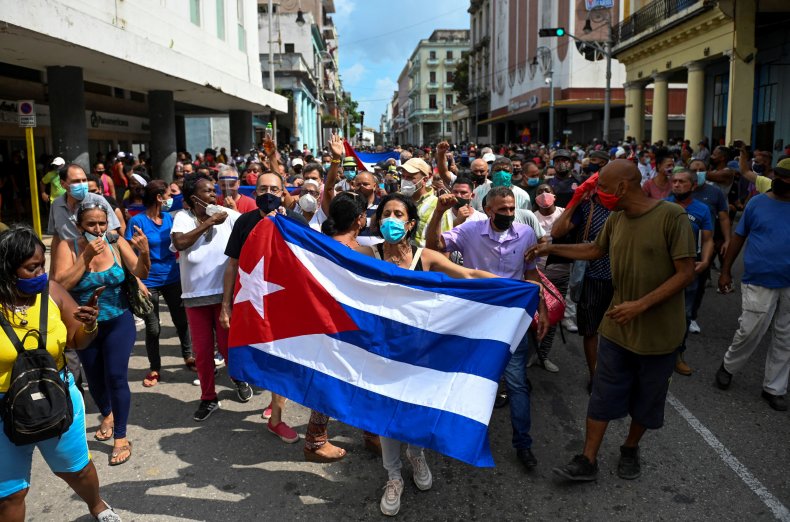 The travel bans are the latest actions against Cuba from the Biden administration, which has largely followed former President Donald Trump's highly critical policies toward the island. In late November, Blinken announced travel bans on nine Cuban officials for similar actions against protesters.
"The United States continues to use all appropriate diplomatic and economic tools to push for the release of political prisoners and to support the Cuban people's call for greater freedom and accountability," Blinken said.
Cuban Foreign Minister Bruno Rodriguez criticized the travel ban. "The US government persists in the bad habit of trying to impose its will on other governments by means of unilateral coercive measures," he said in a statement.
Rodriguez added that Blinken's announcement "in no way alters Cuba's determination to defend its sovereign rights."
The Biden administration has spoken in support of the Cuban activists and praised the anti-government protests.
Soon after the July protests, the U.S. announced new sanctions on Cuba's national revolutionary police and its top two officials.
The Associated Press contributed to this report.