U.S. Hits Milestone as 10% of Adults Receive Both Doses of COVID Vaccines
The U.S. hit a milestone on Tuesday as roughly 10 percent of the adult population have received both doses of the COVID-19 vaccine.
According to a tracker from the Centers for Disease Control and Prevention (CDC), 10.2 percent of individuals aged 18 or above, have received both doses of either the Moderna or Pfizer vaccine. Roughly 20.3 percent of U.S. adults have received at least one dose.
Both vaccines require patients to receive two doses to be protected against the virus.
The tracker shows that among the entire U.S. population, regardless of age, 7.9 percent have received both doses, and 15.6 percent have received at least one.
Additionally, the tracker shows that at least 78,631,601 doses of the vaccine have been administered among 102,353,940 that have been delivered to states.
Across the two different vaccines, the tracker shows that at least 40,169,532 doses of the Pfizer vaccine have been administered while 38,319,678 Moderna doses have been used.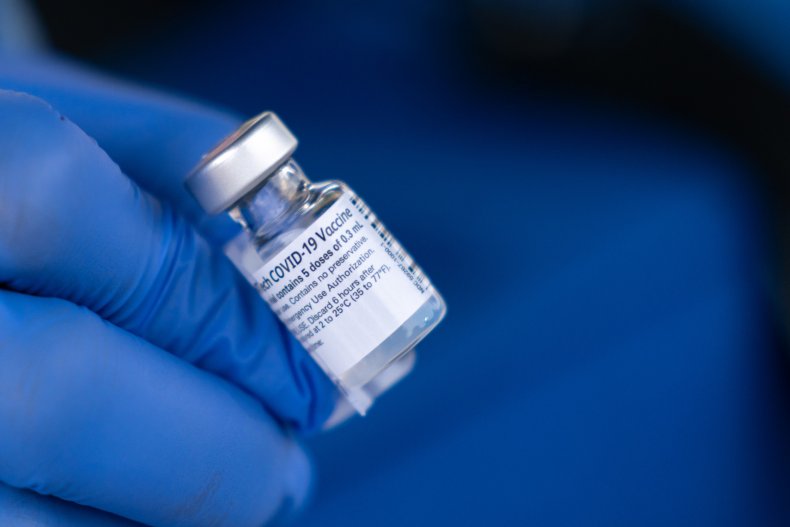 This past weekend the U.S. saw record levels of daily vaccinations, according to the coordinator of the White House coronavirus response team, Jeffrey Zients.
The milestone reached on Tuesday, comes shortly after a third vaccine, developed by Johnson & Johnson was approved by the FDA. This vaccine will only require patients to receive one dose and has shown a 72 percent efficacy rate against mild to severe cases of the virus in trials among U.S. participants.
Despite the continued efforts to increase the number of vaccines administered, CDC Director Dr. Rochelle Walensky warned on Monday that the nation should still continue following precautions put in place in order to avoid another surge of the virus as new variants continue to spread.
"Please hear me clearly: At this level of cases with variants spreading, we stand to completely lose the hard-earned ground we have gained," Walensky said on Monday.
While cases have declined from previous months, Walensky noted on Monday that "the most recent seven-day average of deaths has also increased more than 2 percent ... to nearly 2,000 deaths per day."
During her press conference on Monday, Walensky also cautioned states not to roll back restrictions that were previously put in place to mitigate the spread of the virus.
"I am really worried about reports that more states are rolling back the exact public health measures we have recommended to protect people from COVID-19," she said.
Several states have started to ease restrictions as cases have declined and on Tuesday, Texas became the largest state to remove its mask mandate.
"Removing statewide mandates does not end personal responsibility," Texas Governor Greg Abbott said while announcing the mandate's removal. "It's just that now state mandates are no longer needed."
Newsweek reached out to the CDC for comment but did not receive a response in time for publication.