The embattled U.S. Immigration and Customs Enforcement agency was accused of illegally keeping children as young as 5 years old "locked up and suffering" at a detention center in Karnes City, Texas, for more than a month.
In a complaint filed with the Department of Homeland Security's Office of Civil Rights and Civil Liberties on Wednesday, the Refugee and Immigrant Center for Education and Legal Services (RAICES) claimed that ICE kept several children detained with their fathers at ICE's Karnes County detention center for more than 40 days.
The organization said the prolonged detentions were in clear violation of the Flores Settlement Agreement, which dictates that children can only be held for a maximum of 20 days before they must be released to a sponsor in the U.S.
"These detentions are part of a disturbing recent trend in which DHS is holding children in Karnes far longer than the 20 days allowed by Flores," RAICES said in a statement released on Wednesday. "In so doing, both Customs and Border Protection and Immigration and Customs Enforcement violate the civil rights and liberties of these children and their fathers."
"All children in detention, even those detained with their parents, have the same rights under Flores," RAICES said. "The Flores agreement states that a child must be released from detention 'without unnecessary delay' so long as they do not pose a flight risk or danger.... Prolonged detention of children, even with their fathers, is a clear violation of Flores."
In one case, RAICES said a father had been detained with his 6-year-old son between January 14 and March 8, a total of 41 days, before being separated, with the father being held at a facility in Pearsall, Texas, while his son was transferred to a children's shelter in San Antonio, Texas.
"His son 'used to be a very active and friendly boy' but has become 'depressed' and 'feels the heaviness of this place' in his weeks-long detention," RAICES said. The organization said that since being taken into federal custody, the young boy had suffered stomachaches, fever and an allergic rash.
Of the boy's father, RAICES said: "He worries his son will have permanent trauma and psychological issues, especially now that they have been separated from each other."
In another case, RAICES said a father and his 15-year-old son were detained since January 14 at the Karnes facility, where they were still waiting to be released, despite having received forms indicating that they both have credible fears of torture or persecution.
"When speaking about his son, the father says he's become 'sad and desperate' when other families are released from detention," RAICES said.
"Our complaint details several cases like those of these fathers, and there are many, many more cases in Karnes and throughout our immigration system like theirs," the organization said.
An ICE spokesperson told Newsweek that minors are generally released from custody within approximately 20 days under the Flores Settlement agreement. The official said that the length of stay for some families could be longer, however, depending on individual circumstances of a case, despite the understanding of the 20-day limitation under the Flores agreement.
The detention of children has long been condemned, with the United Nations asserting in its Convention on the Rights of the Child that child detention should only ever be used "as a measure of last resort and for the shortest appropriate period of time."
Meanwhile, the American Academy of Pediatrics has asserted that even short detention periods can have significant impacts on children's health, with the potential of causing "psychological trauma" and inducing "long-term mental health risks for children." The academy has said that there "is no evidence indicating that any time in detention is safe for children."
"There is no reason to detain these fathers and their children in the first place, and their continued detention is an egregious violation of rules meant to protect children," RAICES said in its own statement. "These families could easily be released to friends and relatives in the United States, where the fathers could navigate the asylum process and the children could receive adequate care and education. Instead, they are locked up and suffering every day."
The organization has demanded that the Department of Homeland Security oversee the release of all families and allow them to continue fighting their cases outside of detention, while also calling on the DHS to review its practice of detaining families "in violation of the Flores agreement." It also demanded that the Office of Civil Rights and Civil Liberties investigate all alleged violations of the Flores Settlement at the Karnes detention facility and called on Congress to investigate conditions at the center.
"RAICES is against family detention, period," the organization said. "The practice is abominable and retrograde. The United States is worse off because of it. We hope this complaint begins a serious attempt to end to family detention, once and for all."
The Department of Homeland Security and the DHS's Office of Civil Rights and Civil Liberties did not immediately respond to a request for comment for this story.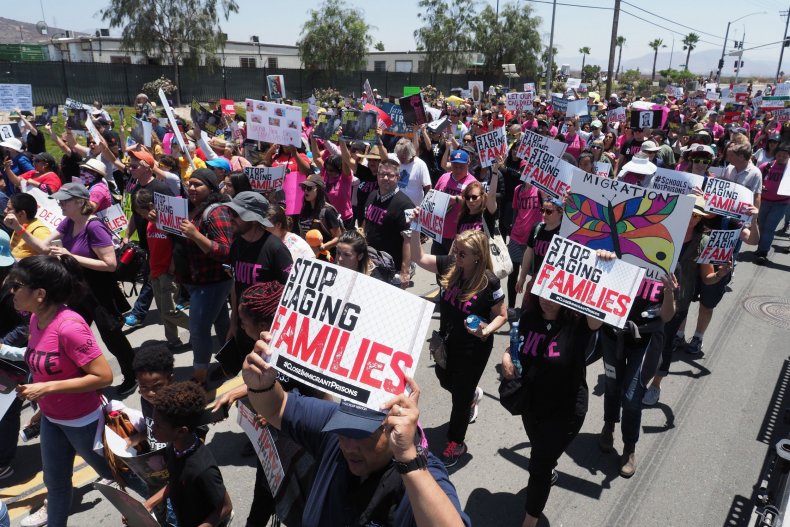 This article has been updated with a statement from ICE.