U.S., India Leaders Discuss Russia's War, China Tensions, South Asia Unrest
The heads of the United States and India have held a virtual meeting to discuss global developments, including Russia's war against neighboring Ukraine, a border dispute with China and political upheaval in Pakistan.
U.S. President Joe Biden and Indian Prime Minister Narendra Modi spoke via video link on Monday, with Biden accompanied by Secretary of State Antony Blinken, Defense Secretary Lloyd Austin and national security adviser Jake Sullivan from his cabinet, as well as Indian External Affairs Minister Subrahmanyam Jaishankar and Defense Minister Rajnath Singh, among others.
The wide-ranging discussion was said to have touched upon joint efforts against COVID-19, growing defense and technological cooperation, as well as "a whole range of issues related to Russia and Ukraine" as the conflict launched on February 24 by Russian President Vladimir Putin rages on.
Upon the talks' conclusion, a senior Biden administration official referred to Washington's partnership with New Delhi as "one of our most important relationships" and described a "long, very candid conversation to discuss a range of bilateral and global issues" between the two men.
Unlike the U.S. and a number of its allies, India has not outright condemned Russia and has instead opted to remain neutral as New Delhi counted Moscow as one of its top strategic partners. Asked by a reporter if the White House sought to secure a commitment from Modi not to purchase Russian oil, the senior administration official said "we haven't asked India to do anything in particular," noting the relatively low level of energy trade between the two.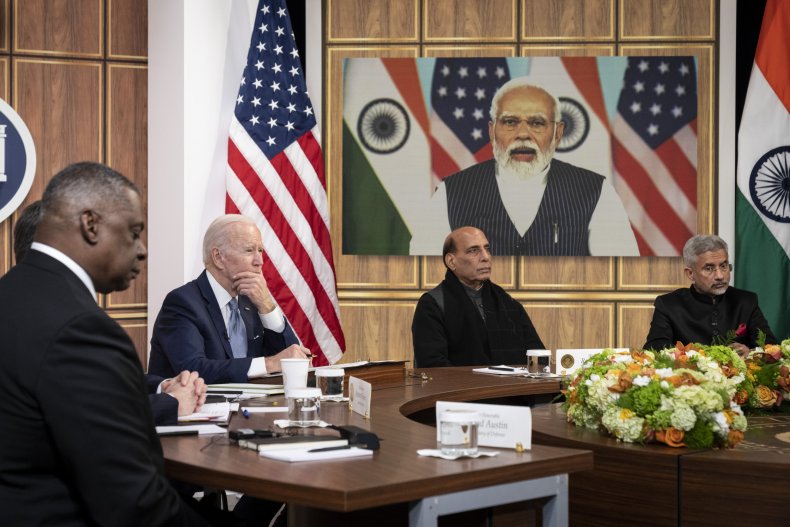 "That said," they added, "we don't think India should accelerate or increase imports of Russian energy and the U.S. is ready to support India, remain in conversation with India about its diversification of imports."
But as India retains its non-aligned position on the conflict, abstaining from United Nations measures targeting Russia, the official said that "India's going to make its own judgments" and that conversations would continue on "how to mitigate the destabilizing impacts of Putin's war, including on food supply, where India is in a position to assist...and there were discussions about what more India might be able to do."
The senior administration official did, however, hint at a degree of concern expressed by Modi, specifically when it comes to Russia's close relationship with China, a rival of India that has also taken a neutral position on the war in Ukraine, and said: "Prime Minister Modi took the opportunity to share his views in a pretty candid way about what's going on."
"We know that India has concerns about the links between Russia and China," they said. "India, of course, is facing a very tense situation along the Line of Actual Control and when India sees the tight links between China and Russia, that's obviously going to impact their thinking."
The Line of Actual Control (LAC) marks the frontline of a long-running territorial dispute between China and India, which fought a deadly month-long war over the Himalayan border region half a century ago and engaged in another deadly series of clashes in 2020. Washington has backed New Delhi on the dispute in recent years as part of a broader campaign to cast Beijing as an aggressive rising power.
Last month, Chinese Foreign Minister Wang Yi made his first visit to India since their latest spat in a bid to deescalate tensions between the two countries and potentially improve relations. During the trip, the top Chinese diplomat offered a three-point approach that would include viewing bilateral relations "from a long-term perspective," viewing one another's development "with a win-win mentality" and participating in "multilateral processes with a cooperative posture."
After meeting with his Chinese counterpart, however, Jaishankar said the relationship between the two nations was "not normal" given the sizable troop deployments at the border region.
India has also witnessed unrest across its other disputed border, the Line of Control, with Pakistan. The nuclear-armed South Asian rival neighbors have fought four wars since their partition and independence from the United Kingdom, mostly over the divided Kashmir border region.
But Pakistan, a close partner of China, has undergone internal unrest of its own as Prime Minister Imran Khan was ousted from power Saturday following a no-confidence vote by the parliament in Islamabad. The senior administration official said that Biden and Modi "did discuss developments in the region in South Asia" on Monday, specifically mentioning Sri Lanka and Bangladesh, two other regional states that have grown close to China.
Hours before the U.S.-India meeting, Pakistani lawmakers selected opposition leader Shehbaz Sharif to lead the country. In an address, the new premier praised Islamabad's close ties with Beijing and vowed to maintain them.
Chinese Foreign Ministry spokesperson Zhao Lijian earlier told reporters that, "as a close neighbor and an iron-clad friend of Pakistan, China sincerely hopes that all parties of Pakistan can stay united and jointly defend national stability and development."
"I want to stress that no matter how the political situation may change in Pakistan, China will unswervingly follow the Pakistan policy of friendship," Zhao added. "We believe the political change in Pakistan will not affect the overall China-Pakistan relations."
Sharif also said he hoped to improve relations with Washington as well as New Delhi, but only upon resolving their Kashmir dispute, something he called on Modi to work to address. In a tweet, the Indian premier congratulated Sharif and said "India desires peace and stability in a region free of terror, so that we can focus on our development challenges and ensure the well-being and prosperity of our people."
A readout published Monday by the White House said Biden and Modi "committed to strengthening the U.S.-India relationship through cooperation on clean energy, technology and military cooperation, and expanded economic and people-to-people ties."
"They also committed to continue cooperation – bilaterally and multilaterally – on ending the COVID-19 pandemic, strengthening global health security, advancing global food security, and ensuring a free and open Indo-Pacific," the readout said.
The two men "emphasized their shared commitment, as leaders of the world's largest democracies, to respect for the sovereignty and territorial integrity of all nations in the Indo-Pacific and beyond" and "discussed the destabilizing impacts of Russia's war against Ukraine, with a particular focus on global food supply."
The top diplomats and defense chiefs of both sides later met for 2+2 Ministerial Dialogue, during which the four men touted the growing ties between their two nations, especially in defense. Here too, Russia was referenced briefly by Blinken, while Austin focused more on China as a rival, one the U.S. needed India to counter.
"The People's Republic of China is seeking to refashion the region and the international system more broadly in ways that serve its authoritarian interests," Austin said. "But as we operationalize our defense agreements and take our cooperation to the next level, I believe that we can sustain and strengthen a favorable balance of power in the region."