U.S. Indifference Adds to the Greek Tragedy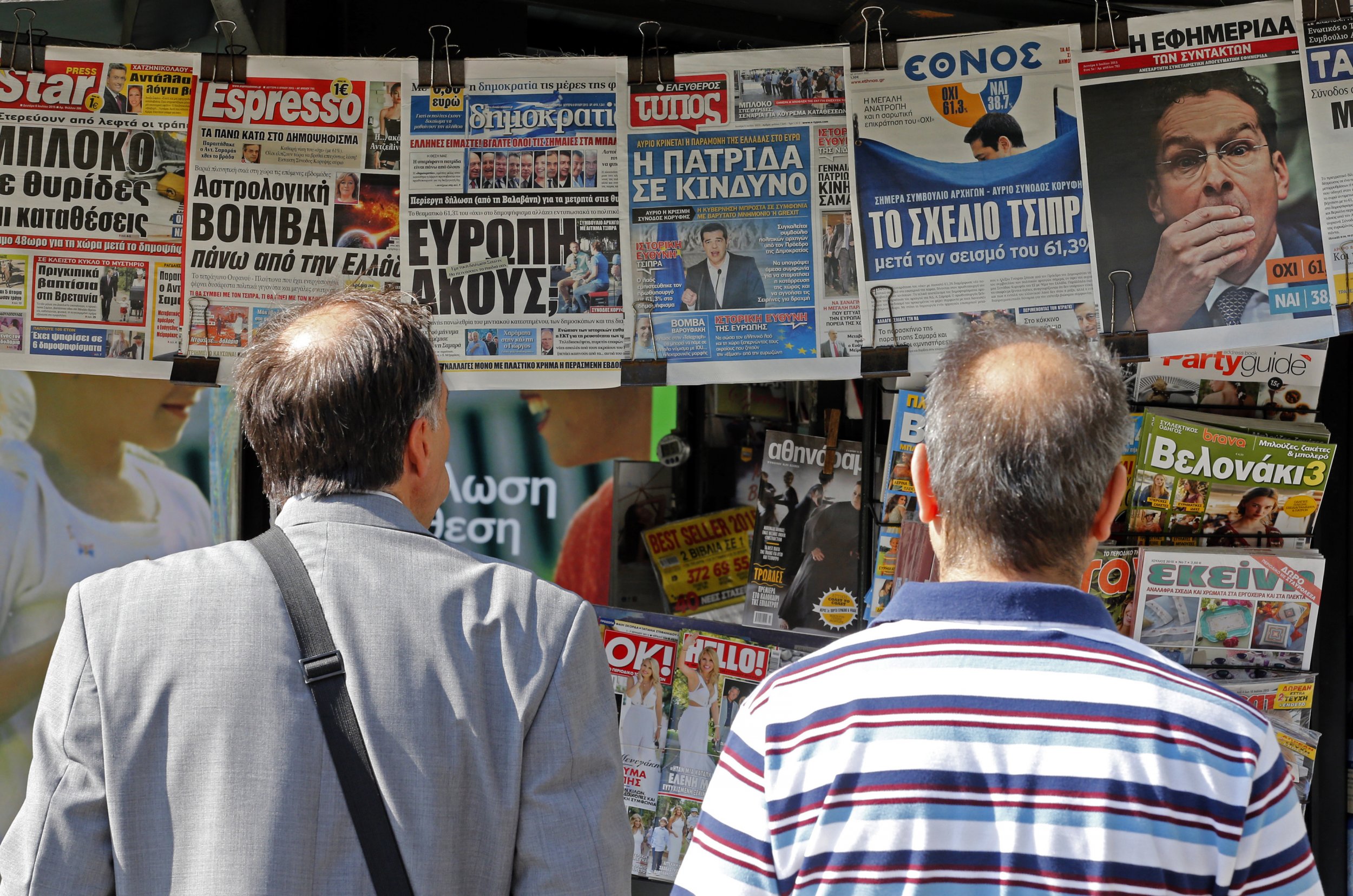 In a high-stakes week, the Greek people have now spoken and 61.3 percent have said "no" to creditor demands for reductions in pensions and increases in taxes.
Following a week of empty ATMs and grocery store shelves, shuttered businesses, demonstrations and counter-demonstrations, the Greek people, in effect, said, "Enough!" to five years of depression-like conditions, a 25 percent contraction in GDP and 25.6 percent unemployment.
On a very human level, this is not only an understandable reaction but one wonders how it did not come sooner.
But what does this resounding "no" mean in practical terms? According to Greek Prime Minister Alexis Tsipras, a "no" vote means that Greece will immediately receive a better deal from those same creditors which, according to senior Greek government officials, have been "blackmailing" and "terrorizing" the Greek people for the past six months.
Now it is time for the creditors—the 18-Eurozone countries, the International Monetary Fund (IMF) and the European Central Bank (ECB)—to have their say in response to the Greek referendum.
In the first few hours following the referendum, the creditors' immediate instinct has been to do what it has repeatedly done for 5½ years: convene on an emergency basis. It is interesting that Europe is returning to its decision-making origins, with a meeting first between the leaders of Germany and France on Monday—the historic "deciders" that have traditionally animated Europe—to develop the basic framework to guide discussions between Eurozone leaders the following day.
There has been surprising unity among the 18 Eurozone countries to maintain a firm line against Athens—due in large measure to the undiplomatic antics of the inexperienced Tsipras government.
While European leaders will continue to acknowledge the hardship and suffering of the Greek people and speak of providing humanitarian assistance, they will, at the same time, insist that there can be no official debt relief. The impasse will continue and there will be no bold decisions forthcoming, forcing the president of the ECB and the ECB's governing council to decide how much and how long emergency liquidity will be provided to Greek banks.
A new milestone will be crossed on July 20 when it is likely that Greece will default on its debt to the ECB, in addition to its default on its June IMF loan. While there was celebration in the streets of Athens last night, Greece awoke to the same dire reality it has faced for the past seven days.
The United States, watching somewhat nervously from afar, does very little. After a drop in the U.S. stock market last week, the White House spokesman assured Americans that "U.S. exposure to Greece is small" and President Obama has urged "all sides to contribute to pragmatic discussions."
This from the same country that had the vision of the Truman and Marshall plans that stemmed Communism in Greece and rebuilt Europe despite its own domestic exhaustion from World War II.
Some have suggested that the United States is a "helpless bystander" to this modern, Greek tragedy, but in reality, the United States has become an increasingly detached, indifferent and self-absorbed power that has expended enormous blood and treasure over the past century to support European stability but now seems perfectly contented to walk away.
America is a European power in the sense that much of its economic, political and military strength is amplified by a strong Europe and reduced by a weakened Europe. America's geopolitical and geo-economic exposure to the impact of events in Greece and Europe today are great—a reality that President Truman and Secretary George Marshall understood so well, but which seems lost on this generation of U.S. leaders.
So in the end, who lost Greece? The answer is not simple, but for decades a succession of Greek governments and European leaders have believed that only never-ending economic integration would forever politically bind European nations, but never fully understood that an incomplete monetary union comprised of divergent economies could quickly unravel political solidarity.
Continued American indifference only deepens and contributes to this continuing Greek and European tragedy.
Heather A. Conley is senior vice president for Europe, Eurasia, and the Arctic, and director of the Europe Program, at the Center for Strategic and International Studies (CSIS) in Washington, D.C.