U.S. Inflation Nears 8 Percent, Without Impact of Ukraine War Factored In
Consumer inflation in the U.S. increased to 7.9 percent in the 12 months that ended in February, the biggest jump since 1982.
The hike, reported Thursday by the Department of Labor, does not take into account most of the U.S. price increases that followed Russia's attack on Ukraine at the end of last month, the Associated Press reported. Inflation also rose 0.8 percent between January and February, according to the Labor Department.
Before Russia invaded Ukraine, consumer prices were already on the rise because of supply chain problems, strong consumer spending and higher wages for American workers. The war, which has spurred a U.S. ban on Russian oil imports and a host of severe economic sanctions from the U.S. and other nations, already appears to be bolstering the prices trend.
Since the invasion, average national gas prices have increased by 62 cents per gallon to an average $4.32, according to AAA. The jump is even higher from a year ago, when the average gallon of regular gas cost $2.82.
In a statement, President Joe Biden said the inflation report is a "reminder that Americans' budgets are being stretched by price increases and families are starting to feel the impacts of Putin's price hike."
"As I have said from the start, there will be costs at home as we impose crippling sanctions in response to Putin's unprovoked war, but Americans can know this: the costs we are imposing on Putin and his cronies are far more devastating than the costs we are facing," the statement said.
Biden reiterated earlier statements that he is fighting to help bring down consumer prices, including a release of millions of barrels of oil from the Strategic Petroleum Reserve and pursuing investments to boost manufacturing in the U.S.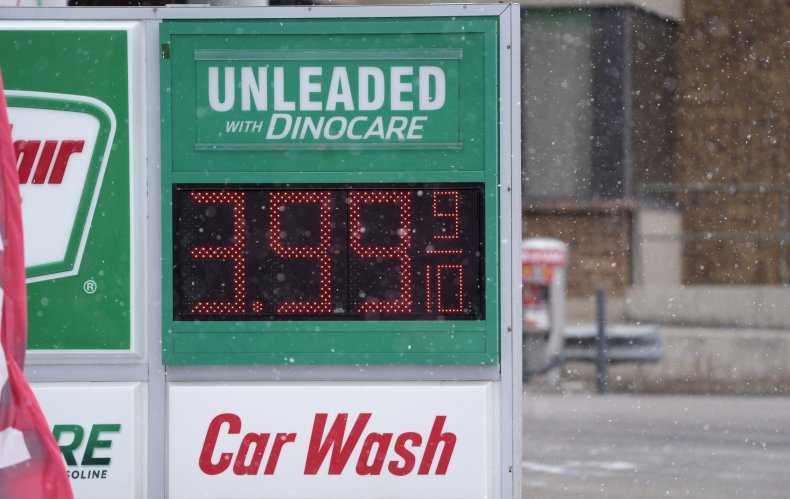 The rise in consumer prices has coincided with a rise in pay for many American workers amid a worker shortage that has led many employers to offer incentives like better wages and benefits. Labor Department statistics from last week showed that average hourly pay increased by 5.1 percent in February, compared with the same month a year ago.
But inflation has been lessening the impact of much of those pay gains. In a separate release Thursday, the Labor Department said that real average hourly earnings decreased by 2.6 percent from February 2021 to February 2022.
"The change in real average hourly earnings combined with an increase of 0.3 percent in the average workweek resulted in a 2.3-percent decrease in real average weekly earnings over this period," the department said.
Additionally, between January and February, the average hourly pay for American workers effectively decreased by 0.8 percent.
"This result stems from essentially no change in average hourly earnings combined with an increase of 0.8 percent in the Consumer Price Index for All Urban Consumers (CPI-U)," the department said in a release.
February's 40-year inflation figure high followed an earlier 40-year high of 7.5 percent reported in January. This was an increase from December's 7 percent.
Update 03/10/22, 1:25 p.m. ET: This story was updated with a statement from President Biden.