U.S. Inflation Surges 10 Percent, but Latest Report Doesn't Include Gas
Wholesale inflation in the U.S. jumped 10 percent in February compared to a year prior, according to a Labor Department report released Tuesday.
But because the report does not measure price changes after February 15, it does not reflect a boost in energy and gas prices after Russia invaded Ukraine late last month.
Tracked by the producer price index and reflects prices before they hit consumers, wholesale inflation is a separate measure from consumer inflation, the Associated Press reported.
The Labor Department said last week that consumer prices jumped 7.9 percent in February compared to the previous year.
The U.S. has been facing a rise in inflation rates for some time after the initial COVID-19 pandemic-driven recession in 2020. Consumer spending rebounded and many companies didn't have sufficient supplies and employees to meet the demand, leading to supply chain delays and a subsequent jump in prices, per the AP.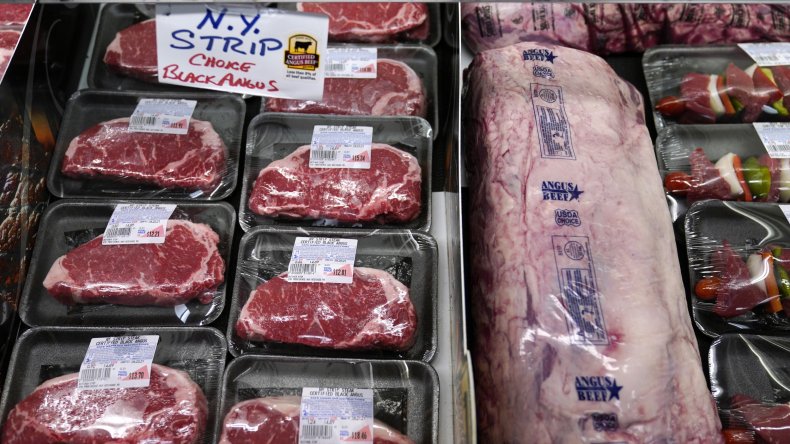 The Bureau of Labor Statistics (BLS) also adjusted its initial January report that wholesale inflation was up 9.7 percent to a higher rate of 10 percent. This means that January marked the first time the producer price index reached double digits since it began tracking the inflation measure in 2010, CNN reported.
Although the Labor Department's February report does not take the energy price surge after the Russian invasion into account, a good portion of the increase is due to gasoline.
"Nearly 40 percent of the February increase in prices for final demand goods can be attributed to the index for gasoline, which rose 14.8 percent," the BLS, which is part of the Labor Department, said in a news release.
The costs of diesel, electric power, jet fuel, dairy products, and motor vehicles and equipment were also up in February—while prices for fresh and dry vegetables, beef, and veal were among those that decreased.
On a monthly basis, producer prices increased 0.8 percent in February, a decrease from the 1.2 percent increase in January, the release read. Without factoring in food and energy prices, wholesale inflation was up 8.4 percent in February compared to a year earlier and up 0.2 percent compared to January.
The Labor Department reported last week that the consumer price index—which measures consumer rather than producer prices—had jumped 7.9 percent in February compared to a year earlier, marking the steepest increase in 40 years.
The Biden administration is facing widespread pressure to mitigate the soaring prices and their impact on American wallets. In a statement released in response to last week's consumer price index report, President Joe Biden noted that Americans were already experiencing some of the financial consequences of Russia's war against Ukraine, and he outlined his plans to fight the trend.
They included a release of millions of barrels of oil from reserves, promoting competition, and seeking investments to boost manufacturing in America to bolster the supply chain.
"I know that higher prices impact a family's budget, which is why I am fighting to bring down the everyday prices that are squeezing Americans," he said in the statement.
Newsweek has reached out to the White House for comment on the wholesale inflation report.
Update 03/15/22, 10:25 a.m. ET: This story has been updated with additional information and background.