Florida Inmates To Strike Against 'Prison Slavery' and Inhumane Conditions on Martin Luther King Jr. Day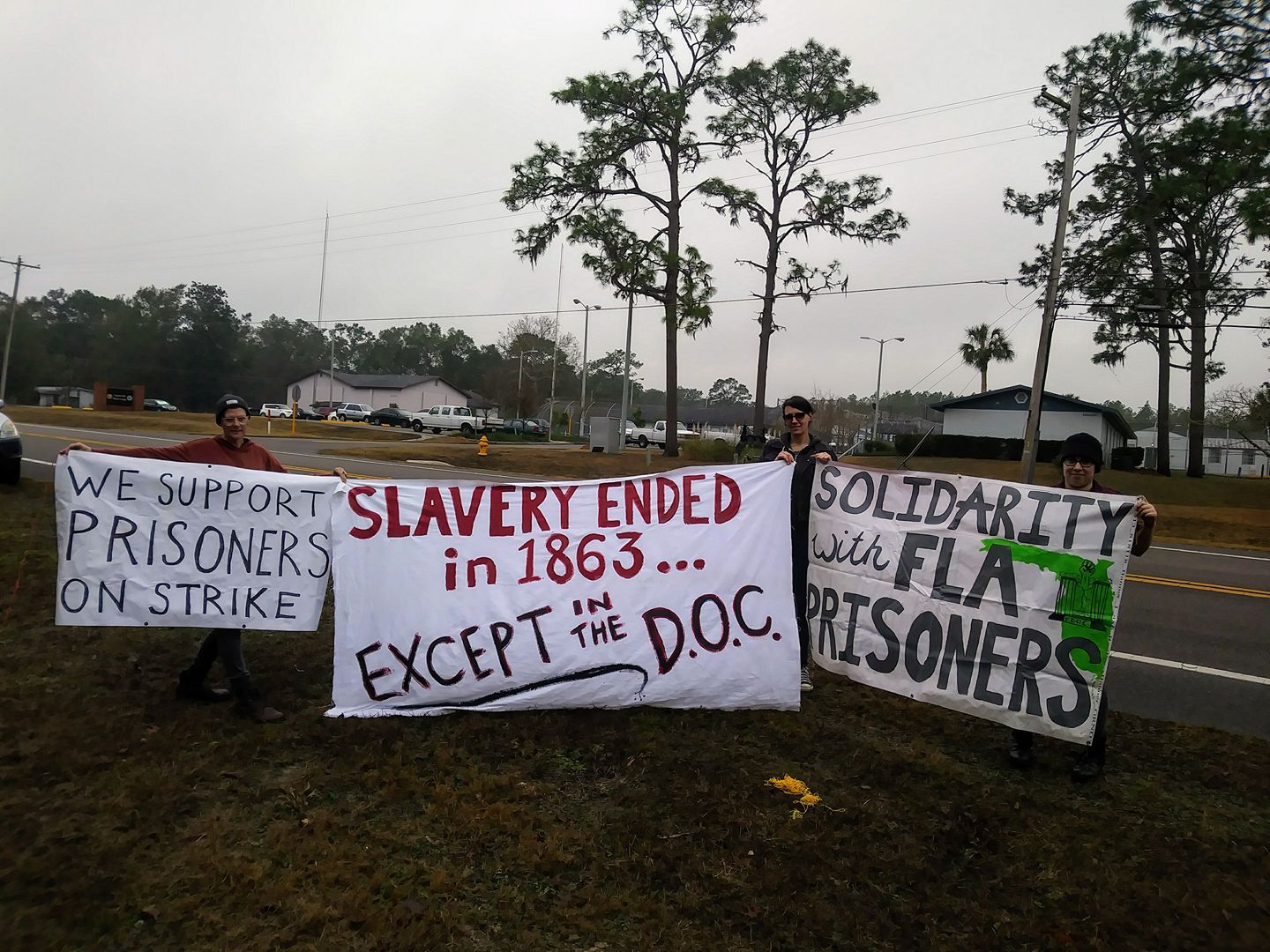 Updated | Prisoners in Florida are planning to go on strike on Martin Luther King Jr. Day to protest "prison slavery" and "deplorable conditions within FL prisons."
In a campaign nicknamed "Operation PUSH", organizers say inmates are expected to protest at the Reception and Medical Center state prison and hospital for men in Lake Butler, Florida.
Several rallies in support of the campaign have also been planned for this week at locations including the Florida Department of Corrections (FDC) offices in Tallahassee and Miami, as well as at a talk scheduled to be given by political activist Angela Davis at Florida State University (FSU) Tuesday evening.
Davis has long been an outspoken critic of the U.S. justice system, calling for the abolition of the nation's "obsolete" prison system.
Organizers of the rallies say prisoners are demanding payment for labor, branding the current system a "slave arrangement," as well as "ending outrageous canteen prices" and reintroducing parole incentives to those with life sentences.
They also say prisoners are calling for the state to do more to prevent overcrowding at prisons and "acts of brutality committed by officers throughout FDC which have resulted in the highest death rates in prison history."
A U.S. Department of Justice report from 2014 identified Florida as having the second-highest number of deaths in state prisons that year, second to Texas. Florida had 346 deaths that year, while Texas had 409.
The number of deaths in Florida has steadily increased since then, however, despite the number of inmates in state prisons decreasing.
In 2017, Florida saw a total of 407 deaths in state prisons, with 133 of those deaths attributed to natural causes, 11 to accidents, seven to suicide and three to homicide, according to FDC figures. Another 253 are marked as "pending."
Natural causes include cancer, which was the main cause of death in Florida state prisons between 2001 and 2014, followed by heart disease and liver disease.
An annual increase in deaths from 2014 to 2017 has been noted as the inmate population in Florida has dropped each year from 100,942 prisoners in 2014 to 97,794 in 2017.

A number of cases of prisoner abuses in the FDC have been reported over the last decade.
In July, it was reported that inmates at several prisons in Florida had been left with untreated medical problems and were being denied basic items such as toilet paper and being forced to live in conditions that state Democratic representative David Richardson described as "inhumane."
In 2007, Florida state also faced lawsuits alleging "excessive" and "malicious and sadistic" use of pepper spray in 2007. It was also accused of allowing a prisoner "warehousing" culture creating "extreme isolation and deprivation, usually with little or no rehabilitation efforts to prevent recidivism."
Read more: Florida prisoners denied toilet paper and left with untreated injuries, lawmaker claims
The Campaign to Fight Toxic Prisons says nearly 100 groups, including the Black Lives Matter Alliance of Broward and the FSU division of the National Association for the Advancement of Colored People (NAACP) are planning to join the demonstration outside the FDC in Tallahassee in support of prisoners.
A full list of organizations expected to attend the rally has been posted on the campaign group's Facebook page.
The FDC announced last week it would be cancelling its visitation hours on Monday at the Reception and Medical Center prison, as well as the Everglades Correctional Institution.
It is unclear whether the cancellation is related to the planned protests or as a result of it being Martin Luther King Jr. Day.
A spokesperson for the FDC could not be reached for comment and a message on the department's answering machine states that its media office will be closed on Monday.
The FDC, which oversees 143 facilities statewide, including 43 major institutions, has also reportedly put its downtown Tallahassee employees on alert over the expected protests.
FDC secretary Julie Jones sent an email to employees on Thursday warning about the possibility of protests on Tuesday, according to local news sites Tallahassee.com, warning: "FDC's Office of Intelligence has been tracking the event on social media," the email says. "The Department is working closely with state law enforcement to ensure all security concerns are addressed and staff can continue to safely perform their work duties."
The email, obtained by the new site, says protests are permitted on the grounds of the building, but told workers to "expect to see additional security and staff and uniform officers at building entrances and exits."
It also encouraged workers to stay indoors in the event of a protest, adding that the department would be taking a number of steps "in abundance of caution," including locking all doors to one of its buildings from 10:30 a.m. to 4 p.m. on Tuesday.
A similar rally is also slated to be held outside the FDC office in Miami.
In response to the claims by protest groups, FDC spokeswoman Michelle Glady told Newsweek inmates work in jobs ranging from laundry, cooking, prison maintenance and outside work squads and confirmed that they are not paid for such duties.
She said she was not aware of any instances of protests or work stoppages at facilities as of early Monday morning.
This story has been updated with a response from FDC spokeswoman Michelle Glady.