U.S. Intel Chief Says No Disrespect to Trump Intended, After Laughing With Surprise at White House Putin Invite
Director of National Intelligence Dan Coats said meant no disrespect to President Donald Trump when he laughed with surprise after being told the White House invited Russia's Vladimir Putin to Washington.
Speaking at the Aspen Security Forum Thursday, Coats was visibly taken aback when NBC's Andrea Mitchell told him Putin had been invited for a second meeting in Washington, as controversy raged over the leaders summit in Helsinki earlier that week.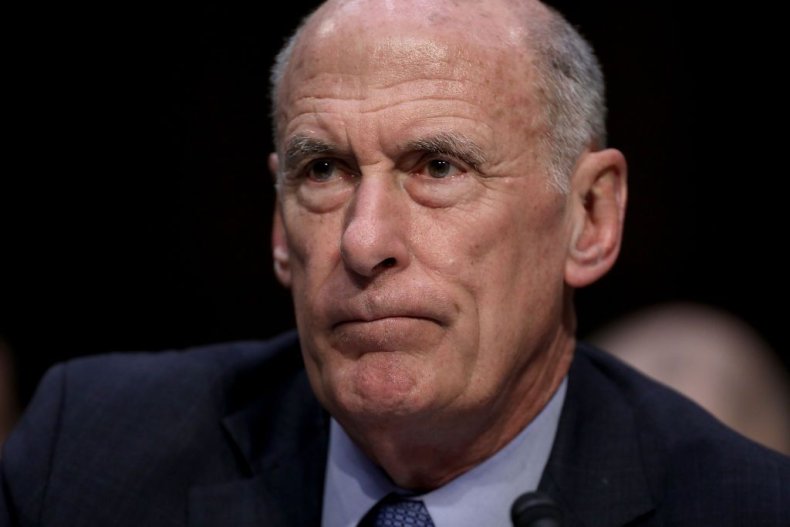 He asked his interviewer, "Say that again, did I hear you?"
Then after laughing with surprise, Coats said: "Okay, that's going to be special."
In the interview, he reiterated his belief that Russia was intent on compromising U.S. democracy, after the president in a press conference with Putin had cast doubt on the view.
"Basically, they are the ones that are trying to undermine our basic values and divide with our allies," Coats said of Russia. "They are the ones who are trying to wreak havoc over our election process."
On Saturday, Coats distanced himself from his response.
"Some press coverage has mis-characterized my intentions in responding to breaking news presented to me during a live interview. My admittedly awkward response was in no way meant to be disrespectful or criticize the actions of the president," Coats said in a statement.
"I and the entire intel[ligence] community are committed to providing the best possible intelligence to inform and support President Trump's ongoing efforts to prevent Russian meddling in our upcoming elections, to build strong relationships internationally in order to maintain peace, denuclearize dangerous regimes and protect our nation and our allies," he continued.
The statement followed reports that senior White House officials were furious about Coats' reaction. "Coats has gone rogue," one senior White House official told the Washington Post.
Trump had praised Coats in an interview with CBS News earlier, amid rumours that Coats could be set to resign.
Trump has drawn bipartisan condemnation for his comments at the Helsinki summit, in which he backed Putin's claim not to have meddled in the 2016 presidential election over the findings his own intelligence agencies.
Coats issued a rare statement after the summit, reiterating U.S. intelligence findings that Russia had attempted to subvert the election.
Facing uproar on his return to the U.S., Trump has vacillated in his response, declaring in Wednesday's CBS News interview that he does hold the Russian president responsible for election interference.