U.S. Intel Says 9/11 Anniversary 'May Inspire Homegrown Violent Extremists'
A U.S. joint intelligence bulletin obtained by Newsweek has warned that foreign militant groups could exploit the upcoming anniversary of 9/11, one year since the U.S. military withdrew from the two-decade war launched in Afghanistan in the wake of the attacks, to inspire homegrown violent extremists (HVEs).
The bulletin, dated September 2 and issued by the U.S. Department of Homeland Security (DHS), Federal Bureau of Investigation (FBI) and National Counterterrorism Center (NCTC), stated that the three agencies "expect foreign terrorist organizations (FTOs) and their supporters will seek to exploit the 21st anniversary of 9/11, the one-year anniversary of the US withdrawal from Afghanistan, and the recent death of AQ overall leader Ayman al-Zawahiri in their messaging, which may inspire some HVEs."
Zawahiri succeeded Al-Qaeda founder Osama bin Laden, who led the group until he was killed by U.S. forces during a raid in Pakistan in 2011. Early last month, Biden announced that Zawahiri was killed by a U.S. drone strike in Afghanistan in late July.
While DHS, FBI and NCTC say they "are monitoring intelligence from domestic and international partners to identify potential terrorist threats," they stated that, currently, they "are not aware of any specific, credible threats surrounding the 9/11 anniversary" and have "no information" indicating that Al-Qaeda "has advanced Homeland plotting or deployed operatives to the United States to conduct an attack."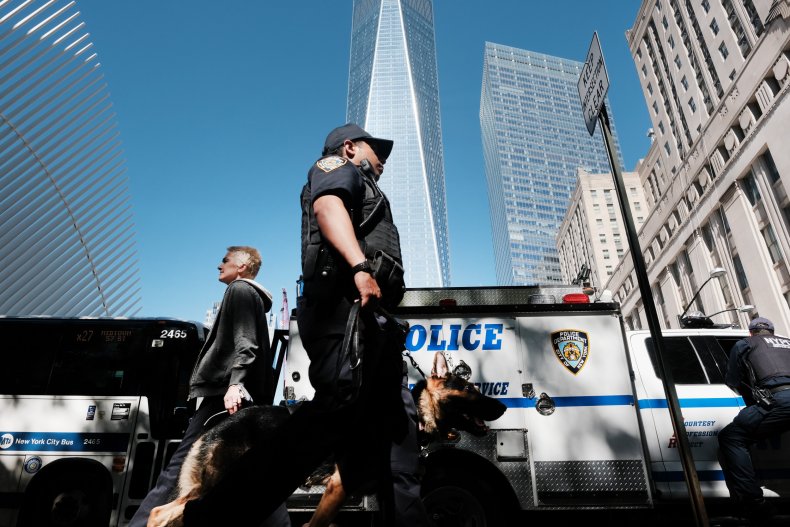 The three U.S. intelligence agencies "assess that foreign terrorist media celebrating the 21st anniversary of the 9/11 terrorist attacks almost certainly will add to existing anti-US narratives," the bulletin said.
"Recent events, including the 30 July 2022 strike killing AQ overall leader Ayman al-Zawahiri and the one-year anniversary of the US withdrawal from Afghanistan, may feature prominently in FTOs' 9/11 media releases this year and attempt to increase homegrown violent extremist (HVE) online engagement and support."
Though the bulletin stated that such extremists have not typically mobilized around 9/11 anniversaries, nor have foreign militant groups yet specifically addressed this upcoming anniversary, "terrorist messaging celebrating the attacks in previous years has been released on or closer to 11 September."
And such media "may continue to serve as a source of inspiration for HVEs," according to the bulletin. One example provided of this connection was that of Ashiqul Alam, who unknowingly sought firearms and explosives from an undercover agent with the intention of attacking Times Square in 2018. Alam, who pled guilty last year, described bin Laden's mission as a "complete success," as the bulletin pointed out.
Zawahiri himself had featured in previous Al-Qaeda releases coinciding with September 11, including an hour-long video last year in which he discussed the attacks as well as the U.S. exit from Afghanistan and the group's activities in Africa. Media supportive of Al-Qaeda have also released content related to 9/11, as have outlets promoting the Islamic State militant group (ISIS).
Though the bulletin noted this upcoming September 11 may ultimately prove to be less high profile than last year's 20th anniversary, the intelligence agencies also cautioned about the unpredictable nature of domestic extremism.
"The individualized nature of the radicalization and mobilization processes, along with HVEs' ability to conduct attacks with little or no warning limits our ability to provide advance warning of attacks conducted by HVEs," the bulletin said.
Newsweek has reached out to DHS and FBI for comment.