U.S. Intercepts Russian Military Planes After Spotting Submarine Near Alaska
U.S. armed forces said Friday they intercepted six Russian military aircraft in the skies near Alaska's coast after reporting a Russian submarine spotted off the state's shoreline.
The North American Aerospace Defense Command (NORAD), a combined U.S.-Canadian military group, said it scrambled F-22 fighter aircraft, supported by KC-135 air refuelers, on Thursday night to intercept three groups of two Tu-142 Russian maritime patrol aircraft that had entered the Alaskan Air Defense Identification Zone (ADIZ).
The planes were said to have loitered in the ADIZ for around five hours and approached within 50 nautical miles of Alaska's shoreline. However, the Russian aircraft "remained in international airspace and at no time entered United States or Canadian sovereign airspace," NORAD wrote in a press release that also suggested an uptick in such activity.
"Our northern approaches have had an increase in foreign military activity as our competitors continue to expand their military presence and probe our defenses," said NORAD's commander, Air Force General Glen VanHerck.
"This year, we've conducted more than a dozen intercepts, the most in recent years," he added. "The importance of our continued efforts to project air defense operations in and through the north has never been more apparent."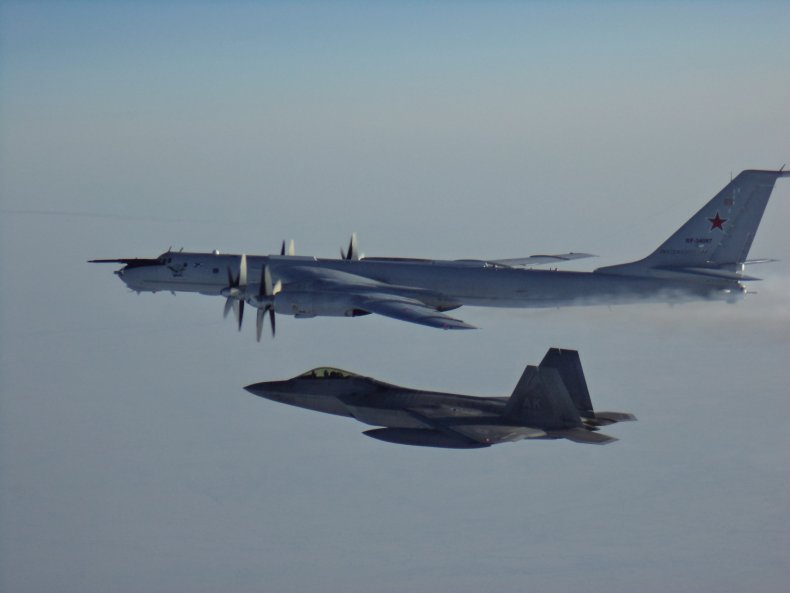 The Alaskan and Russian mainlands are only roughly 55 miles apart, and the two share a chain of islands known as the Aleutians, so such incidents are not unprecedented.
But U.S. defenses were alerted at sea on Thursday when NORAD and the U.S. Northern Command (Northcom), which VanHerck also leads, spotted a Russian submarine that surfaced near Alaska.
"We closely track vessels of interest, including foreign military naval vessels, in our area of responsibility," Northcom wrote on Twitter.
"The current Russian maritime activity is taking place in international waters well outside the U.S. territorial sea," it added. "We have not received any requests for assistance from the Russian Navy or other mariners in the area."
One senior Pentagon official speaking to Newsweek on the condition of anonymity found the event unusual and potentially carrying a message.
"A military submarine's purpose is to operate undetected against adversary forces," the official said. "To surface in a highly-populated fishing zone is either an indication of an emergency or to strategically broadcast its presence."
"It is highly unlikely that the Russians would risk detection unless that was their intent," the official added.
The Russian Defense Ministry earlier announced that its navy was actively training in the Bering Sea between Russia and the United States as part of the Ocean Shield 2020 exercises. While the U.S. side did not specify which kind of submarine was observed on Thursday, Antey-class nuclear-powered cruise missile submarine Omsk took part in the exercises that same day.
The senior Pentagon official confirmed to Newsweek that the submarine spotted was most likely an Oscar II class, the NATO designation for the Antey class project.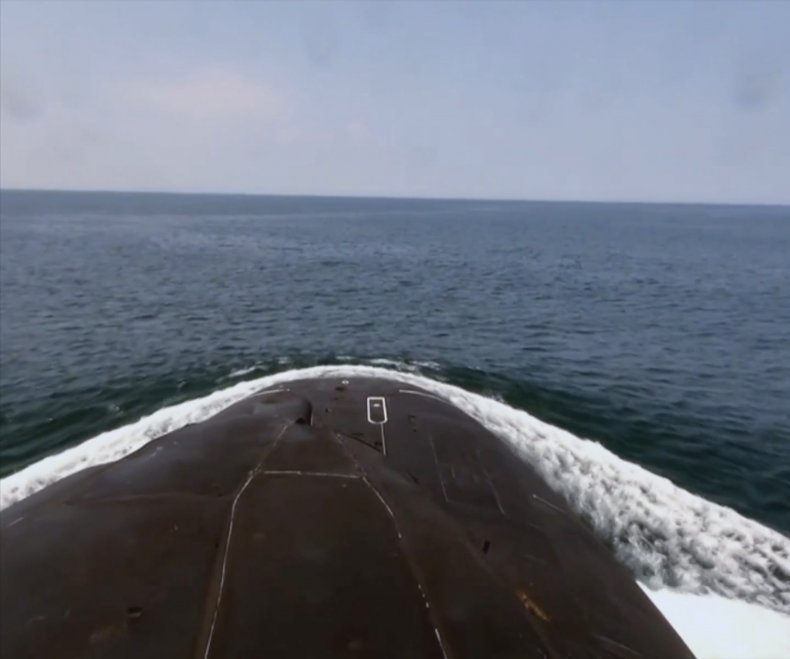 Omsk, launched a Granit anti-ship missile as the accompanying warship Slava-class missile cruiser Varyag fired a Vulcan complex anti-ship cruise missile, striking targets about 200 miles and 280 miles away, respectively.
As nations that border the Arctic, the U.S. and Russia have both set out to expand their presence in the strategic region, especially as climate change and new technologies open new lucrative travel routes for trade, transportation and military use.
U.S. and Russian forces have operated nearby elsewhere in the Arctic as well.
In May, three U.S. Navy Sixth Fleet destroyers entered the Barents Sea for the first time in three decades, joining United Kingdom warships holding missile defense drills that Sixth Fleet spokesperson U.S. Navy Commander Kyle Raines told Newsweek at the time "were not in response to any specific event," but did serve to enhance the U.S. and NATO presence in the strategic Arctic region where both the alliance and Russia were increasingly active.
As these drills ended, Russia's Northern Fleet began a set of war games of its own as the Colonel General Sergei Rudskoi of the Russian General Staff slammed "provocative" moves of the U.S. and its NATO allies.
This is a breaking news story. More information will be added as it becomes available.