U.S. Involved in Syria Clash, Russia and Turkey Also Targeted as War Rages On
The United States was involved in a reportedly deadly clash in Syria Monday, where Russian and Turkish troops were also targeted in a separate incident marking the ongoing violence of a civil war well into its 10th year.
The official Syrian Arab News Agency reported that one Syrian soldier was killed and two others wounded when they came under fire from two U.S. helicopters after attempting to block a U.S. ground patrol at a security checkpoint southeast of the northeastern Al-Qamishli city, Al-Hasakah province. The outlet published a photo of what appeared to be an injured man with bandages on his shoulder, hand and foot.
"At exactly nine o'clock this morning, an American patrol tried to enter the area where one of our combat formations were deployed in the countryside of the city of Al-Qamishli through the 'Tal al-Dhahab' checkpoint," SANA quoted a Syrian military source as saying.
The Syrian Observatory for Human Rights, a pro-opposition, U.K.-based monitor, also reported that a U.S. aircraft targeted Syrian troops after "altercations between the two parties" at a checkpoint in Tal al-Dhahab.
Reached for comment by Newsweek, however, U.S. Central Command offered a different account shared by spokesperson Army Colonel Myles B. Cagggins III. The statement said U.S.-led coalition and allied Syrian Democratic Forces, a mostly Kurdish force administering much of northeast Syria, were "conducting a routine anti-ISIS patrol" near Tal al-Dhahab when they "encountered a checkpoint occupied by pro-Syrian regime forces."
"After receiving safe passage from pro-regime forces, the patrol came under small arms fire from individuals in the vicinity of the checkpoint. Coalition forces returned fire in self-defense. The Coalition did not conduct an airstrike. No Coalition casualties occurred. The Coalition patrol returned to base. The incident is under investigation," the statement said.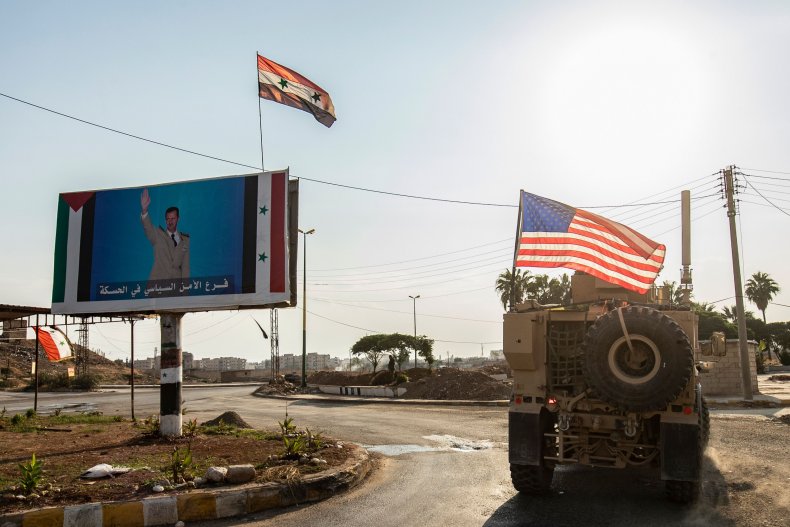 Elsewhere in the country, Russian and Turkish forces also were hit on patrol Monday as they toured the highly-contested M4 Highway region together in the northwestern province of Idlib. Neither side reported any casualties in what was described as a roadside bombing that the Turkish Ministry of Defense said slightly damaged one of its vehicles, according to Turkey's state broadcaster Anadolu Agency.
No group has yet claimed responsibility for the attack, which appeared to be caught on a video that could not be independently verified by Newsweek.
While Russia backs Assad and Turkey supports the remnants of the insurgency that erupted in the wake of the 2011 protests against him, the two powers have come together alongside Iran, which also backs the government, in a bid to de-escalate the conflict since 2017. Three years later, the opposition and Islamist militant groups hold only Idlib and a stretch of territory across the country's northern border with Turkey.
Assad, however, has vowed to retake the entirety of the country, and pro-government offensives continue to batter Idlib and its surroundings. Russia has sought to avoid direct skirmishes between Turkish and Syrian troops, though isolated clashes have occurred resulting in deaths on both sides.
With no end in sight for the conflict, Russian President Vladimir Putin and Turkish President Recep Tayyip Erdogan spoke by phone Monday. The pair "discussed the developments in Syria with a focus on stepping up joint counter-terrorist efforts" and "agreed to further coordinate their actions" based on previous agreements, according to a Kremlin readout.
"President Erdogan and President Putin agreed on the continuation of the talks between Turkey and Russia via military and diplomatic channels regarding the situation in Syria," a readout shared by the Turkish presidency stated.
Neither Turkey nor Syria recognize Assad's rule, accusing the leader of having committed war crimes throughout the conflict. He spoke out against the two countries' approach to the war in a speech delivered Wednesday to his cabinet but expressed support for "free dialogue between free people" over the country's future.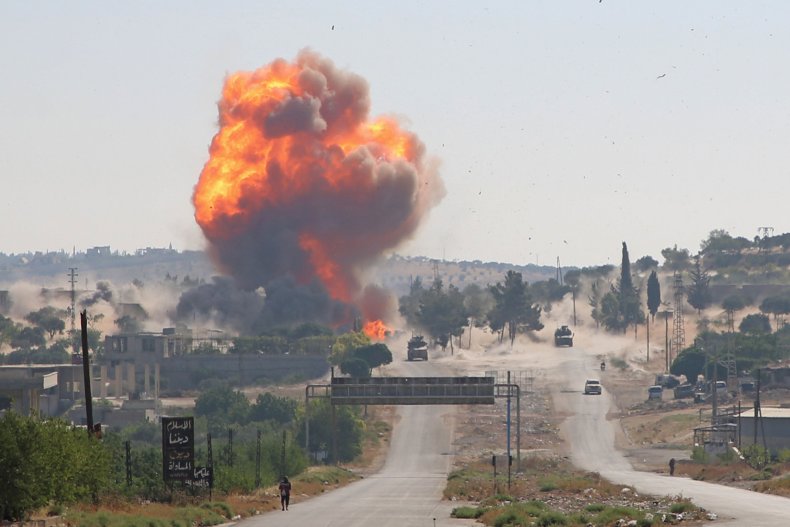 U.S. special representative for Syria James Jeffrey told reporters Friday he found this to be "of considerable interest."
"This is a shift at least in tone, and we're trying to figure out what this means. I think it means that perhaps Damascus is accepting the reality that this political process by the international community has absolute support by almost everybody in the world, it's not going away, and that they better start dealing with it," he added. "And that's a good sign, if in fact that's what it turns out to be."
One of the top U.S. stated goals today in Syria, however, is to curb influence from Iran. The Islamic Republic is partnered with a number of regional militias hostile to Israel, which has stepped up a campaign of airstrike against targets suspected to be tied to Iranian presence in Syria.
On Monday, Assad received Ali Asghar Khaji, Iranian senior assistant to the foreign minister for special political affairs, and the two discussed "the latest developments in the situation in Syria," including upcoming meetings in Geneva regarding the establishment of a committee to study revising the country's constitution in the interest of ending the conflict. They also discussed efforts to "strengthen cooperation between the two countries to confront the blockade imposed by the United States and its allies against Syria."