What's Happening Between the U.S. and Iran? Crisis Escalates After Attacks by World's Most Important Oil Route
Rising tensions between the United States and Iran have been accompanied by several high-profile incidents in the Gulf of Oman, a body of water that connects the Arabian Sea to the Strait of Hormuz, the world's most important maritime oil traffic route, threatening to further escalate an already volatile situation in the region.
Two oil tankers, the Panama-flagged Kokuka Courageous—en route from Saudi Arabia to Singapore—and the Marshall Islands-flagged Front Altair—which recently loaded cargo to the United Arab Emirates and was carrying methanol from Qatar to Taiwan, became the latest casualties in the Gulf of Oman on Wednesday when they were apparently targeted in yet unclaimed attacks. Conflicting reports as to what caused the attacks, the extent of damage and who responded have further left the incident clouded in confusion.
The official Islamic Republic Broadcasting Agency cited an unnamed source as saying that Iran's navy had rescued all 44 sailors of the two ships and that the crew was transported to the port of Jask in the southern Iranian province of Hormuzgan. At the same time, the U.S. Navy said its own Arleigh Burke-class guided-missile destroyer USS Bainbridge "rendered assistance" to both vessels.
Further complicating matters, the Japanese Trade Ministry reportedly said the two tankers were carrying "Japan-related" cargo and the attacks came just as Japanese Prime Minister Abe Shinzo made a historic visit to Tehran and met with Iranian supreme leader Ayatollah Ali Khamenei in a bid for "for peace and stability in the region." Iranian Foreign Minister Mohammad Javad Zarif tweeted that "suspicious doesn't begin to describe what likely transpired this morning," while his U.S. counterpart Mike Pompeo officially laid the blame on Iran.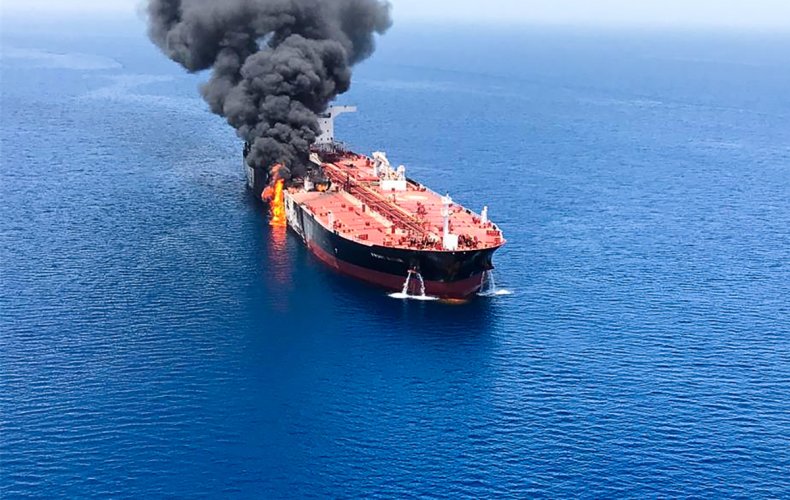 During Abe's earlier talks with Iranian President Hassan Rouhani, the Japanese leader—the first to visit Tehran since the 1979 Islamic Revolution ousted a West-backed monarchy for a Shiite Muslim leadership—warned of a potential "accidental conflict" breaking out over mounting frictions between the U.S. and Iran. Such concerns have been increasingly voiced globally as the strategic Persian Gulf once again became the venue for hostilities between the two longtime rivals.
The explosions were likely to only further stir unrest in a region already beset by tensions. The International Crisis Group's U.S.-Iran Trigger List regards the Strait of Hormuz as a "severe" flashpoint between the two longtime rivals and said Thursday that the recent incident in the Gulf of Oman "highlights how regional tensions and prospects for conflict—intended or accidental—are on the rise."
Thursday's incident followed previous "acts of sabotage" in the Gulf of Oman last month. Shortly after White House national security adviser John Bolton announced the early deployment of a U.S. carrier strike group and bomber task force to the Middle East due to "troubling and escalatory indications and warnings" suggesting Iran would target U.S. interests, four oil tankers—one Saudi-flagged, one Norwegian-flagged and two U.A.E.-flagged—were targeted by still-unclaimed attacks officially blamed by the U.S. on Iran.
Iran has denied any role in such attacks but has previously threatened to disrupt seaborne traffic in the Strait of Hormuz, located less than 100 miles away, in response to President Donald Trump's "maximum pressure" campaign to reduce Tehran's oil exports to zero. The U.S. imposed strict restrictions on the Islamic Republic's trade after unilaterally leaving a 2015 nuclear deal that offered Iran sanctions relief in exchange for curbing its nuclear activities.
Though Iran has always denied seeking nuclear weapons and the International Atomic Energy Agency had repeatedly verified its compliance with the agreement, Trump felt the accord did not go far enough to restrain Tehran's alleged support for militant groups and its ballistic missile development. Fellow signatories Russia and China have continued to back the agreement, but European parties to it have yet to normalize trade under threat of U.S. punishment, leaving Iran with diminished incentive to remain a party to the agreement.
While the U.N.'s atomic watchdog confirmed Monday that Iran has indeed increased uranium enrichment, the activity involved a low-grade product not suitable for weapons development. Pompeo also offered no evidence to link Tehran to the attacks and at least one U.S. military official has previously raised doubts to Newsweek about the viability of the Trump administration's claims involving alleged Iranian activity in the region.
Still, the acts of violence would almost certainly beget further animosity between the U.S. and Iran and Dartmouth College assistant professor Nicholas Miller told Newsweek that "if Iran is indeed confirmed as the culprit, this would provide more evidence that its leaders intend to withstand Trump's 'maximum pressure' campaign rather than capitulate—especially when combined with Iran's recent decision to begin scaling back its commitments under the nuclear deal and Khamenei's recent comments rejecting talks with Trump."
Miller said "the best way to avoid escalation would be for Iran to refrain from such provocations and the Trump administration to consider lifting some economic pressure on Iran," adding that "unfortunately, this does not seem likely at present."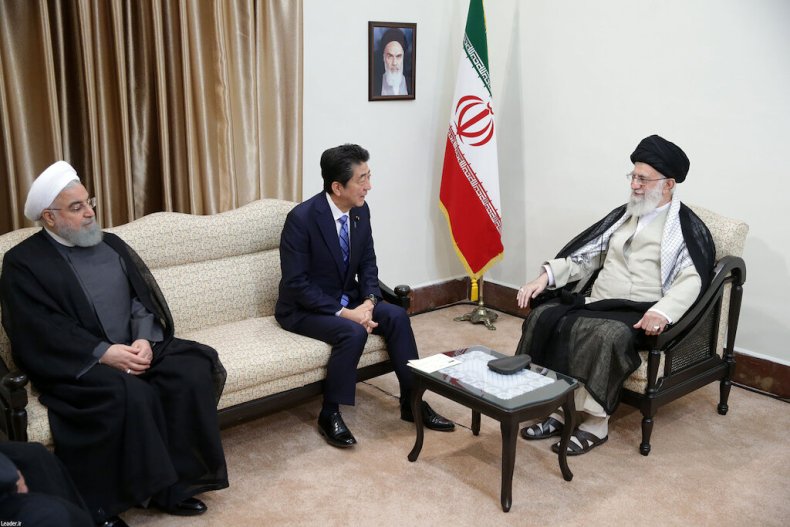 Ariane Tabatabai, an associate political scientist for the Rand Corporation and an adjunct senior research scholar at the Columbia University School of International and Public Affairs, told Newsweek that "Iran has been flexing its muscles to respond to the administration's maximum pressure campaign" and argued that "if Iran is behind the attack, as the administration is now noting, it's further upping the ante and we're entering a much more dangerous dynamic between the US and Iran."
At the same time, she noted that Iran's elite Revolutionary Guards—deemed a terrorist organization by the State Department—"doesn't operate outside the Iranian political system," but is "part of the decision-making process" in Tehran. She said that "although it does at times flex its muscles for domestic political reasons, it wouldn't be inclined to take this type of action just to embarrass Rouhani for example."
Moscow, whose embassy in Tehran confirmed that 11 Russian sailors had been rescued and transferred to Iran's Jask port, warned against any preliminary conclusions that could further escalate tensions in the region. Russian Deputy Foreign Minister Sergey Ryabkov said Thursday he "would like to use this opportunity to warn against hasty attempts to pin the blame on those who are unwanted by a number of well-known states," according to Russia's state-run RT outlet.
In a statement sent to Newsweek, Defense Priorities think tank policy director Benjamin H. Friedman said that "Iran will not 'meet diplomacy with diplomacy' as long as U.S. policy is aimed at regime change by strangling Iran's economy."
"The most likely result of the current path is a cycle of escalation that brings us closer to war, which President Trump says he does not want," Friedman added. "To avoid war while actually reducing undesirable behavior from Iran, the United States should provide a diplomatic off ramp to address disputes. Demanding across-the-board concessions is a dead end."
Update (06/13/19 4:10 p.m.): This story was updated to include expert commentary.