The U.S. military's interception of an Iranian passenger plane over Syria comes at a critical juncture for the two foes and follows a tragic, deadly history of aerial mishaps between them.
After Iranian media reports Thursday of passenger injuries because the Mahan Air Flight IRM1153 had to unexpectedly maneuver away from foreign fighter jets, U.S. Central Command confirmed to Newsweek that a U.S. F-15 was in fact behind the "professional intercept" that a spokesperson said was conducted safely "in accordance with international standards" over a southeastern Syrian territory that a U.S.-led coalition has claimed control over. Iranian officials, however, have opened an investigation into the incident and decried it as an example of dangerous military activity over unwelcome territory.
"U.S. illegally occupies territory of another State and then harasses a scheduled civil airliner—endangering innocent civilian passengers—ostensibly to protect its occupation forces," Iranian Foreign Minister Mohammad Javad Zarif tweeted on Friday.
"Audacity to compound lawlessness upon lawlessness," he added. "These outlaws must be stopped before disaster."
Disaster, however, has already come to define the relationship between Washington and Tehran, both of which have accidentally downed international airliners and come to the brink of war during the past four decades.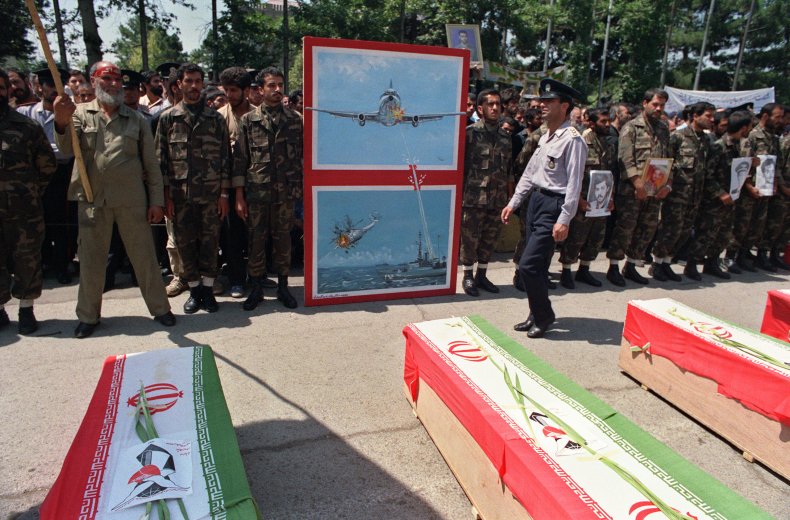 The U.S. and Iran have feuded since the 1979 Islamic Revolution that brought to power a Shiite Muslim cleric-led government to Tehran, overthrowing a longstanding monarchy supported by the U.S. and the United Kingdom. The two Western powers shortly after backed Iraq in its 1980s invasion of Iran, which managed fend off the attack with few international supporters.
As the conflict between the two neighbors raged on, however, battles also broke out at sea in the nearby Persian Gulf. Both countries tried to cripple the other's oil industries by targeting tankers and U.S. Navy warships patrolled the Strait of Hormuz in an effort to protect maritime energy trade. One such vessel, the Ticonderoga-class guided-missile cruiser USS Vincennes, shot down Iran Air Flight 655, killing nearly 300 people, after engaging what its captain said he thought at the time was an Iranian F-14 fighter jet.
With tensions once again high in the Persian Gulf after President Donald Trump's exit from a nuclear deal with Iran in 2018, international oil vessels and facilities in the region have again been targeted by acts of sabotage. Washington has blamed Tehran for the unrest at seas and in Iraq, where Shiite Muslim militias supportive of Iran have attacked U.S. and allied troops in an attempt to force them out of the country.
In a drastic escalation in January, the U.S. killed Iran's Revolutionary Guard Quds Force commander Major General Qassem Soleimani in a drone strike at Iraq's international airport in Baghdad. Iran responded with a barrage of missiles that struck Iraqi bases housing U.S. and other international forces.
One Iranian anti-air battery, however, hit another target: Ukraine International Airlines Flight 752. As Newsweek first reported at the time, a Russia-built Tor-M1 surface-to-air missile system hit the Boeing 737–800 en route from Tehran to Kyiv hours after the initial missile strike, killing 176 people, and Iranian officials later admitted to the incident.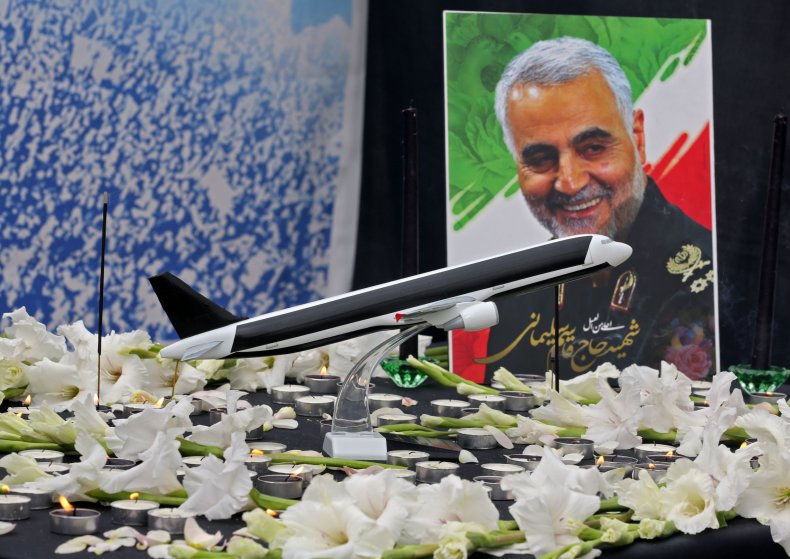 While the two countries have so far avoided all-out war, the Soleimani slaying and the retaliatory Iranian missile strike were not the only exchanges of direct fire between the U.S. and Iran. The Revolutionary Guard also took out an unmanned U.S. Navy RQ-4A Global Hawk surveillance drone last year in a fiery display that nearly drove Trump to conduct airstrikes on Iranian military positions.
Revolutionary Guard aerospace commander General Amir Ali Hajizadeh later said his forces had initially considered taking out a P-8 Poseidon spy plane but refrained because it did not want to incur U.S. casualties.
Iran has since continued to develop its anti-air and anti-missile defenses. Earlier this month, Iran signed a defense deal with Syria and promised to help shield its longtime ally's skies, where both the U.S. and Israel often operate without government permission in a country with its own recent history of aerial combat.
In a statement sent to Newsweek at the time, the U.S. military said it would continue its mission to defeat the Islamic State militant group (ISIS) in spite of the recent developments. Washington and Tehran consider the jihadis to be a common enemy but, as relations further fray, the two increasingly see one another as the foremost threat in the region.