U.S. Adds Iran Sanctions, Indicts Venezuela President as Countries Fight Coronavirus
The United States has rolled out additional sanctions against Iran and indicted Venezuelan's leader on narco-terrorism charges, despite calls for sanctions relief amid the new coronavirus pandemic.
On Thursday, State Department spokesperson Morgan Ortagus announced sanctions against 20 individuals because they "violate Iraqi sovereignty and exploit Iraq's economy to funnel money to the Islamic Revolutionary Guard Corps-Qods Force (IRGC-QF)." Those blacklisted were said to be involved in transferring "lethal aid" from the elite Iranian expeditionary unit to Iraqi militias hostile to the U.S. military presence in the country.
That same day, senior Justice Department officials targeted another Washington adversary already hit with trade restrictions. Criminal charges were announced against Venezuelan President Nicolás Maduro for partnering with the left-wing insurgent Revolutionary Armed Forces of Colombia in an attempt "to flood the United States with cocaine in order to undermine the health and wellbeing of our nation," U.S. Attorney General William P. Barr alleged. Top Maduro deputies were also indicted on various charges.
The news came just a day after United Nations High Commissioner for Human Rights Michelle Bachelet urged an easing of restrictions against countries like Iran and Venezuela in order to mitigate their battle against COVID-19.
"At this crucial time, both for global public health reasons, and to support the rights and lives of millions of people in these countries, sectoral sanctions should be eased or suspended," Bachelet said in a statement Wednesday. "In a context of global pandemic, impeding medical efforts in one country heightens the risk for all of us."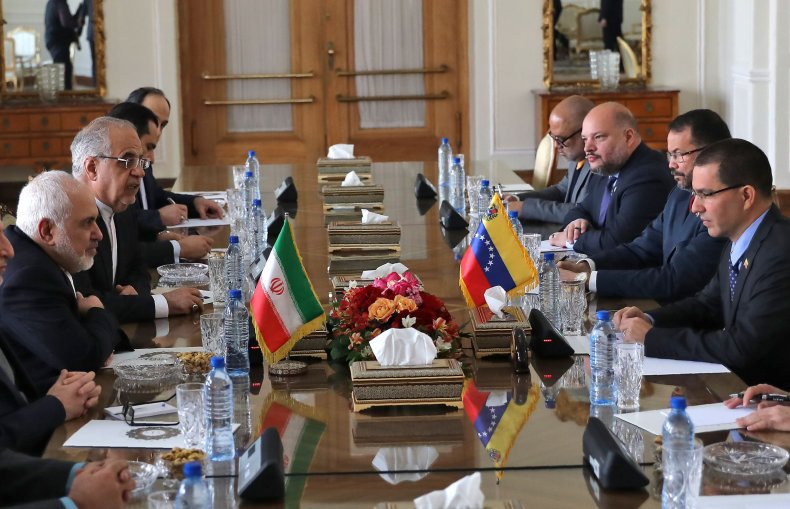 Iran was among the first nations outside of China to be heavily hit by the coronavirus, which has infected nearly 30,000 people there, of which almost 10,500 have recovered and more than 2,200 have died, according to the country's health officials. While Western nations like Italy, Spain, Germany and the U.S. itself have since surpassed Iran in the scope of their reported outbreaks, scores of Iranians, including top officials, continue to die every day across the Islamic Republic.
Mocking President Donald Trump's recent appeal to South Korean counterpart Moon Jae-in for ventilators to accommodate the growing number of U.S. COVID-19 patients, Iranian Foreign Ministry spokesperson Mohammad Javid Zarif wrote Thursday on Twitter: "Even as the world's largest economy needs others to help it fight the pandemic, yet refuses to halt its #EconomicTerrorism against Iran."
"Does the US want a 'forever pandemic'?" Zarif tweeted. "Moral imperative to stop observing the bully's sanctions."
The U.S.-imposed restrictions are part of the Trump administration's maximum pressure campaign unleashed in 2018 after the White House left a nuclear deal negotiated years earlier with Iran and major world powers. The strategy's stated goal is to pressure Tehran into a new agreement further curbing its nuclear activities, while also restricting its support for foreign militias and missile development. But heightened tensions between the U.S., Iran and their respective allies have ignited violent unrest in countries like Iraq.
Tehran has also set out to bolster ties with fellow opponents of U.S. foreign policy around the world, including in the West, where Venezuela's Maduro continued to rule in spite of the Trump administration's repeated calls for his ouster. The White House broke ties with the socialist leader last January, accusing him of electoral fraud. Washington has instead endorsed opposition-controlled National Assembly leader Juan Guaidó as rightful head of state.
The issue has divided the international community with dozens of U.S. partners across the Americas, Europe and other parts of the world recognizing Guaidó--while others such as China, Russia, Iran and more maintain relations with Maduro. The United Nations also continues to recognize the latter's administration, which has overseen a sharp economic decline accelerated by mounting U.S. sanctions since 2017.
With the Latin American nation already in crisis, Venezuela reported its first COVID-19 case on March 14. Since then, that number has swelled to 106, with 15 documented recoveries. Maduro and Guaidó have shared opposing addresses vowing to defeat the coronavirus, while blaming one another for exploiting the pandemic for personal gain.
In addition to Venezuela and Iran, other countries such as China, Cuba, North Korea, Russia and Syria have been targeted by U.S. sanctions. These seven nations issued a joint letter Wednesday to U.N. Secretary-General António Guterres, who they urged "to request the complete and immediate lifting of such illegal, coercive and arbitrary measures of economic pressure" amid the pandemic.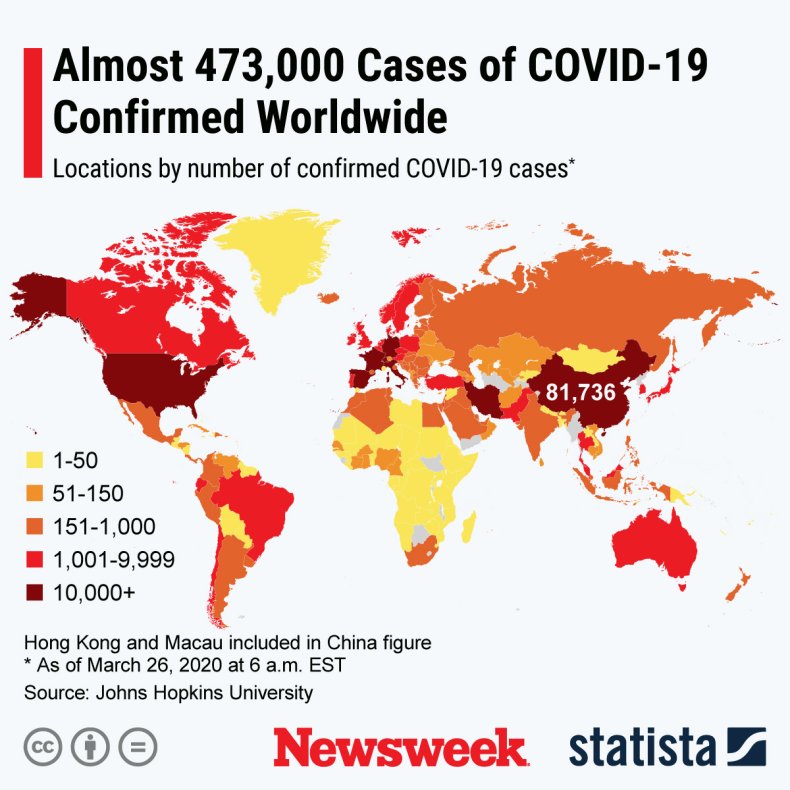 The above graphic was provided by Statista.