'This Is Us' Producers on Jack Pearson, Vietnam and Military Veterans Returning Home
This is Us, the critically acclaimed NBC family drama is unknowingly engaged in an emerging conversation with its audience about a small segment of the U.S. population that continues to drift away from the American people—the military and veteran communities.
Fans are anticipating an evening of sheer melancholy on Tuesday night as the show takes its audience back to the Vietnam War to learn about the combat experiences of the family patriarch, Jack Pearson, played by actor Milo Ventimiglia, who in real life is the son of a Vietnam veteran.
While Hollywood has improved upon its depiction of military veterans in recent years, the majority of characters produced are still one dimensional. Usually, the audience is delivered a stereotype of either the incredibly heroic service member or the tragically broken veteran who is unable to function. In reality, these are plot vehicles for lazy writing that garner cheap emotional responses and that can contribute to the civilian-military divide that is already occurring.
This Is Us, however, has so far achieved a middle ground of balance and authentic honesty in its depiction of the veteran experience.
The show's Vietnam storyline to date, as well as the preview shown to Newsweek of Tuesday night's episode, is more than just present-day and flashback vignettes that make up slick Hollywood storytelling. It's commentary on modern societal norms and the alienation that occurs among veterans upon returning home, even in today's wars—even amid a family unit as strong as the Pearsons'.
"Jack's story is not just about combat in war—it's about what veterans, and in particular, veterans of that generation, kept from their families, from significant others," This is Us creator Dan Fogelman told Newsweek. "Things they may have even kept from themselves at certain times."
"The one thing you see over and over again through research is that not everybody is coming back and not being able to function," Fogelman said. "There are many successful veterans that don't fit the trope of a traumatized veteran, but you don't just click it off either, so compartmentalizing [among veterans] seems to be a big part of the war."
The slow burn toward Vietnam has been intricately unwoven, starting in the latter half of Season 2, back in 2017, and picking up in this current season as viewers learn bits and pieces about U.S. Army Staff Sergeant Jack Pearson, a character who is contrastingly different from the father and devoted husband the audience knows and loves.
Two episodes ago, after an unremarkable date at a rained out carnival, Jack, who is cash-strapped and emotionally vulnerable, reveals the realities of his recent return from Vietnam to his future wife, Rebecca, played by actress Mandy Moore.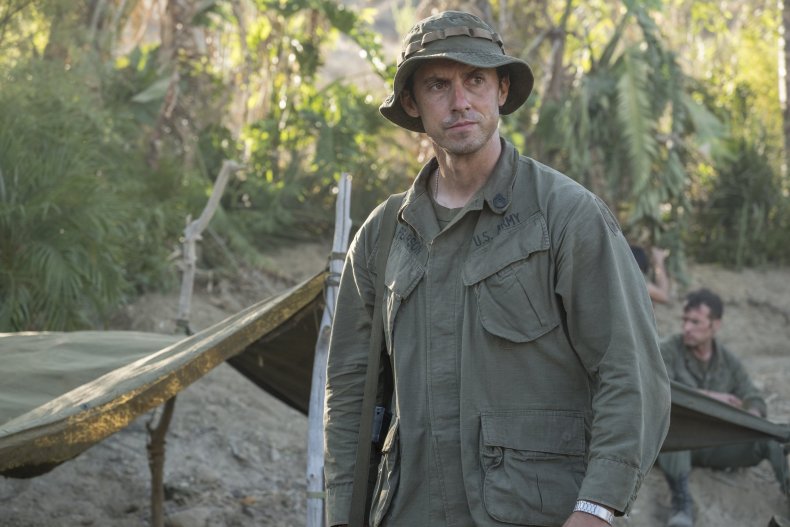 "I've been having…a hard time since I got back. Making money, finding my place," Jack tells Rebecca. "I don't like talking about the war. Or my brother. It makes me sad, it makes me angry, but I like talking to you.... You make me feel like I'm home."
While the omission is incredibly representative of many veterans from that generation, the irony is that the expression could apply to veterans of the most recent wars in Iraq and Afghanistan.
"Whatever their fond sentiments for men and women in uniform, for most Americans, the wars remain an abstraction," former Defense Secretary Robert Gates once said during a speech in 2010. "A distant and unpleasant series of news items that does not affect them personally."
America no longer goes to war as a nation. Instead, the burden is shouldered by less than 1 percent of all U.S. adults, with veterans representing only 10 percent of the total U.S. population, according to the Pew Research Center. Despite being the child of a broken home and newly minted Gold Star brother, Jack feels like an abstraction in his own country.
It's this genuine expression of feeling isolated not only by society and his family but from himself—from the loss of "Jack before the war"—where This Is Us infused "story-truth" with the harsh realities of veterans returning from war or simply transitioning out of the military.
"I think it's fair to say that Jack is a person who probably didn't get the proper type of therapy or help," Fogelman said. "He's compartmentalized those memories and rebuilt himself, but I think there are a lot of parts of him as you watch the show where those memories come out."
Similar to some real-life veterans, Jack's battle with alcoholism, which seems to be inherited from his father, is where some of those repressed memories start bubbling up to the surface.
"It's a secret functioning form of alcoholism for Jack because it is not something that has been seen in the show where he would have an explosive or violent temper," Fogelman said. "It's always been part of the underneath him. Jack wasn't just some superhero dad.... There's something there, and a man like him didn't necessarily treat himself with the care that he maybe should have."
A flashback scene in last week's episode gives an example of Jack's compartmentalization when he becomes frustrated with then 10-year-old Kevin Pearson, played by actor Parker Bates. Kevin wants his dad to purchase a toy gun but gets a stern no from Jack.
Moving on from one toy to another as kids do, Kevin ignores his dad's commands and picks up a toy grenade, pretending to throw it as if he was in a fierce battle, shouting, "Fire in the hole." Jack aggressively snaps at Kevin, grabbing his hand while reinforcing his no from earlier.
The realistic writing comes from painful research undertaken by Fogelman and company. The showrunner admits that his writers room lacks a military veteran presence, so instead, he enlisted the assistance of a world-renowned author he formerly wrote term papers on in college—the novelist Tim O'Brien—to continue the verisimilitude storytelling This Is Us is known for by blurring the lines between fiction and reality as it props up the proverbial mirror to the American people.
"I think what endures over time is story-truth, especially as fact and deep historical detail begin to slowly recede," O'Brien told Newsweek. "What do we know about the Battle of Hastings or the Trojan War is very little, but we sure remember the stories through Homer and Shakespeare, and the same with World War I and II."
"Somehow the human qualities of moral choice and the decisions we make in our lives, sometimes very tiny-seeming decisions, end up determining what happens in our lives," O'Brien said.
Before his books would go on to be lauded by The New York Times; win the National Book Award; or be nominated for the Pulitzer Prize (The Things They Carried), O'Brien was an infantry grunt drafted into the U.S. Army and shipped out to Vietnam in 1968, a pivotal year for the war that had been raging since 1955.
That year, in real life, the Tet Offensive and the Battle of Hue City were beaming live into television sets across the U.S. as some families waited for the return of loved ones, but instead received a Western Union telegram from Washington, D.C., expressing its deepest condolences. The battles and the rising death toll are remembered as the historical moment that turned the U.S. public opinion against the war.
Using O'Brien's own experiences from Vietnam and an advanced copy of The Vietnam War, the 10-part documentary series from Ken Burns and Lynn Novick, Fogelman and O'Brien began to weave an intricate soldier story that is not sensationalized or embellished.
While the storyline has yet to be fully revealed, O'Brien and Fogelman confirmed a detailed timeline of historical events, down to the period newspapers used in the series that Newsweek was able to identify from past episodes.
Tuesday night will continue to underscore the exhaustive research This Is Us has undertaken since the series first premiered in September 2016.
"I think every person's story, beyond war and veterans, has a unique story and is different," Fogelman said. "And I would venture to say that while all war stories are unique and singular, they have shades that are similar to others, but every shading is slightly different. So I think Jack is a very specific one, but I think it fits with the general pattern that a lot of people of his time went through."
"What's always been exciting for us about the show is fans attaching to a storyline, a moment, a character to different things in their life," Fogelman said. "It could be somebody battling a body image issue. It could be somebody battling addiction. You know, the human spectrum cuts a wide swath."
But if the show's producers are engaged in an artistic conversation with the audience about the struggles of everyday life and how a family unit can overcome adversity, an analysis of the Vietnam storyline reveals that the message to veterans has already been delivered.
Similar to warfare, the message is simple, yet complex: "You're going to find your balance."
After a visit to the Vietnam Veterans Memorial Wall, in Washington, D.C., where the names of more than 58,000 American service members are inscribed on black granite, Jack confides to his teenage son, Randall, played by actor Niles Fitch, about coming to terms with life after the war.
"It was hard...for all of us that were over there. It was just hard," Jack says. "When I got back, I was off-balance. I was out-of-place in every place I went. You're going to find your balance, Randall. And then, you're going to lose it, and then you're going to find it again."