U.S. Jews Must Fight Netanyahu's Moves to Defang Israeli Courts | Opinion
When our oldest daughter was born in Israel, we experienced the quintessential Israeli experience of everyone giving us advice. "She's too hot, you'll suffocate her," a passerby commented. "She's cold, where's her sweater?!" said another. "You're holding her wrong!" said a third. And again, "You shouldn't bring her in here, there are too many germs," one woman scolded me as we entered the market.
Maybe there are greater social boundaries in other societies and cultures, but in a country where everyone sees themselves as extended family, one can understand that "strangers" feel comfortable giving unsolicited advice to one another.
That sense of family is also applicable on a much broader scale. If we don't hesitate to speak up when a baby looks too cold or too hot, how can we not speak up when we see members of our "family" embarking on a dangerous path—a weakening of the judiciary that will leave an extremist government unchecked?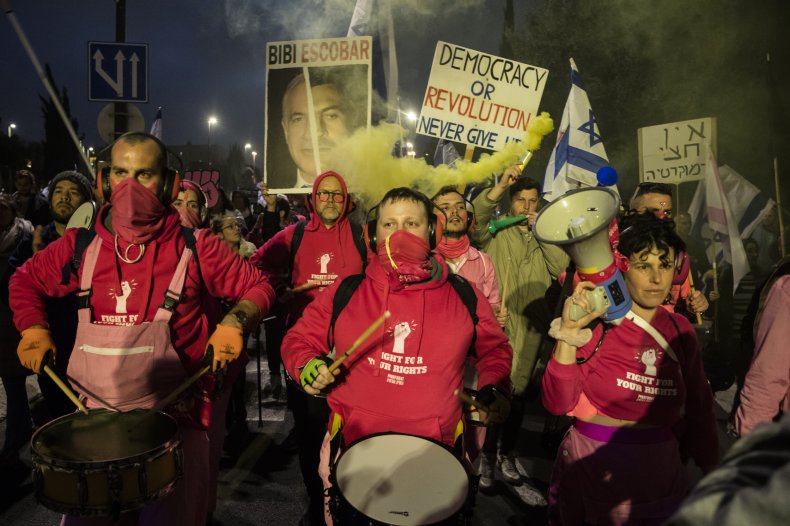 Israeli Prime Minister Benjamin Netanyahu, himself on trial for corruption, wants to have the nation's parliament, the Knesset, pass what they call a set of judicial "reforms." It would place the Knesset above the courts, giving it the final word on anything and everything. Without a written constitution, this can happen in Israel.
Inevitably, everywhere I visit and with everyone I speak around North America, the same question comes up, "What can we North American Jews do who do not live in Israel? We who don't pay taxes or serve in the army? What can we do, we who do not bear the consequences of Israel's latest elections and the judicial overhaul on its way through the Knesset—yet are affected and therefore implicated as Diaspora Jews?"
This is the age-old question of Israel-Diaspora relations that touches on all dimensions of our Diaspora Jewish responsibility and obligation to help build, give support to, and advocate on behalf of the Jewish State. At times our complex feelings compel us to both demonstrate our love and support for Israel while also expressing our criticism of policies that we believe are contrary to Israel's best interests and to a basic commitment to democracy.
Just like the woman in the market who saw herself as if she was another one of my aunts or cousins and held no reservations in giving me feedback about my parenting, Israelis should not be surprised by the feedback—solicited or not—from their "family" abroad.
On a personal note, I am feeling a deep sense of anguish and longing. As a Zionist, having made the choice earlier in life to become an Israeli citizen, and then the choice to live outside of Israel, the worse things become there the more I want to be there. The more I feel the need to join the multitudes of protesters outside the Knesset as the initial legislative proposals of Justice Minister Yariv Levin and MK Simcha Rothman aggressively push through their legislative processes.
I no longer fear the retribution of my North American friends and colleagues who urge me and Reform Movement leaders that yes, these are not necessarily the changes they would have hoped for, but we also need to celebrate Israel and emphasize the good things.
Of course, we need to celebrate the miracle that is the State of Israel. However, this moment is different.
We don't have a choice right now. Israel as a Jewish and democratic state is being threatened and the damage being done is potentially irreversible. Every day, our Israeli friends and colleagues are reaching out to us for help, all with the similar refrain: "When are you, American Jews, going to use your power and influence and save us from this mess?!"
Their cry for us to raise our voices must compel us to action. To begin, we can lobby our elected representatives to speak up and voice our concerns to Israel's diplomats abroad. As Secretary of State Antony Blinken said in Israel earlier this year, the American-Israeli relationship is based on the solid foundation of shared values and our mutual commitment to democracy, freedom, and equality.
But what if it's not?
What if those shared values aren't shared anymore because Israel eliminates the previously untouchable checks and balances between the executive-legislative branch and the judicial branch and is no longer seen as a democracy? If the United States perceives Israel as no longer sharing democratic values, it will be very difficult for many in Congress to support continuing financial and military aid to Israel. Such aid will certainly not have backing from the multitudes of American Jews who have walked away because of Israel's current course of action.
Right now, we don't have a choice. Israel as a Jewish and democratic state is being threatened, and the damage being done is potentially irreversible. We must speak up, in the same way that we would mobilize and come together if Israel were facing a formidable external threat. I've never been one to say that Israel is too important to be left to Israelis, but Israel should be important to Jews regardless of where we live. We must pour into the streets in protest—in Israel and around the world.
For the sake of Zion, we cannot stay silent.
Rabbi Josh Weinberg serves as the Vice President of the URJ for Israel and Reform Zionism and is the Executive Director of ARZA, the Association of Reform Zionists of America. He was ordained from the HUC-JIR Israeli Rabbinic Program in Jerusalem, and is currently living in New York.
The views expressed in this article are the writer's own.