U.S. Jobless Claims Rise to 39 Million as All 50 States Start Reopening
Jobless claims for workers across America rose by an additional 2 million last week, bringing the nine-week total to almost 39 million as states began reopening their economies, new data has revealed.
The Department of Labor figures published Thursday morning showed that 2.4 million filed Americans initial claims for unemployment benefits in the week ending May 16.
In its new data release, the Department of Labor said the COVID-19 outbreak was still having an impact on the once unprecedented unemployment numbers.
"The COVID-19 virus continues to impact the number of initial claims and insured unemployment," the department wrote.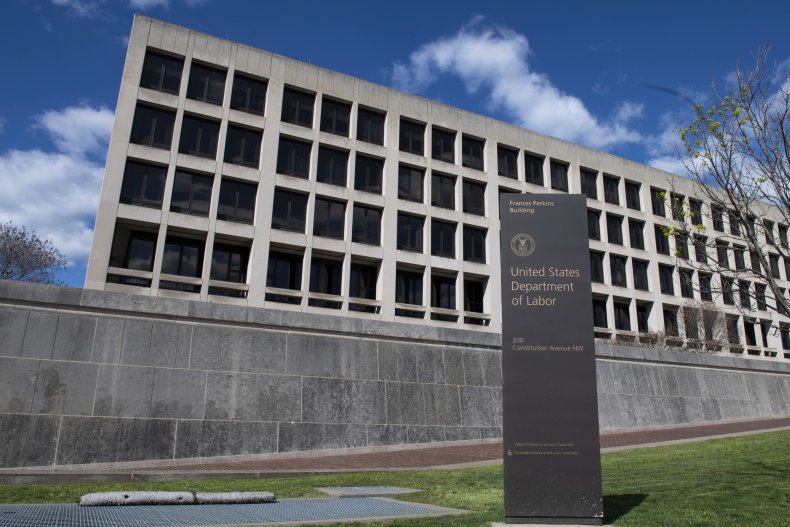 Although the latest jobless claim numbers are down from the 2.9 million filed during the week ending May 9, they are still at a level unseen since the Great Depression.
When combined with initial jobless claims filed over the last eight weeks, the new figures took the nine-week jobless claims total to 38.6 million as the coronavirus pandemic continues to rattle the U.S. economy.
According to the Bureau of Labour Statistics, the entire civilian labor force stood at 156.4 million in April this year, meaning now roughly a quarter of the American workforce have filed for unemployment benefits in the last two months
The national unemployment rate also spiked by 10 points to 14.7 percent in April, up from 4.4 percent in March.
Nationwide unemployment hit a peak of 24.9 percent amid the Great Depression, and a post-Depression height of 10.8 percent in December, 1982. During the Great Recession spanning 2007 to 2009, American unemployment capped at 10 percent and slowly declined until March this year.
Reacting to the new unemployment numbers, Bankrate senior economic analyst Mark Hamrick said in a press statement: "With a ninth straight week of new weekly jobless claims being counted in the millions, although at a lower level than before, one might be tempted to focus on the continuing decline.
"But at 2.4 million new claims last week, the seismic impact should not be dismissed because earlier shock waves were larger. This number of new claims alone is about equal to the population of the city of Houston, Texas."
The Department of Labor released its latest jobless claim figures as all 50 states began rolling back lockdown measures after two months of coronavirus-related restrictions.
The Economic Policy Institute's policy director Heidi Shierholz tweeted: "Whether furloughed workers will actually be called back or whether furloughs will turn into layoffs will hinge on whether policymakers enact an effective testing and contact tracing so that people will feel safe enough to reengage in normal activity as the economy reopens."
The degree to which states have lifted measures imposed on businesses and public spaces has varied widely.