Is the U.S. Justice Department Surrendering To China? | Opinion
The U.S. Justice Department (DOJ) is negotiating with Meng Wanzhou, the chief financial officer of Huawei Technologies, to allow her to return to China.
This is mistaken. The Trump administration should not, under any conditions, come to terms with Ms. Meng. Her release would directly and immediately undermine American national security and other core interests.
China Daily, the Chinese Communist Party's official English language newspaper, on Saturday confirmed Wall Street Journal reporting that the U.S. and Meng have been in discussions over a possible plea deal.
Meng, also the daughter of Huawei's founder and chief executive officer, was detained at DOJ's request by Canadian police on December 1, 2018, as she attempted to transit through the Vancouver airport on her way from Hong Kong to Mexico.
Now under house arrest, she is challenging extradition on wire and bank fraud charges that stem from Huawei's alleged violation of U.S. sanctions on Iran. The Justice Department claims Meng lied to HSBC in 2013 in order to get the British-headquartered bank to clear transactions with parties in the Islamic Republic.
So far, Meng's lawyers have been unsuccessful in persuading a Canadian court to refuse extradition to the U.S.
According to "people familiar with the matter," lawyers for both sides have been discussing a possible "deferred prosecution agreement," which is rarely offered. In return for Meng's admissions of wrongdoing and cooperation, DOJ prosecutors would defer and drop charges. The proposed deal has not been finalized because Meng has thus far resisted making admissions.
Any admission would undermine Beijing's position that the American charges against her are politically motivated and baseless.
The Trump administration's attempt to negotiate away the charges undermines the integrity of American law enforcement. "It would be exceptional for the Justice Department to forego a criminal conviction," said David Laufman, a former DOJ national security official now in private law practice, to the Journal.
Of course, there are exceptional circumstances. "There are," Laufman told the paper, "times when law enforcement interests reasonably give way to overarching foreign policy interests of the United States."
In this case, however, "overarching foreign policy interests" cut in the precise opposite direction and argue for no deal with Meng.
Huawei, the world's number one manufacturer of both telecom networking gear and smartphones, lies at the center of continuing controversies between Beijing and Washington. American officials believe the Chinese party-state is using Huawei to surveil others—something that undoubtedly occurred from 2012 to 2017, when Beijing surreptitiously downloaded data from the headquarters of the African Union in Addis Ababa. The theft was made possible due to Huawei servers that were installed in the Beijing-donated and Chinese-constructed building.
Huawei, fueled by untold billions of dollars of stolen technology and perhaps as much as $75 billion of Beijing's subsidies, is building out 5G networks throughout the world. These networks will allow China to illicitly take more data and perhaps remotely manipulate devices, such as your front door and car, connected to the so-called Internet of Things. The country that ends up controlling global 5G networks will have a long head start in dominating the world economy over the course of the next several decades.
The Trump administration has repeatedly sanctioned Huawei and has pursued criminal investigations of the company, which claims to be "employee-owned" but is effectively a state-run enterprise. These investigations, along with sanctions, could end Huawei as an ongoing concern and are therefore crucial to determining global leadership.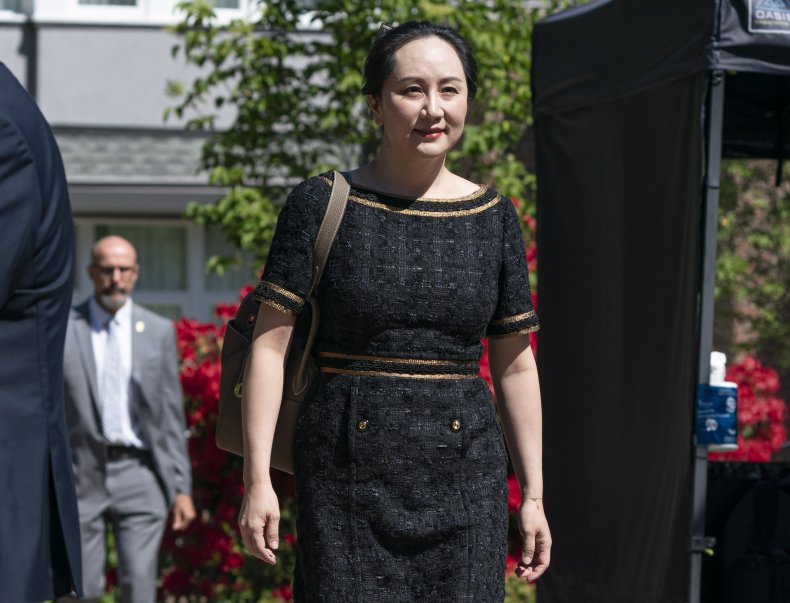 Meng in custody in the United States would send a powerful message that Huawei does, in fact, pose a critical national security threat. That would bolster American efforts, such as the State Department's "Clean Network" initiative, to get countries to forego buying Huawei's 5G gear.
Yet there are even more fundamental interests at stake. Why would China's leaders ever respect American laws if they thought America did not have the will to enforce them? Or if they believed American law was negotiable?
Meng's fate is not something to be bargained away. The mere act of Washington participating in negotiations with her is, by itself, a win for Beijing.
Negotiations ending in Meng's release would also, in the words of the Journal, "pave the way" for China to release the "two Michaels." Michael Kovrig and Michael Spavor, two Canadians now in custody in China, were detained on bogus-looking charges just days after Meng was taken into custody. Beijing has since intimated that they will be released only when Meng returns to China, so the two of them are almost certainly being held as hostages.
To free Meng in exchange for the Michaels—something that Beijing's friends in the Canadian political establishment have been arguing for—would just give Beijing more incentive to grab innocent foreigners the next time a Chinese national or spy is arrested.
China engages in hostage diplomacy because it has worked. Bill Gertz, journalist and author of Deceiving the Sky: Inside Communist China's Drive for Global Supremacy, says the Meng case is reminiscent of that of Su Bin, a Chinese national with Canadian residence who was wanted for stealing the plans for the Air Force's C-17 for Beijing. Canada, at the behest of the U.S., extradited Su to the United States. China detained a Canadian couple, the Garratts, in order to get America to release Su, who pled guilty to minor charges in 2016 and was released.
It's about time countries stopped giving in to rogue regimes' hostage-takings.
Moreover, a resolution of the Kovrig and Spavor incident will have far-reaching Canadian political implications that favor Beijing. A release of the pair would, Charles Burton told Newsweek, "be instrumental to Justin Trudeau's Liberals regaining a majority in Parliament if a general election is held in Spring 2021, as is likely."
Burton, a former Canadian diplomat posted in Beijing, notes the release would cool down widespread Canadian resentment of China for grabbing the two Michaels and remove an obstacle for the Liberals to pursue their China-friendly policies. "The Communist regime has penetrated the highest echelons of power in Canada," Burton, now at the Ottawa-based Macdonald-Laurier Institute, says.
This is clearly no time for the U.S. government to surrender to Meng Wanzhou—and to China.
Gordon G. Chang is the author of The Coming Collapse of China. Follow him on Twitter and Parler: @GordonGChang.
The views expressed in this article are the writer's own.