U.S. Keeps Eyes on Belarus for Signs of Assisting Russian Invasion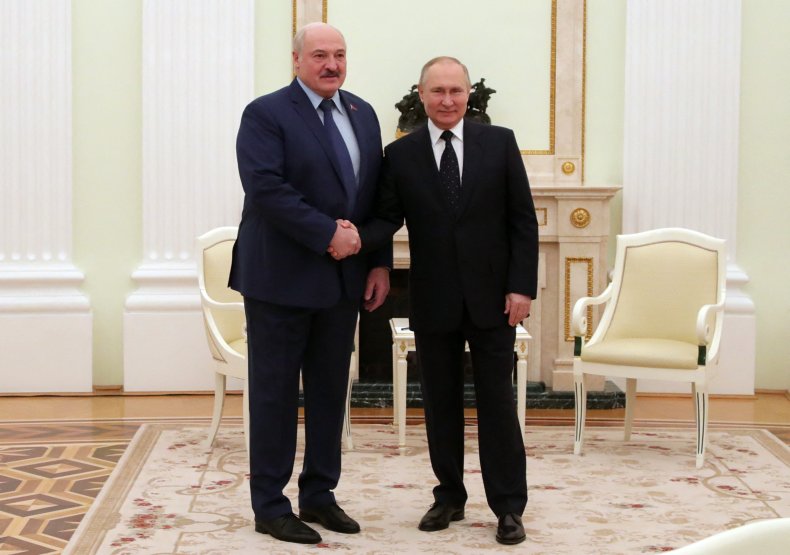 The U.S. said there were no "indications" that Belarusian troops would join the invasion of Ukraine on the same day that Russia was accused of launching a false-flag attack to provoke its ally into action.
The Ukraine Air Force Command claimed on Friday that Russian aircraft launched from Belarus flew into Ukrainian territory before turning back and firing on multiple Belarusian villages as part of a "provocation" that was intended "to pull the Armed Forces of the Republic of Belarus into a war with Ukraine."
However, U.S. intelligence has not been able to confirm the purported attack and has seen no indication that troops from Belarus are moving into Ukrainian territory, Pentagon Press Secretary John Kirby said when asked about the claim during a press conference.
"We can't confirm these reports ... we have nothing to corroborate that," Kirby said. "We haven't seen any indications that Belarusian troops or forces have moved inside Ukraine."
Kirby noted that, according to the state-run news agency BelTa, Belarusian President Alexander Lukashenko told his defense ministry on Thursday that Belarusian forces should stop any attempts—presumably by Ukrainian troops—to break Russian supply lines or "strike at Russians from the rear."
"That's the first time that he's said anything about Belarus perhaps getting involved," said Kirby. "But no indications at this time that they have, or that that's in the offing."
Kirby reiterated that the U.S. was "not tracking any imminent involvement by Belarusian forces" after being asked a followup question about Ukrainian reports that Belarus could invade as early as Friday.
Kirby added that current observations were "not to say that it couldn't happen" but that he could only say "what we're seeing right now."
Although no Belarusian troops have been spotted crossing into Ukraine, Lukashenko and Russian President Vladimir Putin have a close relationship and Belarus has been used as a staging area for Russian air and ground forces participating in the invasion.
Oleksiy Danilov, secretary of the Ukrainian National Security and Defense Council, said that Ukraine had so far shown restraint towards Belarus but vowed to "fight back" if "one fighter" were to cross into Ukraine.
The Ukrainian claim of a Russian false-flag attack was "unequivocally" dismissed as "nonsense" in a statement from Belarusian Defense Ministry spokeswoman Ina Harbachova, according to RadioFreeEurope.
Ukrainian Defense Minister Olexiy Reznikov said he was "confident" that Russia was "preparing a series of bloody provocations" in a statement posted to social media earlier on Friday.
"I guarantee that the Ukrainian army did not plan, is not planning and will not plan any aggressive actions against Belarus," Reznikov said. "Do not let your country be dragged into this war! Save the lives of your loved ones! Do not let the Kremlin destroy the future of Belarus!"
The claimed attack came on the same day that Lukashenko, who has often been described as "Europe's last dictator," met with Putin in Moscow. An adviser to Ukrainian President Volodymyr Zelensky said that the alleged attacks were carried out while the two leaders were meeting.
Newsweek reached out to the Washington, D.C., embassies of Belarus, Russia and Ukraine for comment.