U.S. Largest Provider of Single-Family Rent Homes Made Largest Profit Ever Amid Pandemic
Invitation Homes, the largest provider of single-family homes for rent in the U.S., reported that 2020 was its most profitable year ever, despite the coronavirus pandemic.
The company, which was founded in 2012, worked to collect and rent out tens of thousands of homes that were emptied after the 2008 financial crisis. Last year, Invitation Homes raked in $50 million more in rent on those houses than it did in 2019, CBS News reported.
In total, the company's profits rose by 30 percent during the pandemic, up from nearly $150 million in 2019 to almost $200 million in 2020. Additionally, shares of the company grew in the past year to 64 percent, and dropped just one dollar from their all-time high.
The boost in Invitations Homes' profits might come as a surprise, considering the pandemic. But because of COVID-19, Invitation Homes reported that fewer of its tenants moved out of the company's properties, which significantly cut turnover costs by $5 million.
Furthermore, despite the implementation of a federal eviction moratorium to prevent large rental companies from kicking out tenants amid the pandemic, a study says that Invitation Homes still filed at least 550 evictions in 2020.
The report, which came from the Institute for Policy Studies, found that Invitation Homes filed those evictions in Arizona, Florida, Georgia, Illinois and Texas, and most of them came after the federal eviction moratorium was ordered in September 2020.
But a spokesperson for the company told Newsweek that evictions that were filed during the pandemic were within the rights of federal guidance. The company also said it is providing localized rental assistance resources to tenants and has offered payment options to help tenants avoid eviction.
"While we had a successful year from a business results perspective, we also feel very good about the year we had in supporting our residents, particularly those suffering financially. Since early in the pandemic, we have worked with our residents facing COVID-related financial hardships and helped thousands of them with payment options so they can stay in their homes," a spokesperson for the company told Newsweek Tuesday.
"Eviction is never a course we want to pursue, however, consistent with the stipulations of the CDC order and various state orders, we have pursued legal efforts for those residents who have not responded to us despite our repeated attempts to contact them regarding missed payments or offers of payment plans," the spokesperson added.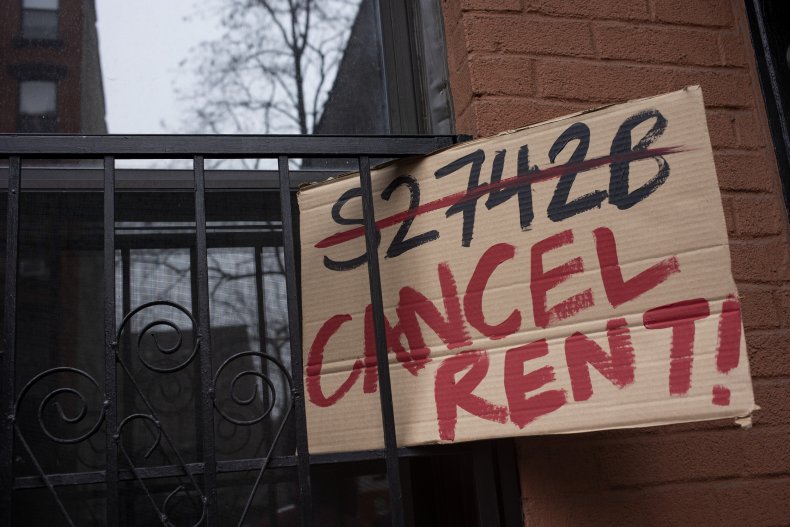 In general, the successful year for Invitations Homes reflects a larger trend for the nation's biggest landlord companies.
A CBS MoneyWatch analysis found that a number of large property owners actually profited during the pandemic; the report also suggests that the eviction moratorium hasn't had much of an effect on many of the companies' revenue.
The analysis concluded that another large company, Mid-America Apartment Communities, also had great success in 2020, with a 60 percent increase in operating profits compared to 2019. Rents at properties that the company owned before the pandemic also rose by 2.5 percent in 2020, and Mid-America Apartment Communities reported nearly $1.7 billion in revenue last year.
Nevertheless, the National Rental Home Council (NRHC)—a trade group representing single-family landlords—released a survey advocating for the end of the eviction moratorium, and said that 20 percent of its members would no longer be able to afford their properties if the ban were extended.
"Whether you believe the eviction moratorium is good policy or not, it has created significant uncertainty in the rental market," NRHC's David Howard said, CBS reported. "It has been a difficult time for landlords."
The U.S. Centers for Disease Control and Prevention extended the eviction moratorium on Monday to go until June 30. It was initially set to expire at the end of March.
"Extending the moratorium is clearly necessary and appropriate," National Low Income Housing Coalition CEO Diana Yentel said on Twitter Monday.
Yentel added: "The pandemic isn't over, ten million families are behind on rent, and it will take months to distribute $46 billion in rental assistance to address arrears and prevent evictions."