U.S. Launches Four Missiles As It Rejects Russia's Offer to Sell Advanced Weapons
The U.S. military has tested four nuclear-capable missiles in the past three days, just as Russian President Vladimir Putin revealed he had offered to sell advanced weapons to his counterpart in Washington.
In a press release, the U.S. Navy said Friday it "conducted four scheduled missile test flights" of the Trident II submarine-launched ballistic missiles using Ohio-class ballistic missile submarine USS Nebraska off the coast of San Diego, California. Two launches occurred Wednesday and two more on Friday, but they "were not conducted in response to any ongoing world events," according to the statement.
The news came a day after Putin told a plenary session of the Eastern Economic Forum that he had informed President Donald Trump back in June that he could buy some of Moscow's upcoming, state-of-the-art weapons, including nuclear-capable and hypersonic missiles in order to "balance everything out" between the military competitors. The Russian leader then said U.S. officials have indicated "they will soon produce it themselves," a position reportedly expressed Friday by a senior U.S. official.
"There is little reason for the United States to consider the purchase of advanced missile technology from Russia. The United States has a major comparative advantage over Russia in the safe development, testing and employment of missile technology," the state-run Russian News Agency cited the unnamed Trump administration official as saying.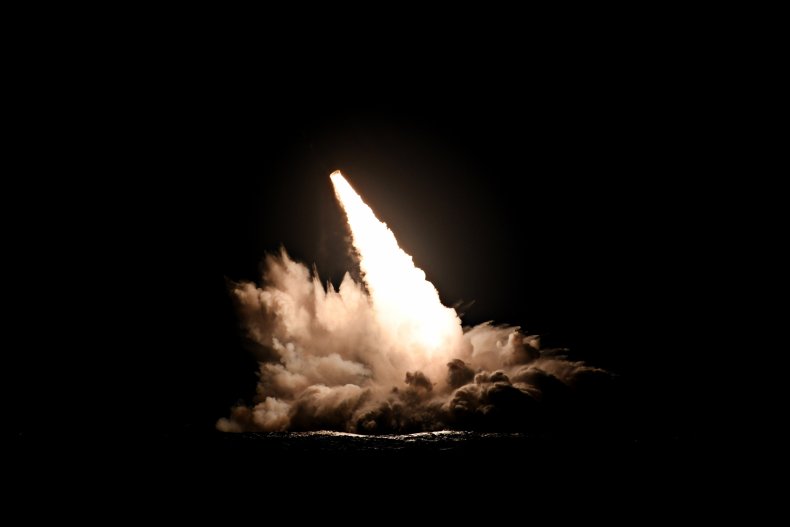 The Trident comprises the seaborne component and about 70 percent altogether of the U.S. nuclear triad, which also includes land and air capabilities. About a year after taking office in early 2017, Trump unveiled in February of last year a new Nuclear Posture Review that included plans to develop lower-yield W76 nuclear warheads for Trident missiles, raising concerns that such modifications could make nuclear conflict more likely.
Putin and his top officials have repeatedly raised the issue with the Trump administration, which has accused Moscow of already researching such low-yield weapons, but both leaders appear determined to modernize their arsenals in one way or another. A month after Trump's nuclear report, Putin announced the development of new, high-tech weapons said capable of defeating all modern and even prospective defense systems.
These included the RS-28 Sarmat intercontinental ballistic missile, the Avangard hypersonic glide vehicle, the Kh-47M2 Kinzhal air-launched hypersonic missile, the 9M730 Burevestnik nuclear-powered cruise and the Poseidon nuclear-powered underwater torpedo drone. Earlier this year, Putin also revealed ongoing tests of a Russian hypersonic submarine-launched cruise missile, the 3M22 Tsirkon.
Putin argued such measures were necessary in response to an "arms race" sparked by the U.S.' abandonment of the 1972 Anti-Ballistic Missile (ABM) Treaty back in 2002 and build-up of high-tech, once-banned defense systems in Eastern Europe. Trump has vowed to expand his country's anti-missile infrastructure and pulled out last month of yet another Cold War-era arms control deal, the Intermediate-Range Nuclear Forces (INF) treaty restricting ground-based missiles ranging from 310 to 3,420 miles.
The U.S. had argued Russia violated the agreement through its development of a cruise missile called the Novator 9M729, but Moscow officials argued their Pentagon counterparts were already breaking the rules by installing the same launchers used for offensive weapons in their defense systems in Romania and Poland. Both sides denied the respective claims against them and weeks after the U.S. left the deal, it fired a cruise missile traveling over 310 miles from what Newsweek confirmed was the same launcher, though Pentagon said it was in a different configuration.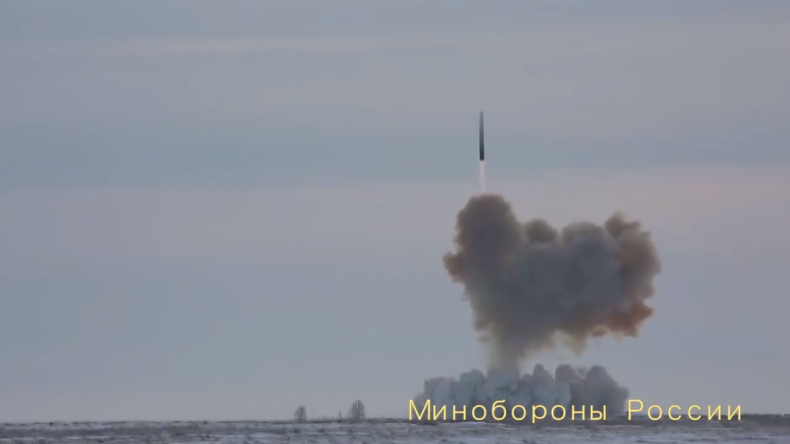 Putin maintained on Thursday that he would abide by a self-imposed moratorium against deploying such mid-range weapons, but only as long Trump did not do so first. The Russian leader also indicated that he had already ordered the development of such systems in response to last month's U.S. test.
While much of the current missile tensions have focused on the border between Russia and nations aligned to the U.S.-led NATO Western military alliance, Moscow has also reacted with alarm to statements by Defense Secretary Mark Esper suggesting he was considering deploying ground-based, medium-range missiles in Asia. Speaking alongside Putin, Japanese Prime Minister Shinzo Abe said Thursday he had received no such proposal from the U.S. and a five-year defense plan released last month by South Korea did not include plans for the platform.
Still, Russia has expressed skepticism of an expanding global U.S. military presence, especially as longstanding arms control pacts collapsed. Another major deal at risk is the New Strategic Arms Reduction Treaty (START) that limits the number of nuclear weapons and launchers allowed by both parties.
Moscow officials have claimed that Washington was not responding to their invitations to being talks to renew the treaty that was set to expire in 2021, and Trump has so far only expressed interest in forging a new deal that would also include China, which has significantly fewer nuclear weapons. Russian Foreign Minister Sergey Lavrov told Russian newspaper Izvestia on Wednesday that "the U.S. and Russia bear main responsibility in the world" for such weapons of mass destruction, echoing Beijing's argument for declining to restrict its nuclear arms.