U.S. Lawmakers Condemn Russia's Government for Murdering Political Opponents, Call for Investigation Into Boris Nemtsov Death
U.S. lawmakers passed a resolution Thursday condemning Russian President Vladimir Putin's government for the murder of opposition figures in Russia, including former politician and activist Boris Nemtsov, who was assassinated in February 2015 outside the Kremlin.
The nonbinding resolution passed 461-1, with only one Republican congress member, Thomas Massie of Kentucky, voting against it.
The measure calls on the Trump administration to use the Magnitsky Act, a 2012 law meant to punish Russian officials deemed responsible for committing human rights violations, to investigate Nemtsov's murder and hold the perpetrators accountable. It also requests that the U.S. intelligence community provide a detailed report to Congress on Nemtsov's death.
"Boris Nemtsov was a Russian statesman who, over 25 years of public service, served as a member of Parliament, governor of the Nizhny Novgorod Region, and first deputy prime mnister of Russia," Tuesday's House resolution reads.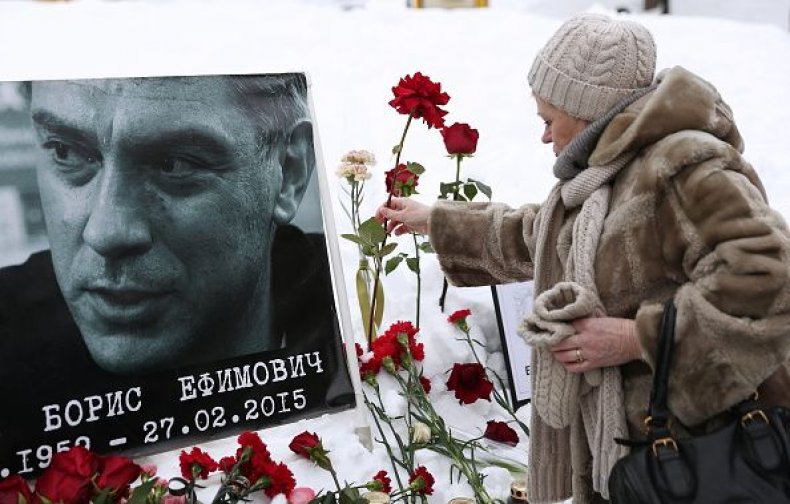 "Throughout his life, Boris Nemtsov showed an unwavering commitment to the ideals of democracy, freedom and the rule of law, and to upholding the rights and dignity of Russian citizens… On the evening of February 27, 2015, Boris Nemtsov was shot and killed in the back as he walked across Bolshoi Moskvoretsky Bridge near the Kremlin in Moscow," it continues.
Eliot Engel, the leading Democrat on the House Foreign Affairs Committee, said that the resolution "condemns the Kremlin's systematic targeting of its political opponents and calls on the administration to impose sanctions on those responsible for Nemtsov's murder and cover-up."
Five people were convicted of Nemtsov's murder in Russia, but the activist's family and many international observers have said that the convicted men were used as scapegoats. All of the men were of Chechen origin and closely linked to Chechnya's staunchly pro-Putin leader, Ramzan Kadyrov. Critics noted that no investigation was conducted into the reasons why Nemtsov was assassinated or who ordered the killing.
"No other suspects have been arrested ever since; no sponsors or organizers of the killing have been identified either," reads a statement on the website of the Boris Nemtsov Foundation for Freedom. "The five arrestees from Chechnya have been charged with the perpetration of the contract killing. Obviously, they had no reasons of their own to remove the Russian opposition leader."
Tuesday's vote is a sign that the new Democrat-led Congress is beginning to get tough on the Russian government for its human rights violations and interference in foreign countries.
"It won't bring [Nemtsov] back to life but it does erode the climate of impunity that surrounds his murder," Edward Lucas, a British writer and friend of Nemtsov, told Newsweek.
In the lead up to his murder, Nemtsov was preparing to release a report on Russia's interference in Ukraine, where Moscow has supported armed separatists since 2014.
"It's impossible to overstate how important Boris Nemtsov was to the Russian and Ukrainian people. Boris Nemtsov represented hope and united Russians and Ukrainians through messages of peace and unity. Nemtsov showed that an alternative future for Russia, one without Putinism, was possible," Andrea Chalupa, a writer and filmmaker focused on Ukraine, told Newsweek.
"I saw firsthand the fear and grief in the eyes of Russians and Ukrainians after he was murdered in the shadow of the Kremlin," Chalupa continued. "Their hope had been stolen from them. Since then, people across Russia continue to march in his honor at the anniversary of his assassination. Any support we can show the Russian people risking their lives and freedom in their struggle for democracy and keeping Nemtsov's memory alive, refusing to allow him to have died in vain, is an important and urgent symbol of solidarity."