U.S. Lawmakers Discuss Ties With Taiwan President Despite Disapproval from China
A bipartisan group of U.S. lawmakers traveled to meet Taiwan President Tsai Ing-wen and strengthen the ties between Taipei and Washington despite opposition from China amid ongoing cross-strait tensions.
Five House members—Reps. Mark Takano, a California Democrat; Elissa Slotkin, a Michigan Democrat; Colin Allred, a Texas Democrat; Sara Jacobs, a California Democrat; and Nancy Mace, a South Carolina Republican—arrived in Taiwan Thursday to meet with local officials amid a wider delegation trip to several regions in Asia.
"Thank you to [Takano, Slotkin, Allred, Jacobs, and Mace]. Your delegation's visit to #Taiwan & your support strengthens my conviction that our democratic partnership will continue to be a key force for good in the region & world," Tsai tweeted on Friday.
Slotkin revealed Thursday that she received a request from the Chinese embassy to cancel the meeting ahead of their trip to Taiwan.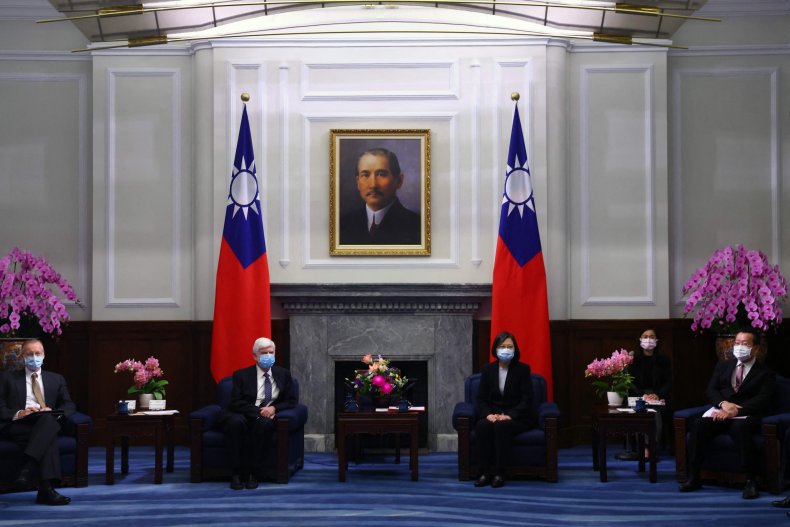 "When news of our trip broke yesterday, my office received a blunt message from the Chinese Embassy, telling me to call off the trip," the Michigan Democrat tweeted, as the U.S. delegation landed in Taiwan. "But just as with other stops, we're here to learn about the region and reaffirm the U.S. commitment to our hosts, the Taiwanese. I'm looking forward to an informative trip."
In a statement, Jacobs said the trip to Taiwan, South Korea and Japan was organized by Takano, chairman of the House Committee on Veterans' Affairs.
China's hostility toward Taiwan has grown since Tsai, leader of the pro-independence Democratic Progressive Party, won presidential elections on the island in 2016.
Chinese communist leaders have sought to regain control of the region—which they view as a wayward province—and have never renounced the use of force to bring it back under Beijing control. Taipei is proudly democratic and ​​has shown no interest in being governed by the ruling Communist Party in Beijing.
U.S. overtures toward Taiwan have further escalated tension between Beijing and Taipei.
China often says the U.S. acknowledgement of its "one-China" policy is foundational for two-way ties, and that Taiwan is the most sensitive issue in the relationship.
In a departure from a long-standing foreign policy position, President Joe Biden said during a CNN town hall last month that the U.S. would come to Taiwan's defense if China attacked. But the White House later walked back the remarks, telling reporters that Biden did not intend to signal a shift in policy.
Newsweek reached out to Chinese embassy in Washington D.C. for comment.