U.S. Leads 'Largest Multinational Exercise Held in Ukraine'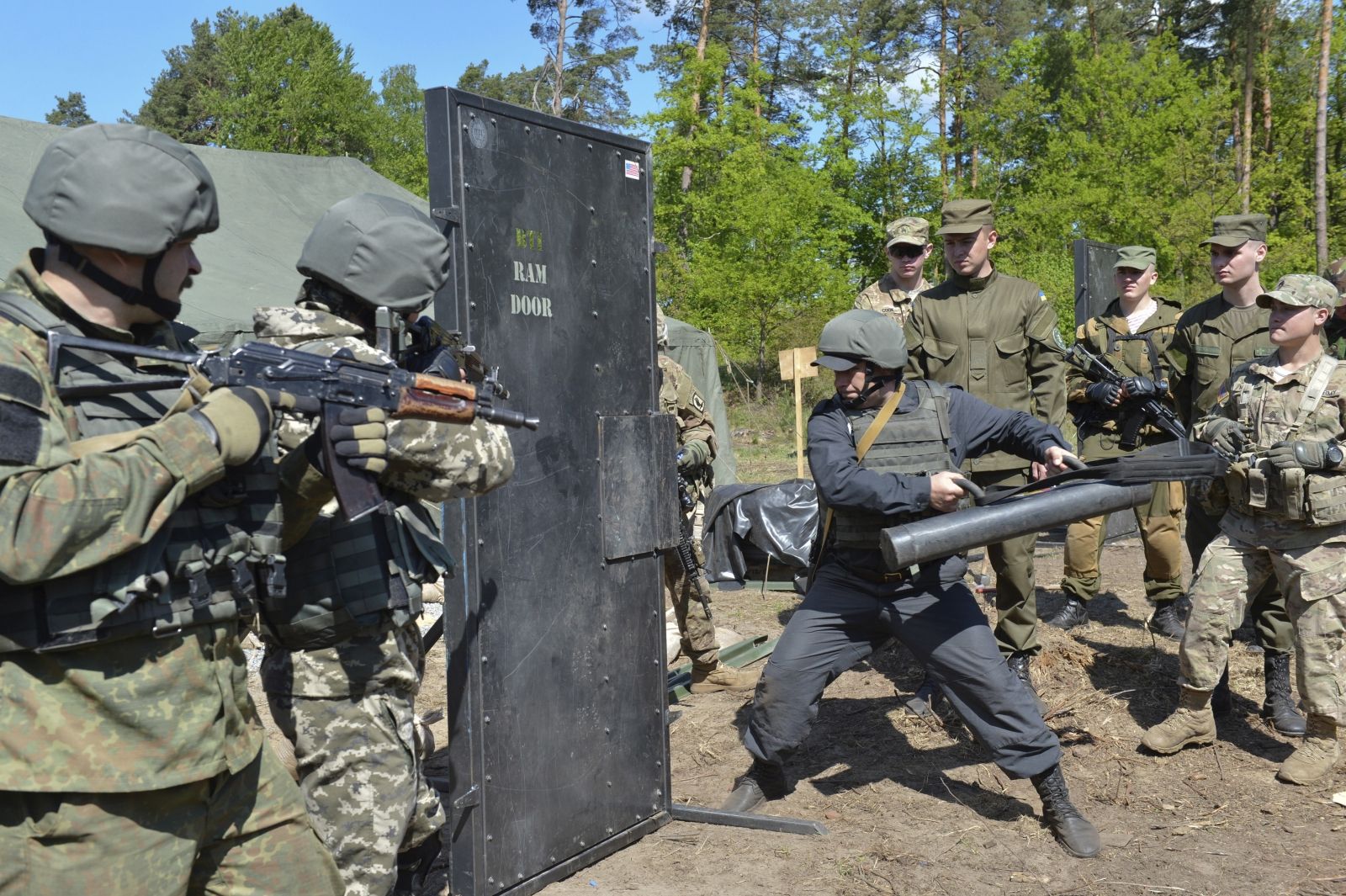 Troops from the U.S., U.K., Germany and 14 other countries are set to conduct what one official called the "largest multinational exercise held in Ukraine" in the west of the country over the coming weeks.
The exercises will be conducted in the Lviv region in western Ukraine, far from the current conflict in the east, with as many as 1,800 servicemen from 18 countries taking part from Monday until the end of the month.
The exercises, named "Saber Guardian" and "Rapid Trident," are conducted annually by the U.S. army in Europe and European states which agree to participate. Last year they included 1,300 defence staff from 15 militaries, including Ukraine. However last year, only Rapid Trident took place on Ukrainian soil, with Saber Guardian organized in Bulgaria.
Beside the U.S. military and their Ukrainian hosts, other personnel joining the exercise include members from NATO allied nations such as the U.K., Germany, Spain, Turkey, Canada, Poland, Romania, Bulgaria, Estonia, Latvia and Lithuania, while non-members Serbia, Moldova, Georgia and Azerbaijan are also set to participate.
Newsweek subscription offers >
"Multinational exercises have been conducted in Ukraine since 1995, however it is safe to say that this is the largest multinational exercise held in Ukraine to date," Don Wrenn public affairs public affairs specialist for U.S. Army Europe, who is at the site of the exercises says.
Despite the tension in eastern Ukraine where Russian-backed rebels have intensified fire towards Kiev-held positions since May, Wrenn says the exercise has no relation to the specific conflict.
"It is not anything to do with the political situation," Wrenn says "This exercise was planned ahead of time. Countries were notified that it would occur and we can't directly connect with the situation going on. Rapid Trident has been going for years in Ukraine."
"Part of why this is larger this year is that there are two exercises going ahead at the same time in the same place," Wrenn explains. The Saber Guardian exercise rotates between host nations, it just so happens that this year it was Ukraine's turn to host it, coinciding with Rapid Trident.
Newsweek subscription offers >
"The two were held together and integrated with each other," Wrenn says. Training will begin tomorrow, after the end of Monday's opening ceremony.
"We will be looking at practicing skills such as casualty evacuation and first aid, reacting to being ambushed in both an offensive posture or in defensive mode, we are conducting training in how to identify and react to improvised explosives and devices and there will be some simulated outpost operations."
"These are all skills that are to be used either in combat or peacekeeping. Some Ukrainian armored vehicles will be included but most of the vehicles being used are just US humvees and wheeled vehicles," he adds. Contrary to some media reports, no air operations are scheduled as part of the exercise.
Although a period of relative calm followed in the east after a ceasefire agreement was signed by the rebel leaders, Russian president Vladimir Putin and Ukrainian president Petro Poroshenko in February, clashes have increased along contact lines in May and by June the rebels launched the largest offensive since the battle for the strategic town of Debaltseve on the eve of the ceasefire deal.
Rebel leader Alexander Zaharchenko once again publically set target towns which the rebels plan to "take" in May and Reuters, Nato and the Ukrainian government have all reported an increasing military build up on the Russian side of the border.
Since the start of the conflict with pro-Russian rebels in the east, Ukraine has led a series of reforms to its military in a bid to strengthen its efficiency in the short and long term. Eastern regions have obtained physical reinforcement bases and Ukraine has also pursued stronger ties with western neighbours such as the joint battalion it formed last year with Poland and Lithuania,
President Petro Poroshenko has pledged to increase Ukraine's security spending power, adding a further 5 billion hryvna (over €200 million or $216 million) to the defence budget, according to a statement released on his official website. Independent Russian news site Slon reported that the last Ukrainian budget allotted 90 billion hryvna to defence spending, which, together with Poroshenko's latest pledge equals around €4 billion ($4.3 billion.)
U.S. Leads 'Largest Multinational Exercise Held in Ukraine' | World