In early April, President Joe Biden announced that America will be ending its military presence in Afghanistan by September 11th of this year. "It is time to end America's longest war. It is time for American troops to come home," the President said in his speech announcing the withdrawal.
Biden's decision likely brought about a sigh of relief to many Americans, who surveys suggest are increasingly wary of our overseas involvements. That's no surprise; we've paid a heavy cost in blood and treasure in Afghanistan.
But we should remember that this is only the "end" of America's "longest war," as the President says. As U.S. troops depart from Afghan soil, that country's conflict between a central government based in Kabul and the Taliban insurgency will continue.
I talked to a range of advocates and researchers who have spent years working in and around Afghanistan. They were united in hoping that the United States continues to offer economic and diplomatic support to Afghanistan even after it militarily disengages.
"The gains—democratic gains, human rights gains, and so on—since 2001 are very, very fragile," Patricia Gossman, Associate Asia Director at Human Rights Watch told me.
Advocates for human rights like Belquis Ahmadi fear that these gains could be erased. She spent 20 years working in Afghanistan on issues like gender equality, human rights, and democracy reform. Today, she serves on the Board of Directors of Women for Afghan Women (WAW), which advocates for the women of Afghanistan, and as a Senior Program Officer at the United States Institute of Peace.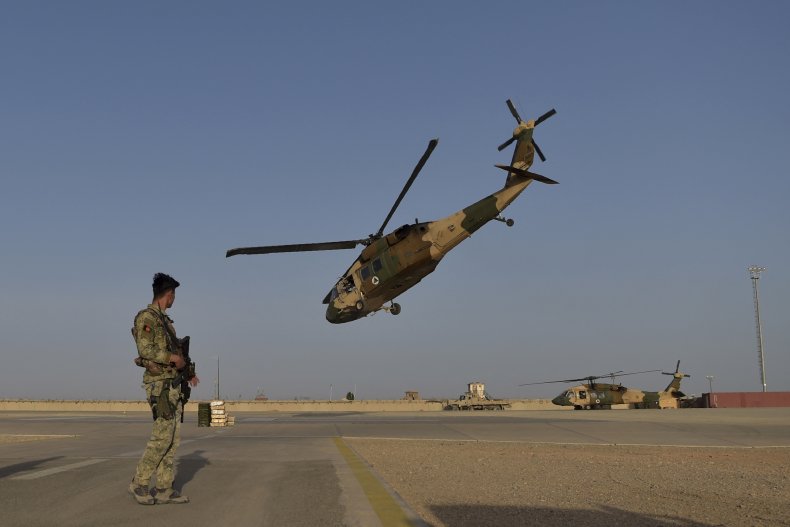 "We are not there, so we presume the issue is resolved. That goes back to the 1980's when the Soviets withdrew their troops. Americans and other internationals thought, 'mission accomplished,'" she lamented.
Ahmadi was referring to the Soviet Union's occupation of Afghanistan, which prompted the Reagan administration to funnel covert aid to Afghan rebels. This investment helped rout the Russians, but after the end of that war, the U.S. disengaged from the country entirely. The Taliban ended up taking over, and Afghanistan was denied the opportunity to properly develop itself. (This history was dramatized in the film "Charlie Wilson's War").
"I really hope that this time around, the international community does not abandon Afghanistan," said Ahmadi. "Afghan people have sacrificed so much for a better future, and they have accomplished a lot."
Indeed, over the past 20 years, Afghans have faced bullets to cast ballots in a series of relatively free elections. While corruption remains a problem, a fledgling government has made progress in expanding the rights of women and others.
"The wins that are among the most important are the opening of some space for civil society," Gossman said about some of the progress the country has made. "The fact that there are media who are critical voices that can try to hold government to account," or that women are holding public office, and women owning businesses.
So what can we do to preserve these fragile gains? Advocates said that leveraging foreign financial assistance is key.
"What we know is that Afghanistan is still a poor country; as of now half of its annual budget comes from international donors," Kevin Schumacher, the deputy executive director of WAW told me. "And through international financial and political pressures and persuasions, I think there is a very real chance that the international community can play a major role in Afghanistan."
In addition to economic support, domestic actors in Afghanistan also value diplomatic ties with the rest of the world. We can use that leverage to pressure actors within Afghanistan to respect human rights. We can leverage the fact that the Taliban have made clear that they also want diplomatic recognition, Gossman said.
But we should also think about engagement with Afghanistan as much more than just altruism on our part. "A lawless Afghanistan is in nobody's interest," Schumacher said.
After all, it was in the vacuum of chaos in the post-Soviet withdrawal that the Taliban took over the country and Al Qaeda found friendly sponsors. Americans often chafe at foreign aid, but the almost $5 billion we gave to Afghanistan in foreign aid during fiscal year 2019 is a drop in the bucket compared to the trillions we have spent on overseas conflict in the Middle East and Central Asia.
Of course, in continuing to support the people of Afghanistan, America probably can't do it alone. Many of our allies and regional partners will also have to play a key role in promoting stability and human rights in the country.
Ahmadi noted that countries like Pakistan and Qatar have influence over the Taliban. And they have to decide what side of history they want to be on, she said.
After two decades at war, the United States has decided that it cannot continue an indefinite military presence in Afghanistan. But that doesn't mean that Washington—and the rest of the world—should turn their backs on a country that has been through decades of conflict.
Millions of people in Afghanistan are depending on us to help preserve the progress of the past two decades, and it may very well be in our own interest to use the economic and diplomatic tools we have to prevent the country from spiraling into a situation where its violence may not stay within its own borders for long.
Zaid Jilani is a journalist who hails from Atlanta, Georgia. He has previously worked as a reporter-blogger for ThinkProgress, United Republic, the Progressive Change Campaign Committee, and Alternet. He is the cohost of the podcast "Extremely Offline."
The views in this article are the author's own.