Is U.S. Leaving Syria? Russia Hopes Trump Keeps His Promise to Bring Troops Home
Russia's top diplomat called on President Donald Trump to keep his word Monday after the Republican leader revealed his intention to withdraw U.S. personnel from Syria "like very soon" days earlier.
In a statement that appeared to contradict previous suggestions that the U.S. military would remain in Syria indefinitely to battle the remnants of the Islamic State militant group (ISIS), Trump said Thursday that it was time "other people" handled the jihadi threat. Russian Foreign Minister Sergey Lavrov told a press conference Monday that, while he found Trump's words encouraging, the U.S. has recently only become more entangled in the seven-year civil war in Syria, where the Moscow-backed government considered the U.S. and Turkey to be invading forces.
Related: U.S. military alliance in Syria could fall apart as Turkey fights its own war on 'terror'
"What we find particularly worrisome is that despite constant promises the United States' sole goal in Syria is struggle against terrorism over the past month we have seen U.S. efforts to get deeply entrenched on the eastern bank of the Euphrates," Lavrov said. Trump's statement, Lavrov added, suggested "he is committed at least to the previous promises the United States will leave Syria after victory over the Islamic State," according to the state-run Tass Russian news agency.
"It is important to bear in mind that the United States had sent its commandos and air forces and created a coalition in violation of the U.N. Charter, which requires respect for the sovereignty and territorial integrity of all member-states," he added.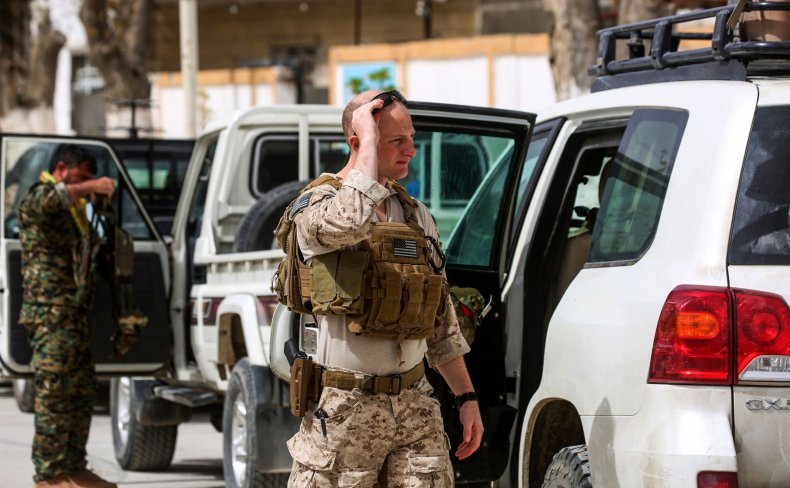 The U.S. and Russia are fighting two separate campaigns against ISIS in Syria. After offering covert support to insurgents trying to overthrow Syrian President Bashar al-Assad since 2011, the U.S. formed an international coalition to begin bombing ISIS in 2014. Russia entered the conflict the following year to help Assad against both rebels and jihadis, and around that same time, the Pentagon established the Syrian Democratic Forces, a mostly Kurdish militia that would replace CIA backing for what had become an increasingly jihadi opposition.
The Syrian Democratic Forces, however, has largely been split as Kurdish fighters fled the U.S.-led battle against ISIS to take on Turkish troops and Syrian rebel forces that considered Kurdish groups such as the People's Protection Units (YPG) to be terrorist organizations. Pro-Syrian government forces have allied with these Kurds in northern Syria, but have clashed with the largely Arab faction of the Syrian Democratic Forces in eastern Syria, where both the U.S. and Russia-backed campaigns against remaining ISIS militants have converged.
Both the U.S. and Russia have accused each other of mishandling the fight against ISIS. Meanwhile, the U.S.-led coalition offensive has particularly suffered due to the withdrawal of many Kurdish fighters, leaving ground operations suspended. Prior to Trump's comments Thursday, multiple statements from his administration suggested the U.S. military would remain in Syria indefinitely, despite lingering questions over the legality of its post-ISIS presence.
The Syrian military and its allies, which include Iran-backed and mostly Shiite Muslim militias, declared victory Saturday against anti-government groups active in outskirts of the capital. The win, which Syria's armed forces said in a statement would "fully restore security and stability to the city of Damascus" and deal "a crushing blow to the terrorist project against Syria," came after the government had declared victory against ISIS in November.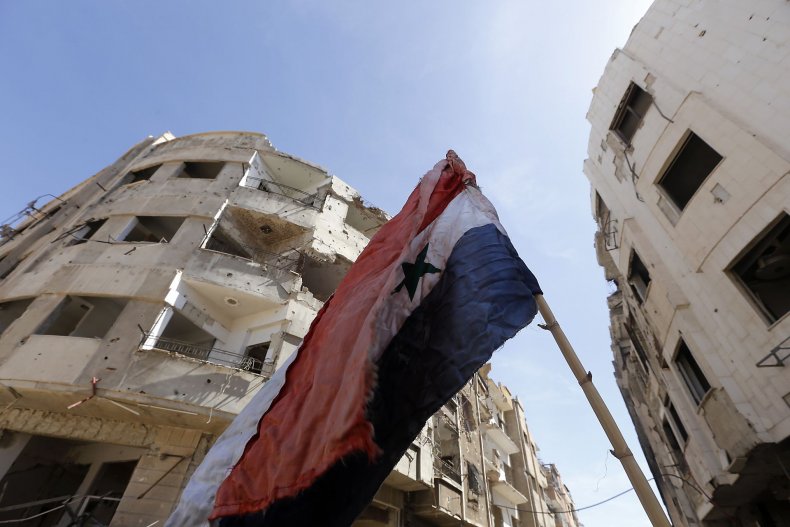 The spat over Syria's future has played out as overall relations between Russia and the West have worsened. Russia's 2014 annexation of the Crimean Peninsula amid a political uprising in neighboring Ukraine caused both Moscow and the U.S.-led NATO military alliance to bolster their firepower and defenses across Europe's borders.
Last month, the U.K. blamed Russia for the poisoning of a former Soviet intelligence officer who served as a double agent for London before his arrest and eventual release in a 2010 spy swap. Russia has denied responsibility for the incident, but the U.S., NATO and their allies have already expelled over 100 diplomats and shut down Russian consulates in response. Russia announced retaliatory measures last week and has suggested the West may have set Moscow up.
"There are other explanations besides those put forward by our Western colleagues, who declare that it can only be the Russians who are responsible," Lavrov said at Monday's conference, according to Sky News. "Experts say that it could be highly advantageous to the British security services as well, who are well known for their capacity to act with a licence to kill.
"It could also be advantageous to the British government, who clearly find themselves in a difficult situation, having failed to fulfil [sic] their promises to voters over Brexit," he added. "In times of cold war, there were some rules, but now Britain and the United States had dropped all propriety."