U.S.-Led Airstrikes Hit ISIS Across Iraq and Syria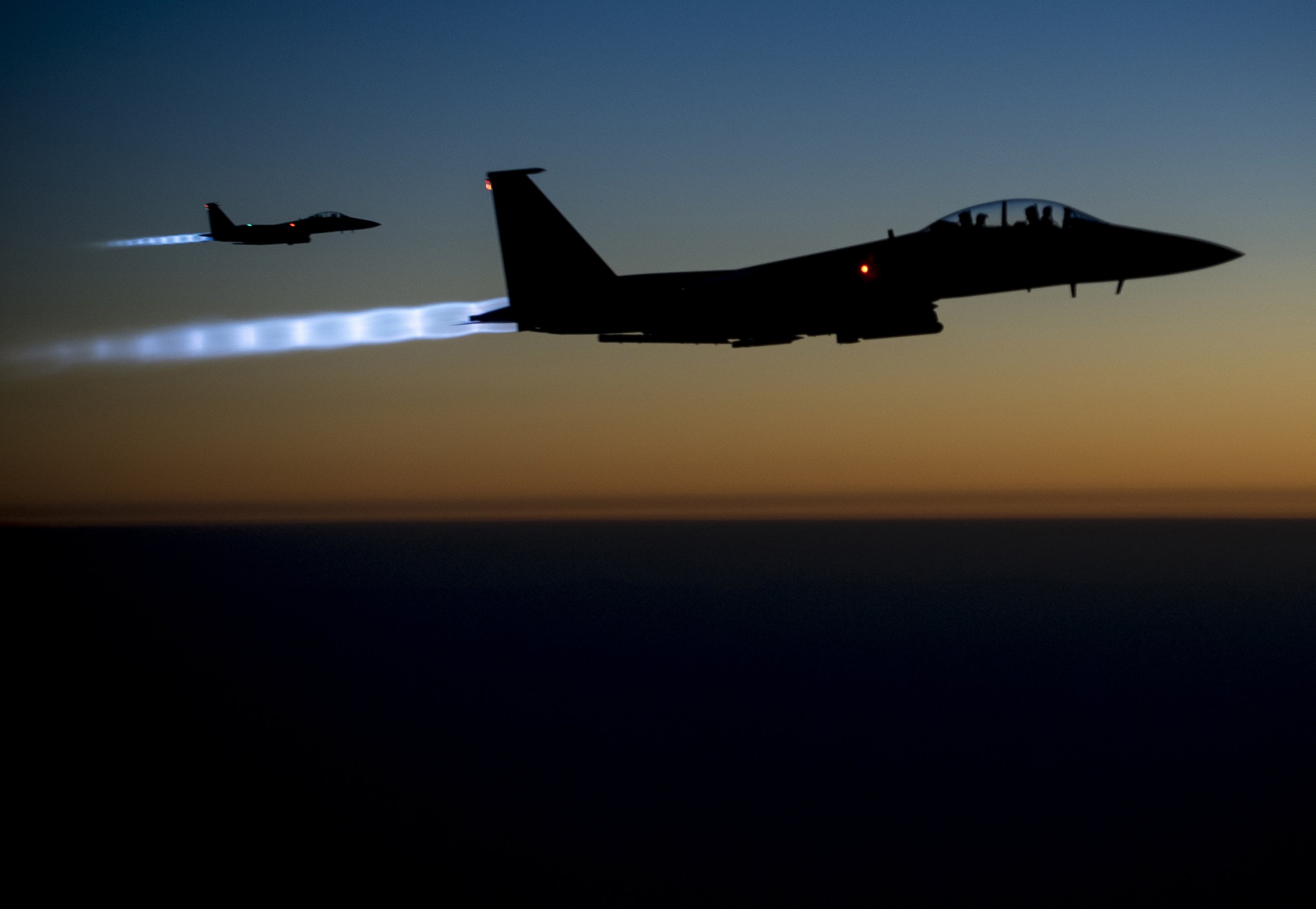 A series of 25 U.S.-led airstrikes hit Islamic State (ISIS) forces across Syria and Iraq early Monday and on Sunday. Last week, 15 airstrikes targeted the terrorist group in both countries as part of an ongoing operation to eliminate ISIS.
According to the Combined Joint Task Force, Sunday's strikes focused mainly on al-Hasakah, where 10 tactical units, two ISIS vehicles, a bunker and a fighting position were hit. Over the weekend, Kurdish forces also attacked several ISIS tactical units on the ground in the Syrian city. Speaking in general terms, a U.S. Central Command spokesperson said tactical units can contain around ten fighters, though exact figures are unknown.
Another six airstrikes hit ISIS strongholds in Kobani, which was technically liberated from terrorist control in late January. The war-torn city also endured five airstrikes last week. Sunday's strikes took out a large tactical unit and four smaller units, as well as five fighting positions.
Three strikes focused on the al-Asad region in Iraq. An airbase in the area was targeted by ISIS fighters earlier this month, though Iraqi forces were able to quickly repel the attack. The airbase is home to more than 300 U.S. Marines. The weekend strike hit ISIS tactical units, fighting positions and a checkpoint. A checkpoint in Mosul, Iraq was also hit, though Mosul remains under ISIS control.
Neither the Task Force nor the United States Central Command could confirm the exact number of militants killed in the numerous airstrikes. Due to a lack of troops on the ground, an exact count is impossible, a spokesman for the Central Command told Newsweek. Speaking in general terms, the spokesman explained that attacks on fighting positions may or may not result in militants being killed.