U.S.-led Coalition Has Been Fighting Hundreds of ISIS Militants in Syria Despite Trump Claiming Group Was Defeated
Less than a week after President Donald Trump announced his intent to withdraw U.S. troops from Syria, claiming that the Islamic State militant group had been defeated, the American-led coalition fighting the group revealed it "removed" hundreds of ISIS fighters in the war-torn Middle Eastern country.
On Tuesday, the coalition announced it had carried out "precision airstrikes and coordinated fires to make further progress in the fight against ISIS" between December 16 and 22.
Related: Why is U.S. in Syria, and how many troops are there? Donald Trump is withdrawing from war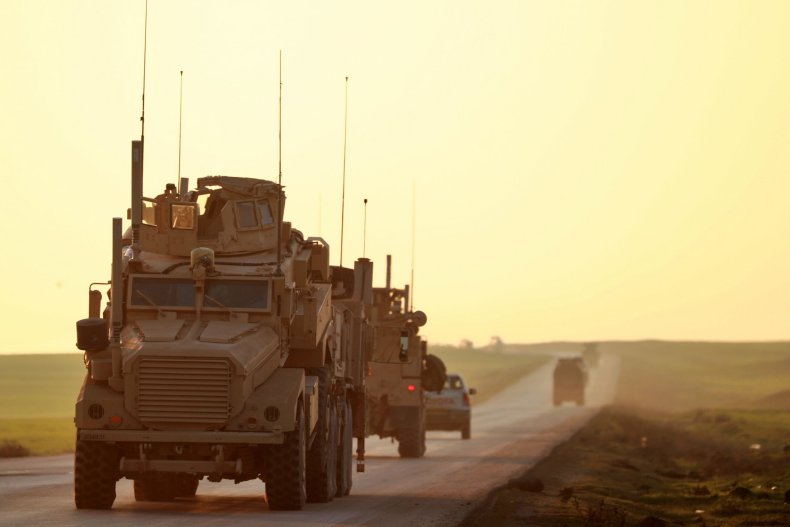 According to a statement by the Operation Inherent Resolve task force, it has "removed several hundred ISIS fighters from the battlefield." In addition, the coalition said it destroyed logistics facilities and staging areas used by ISIS. The attacks have "severely degraded" ISIS's ability to maneuver in the area and delivered a "significant blow" to the organization's efforts to fund "terrorist activities."
"Coalition partner forces continue to advance through the last remaining stronghold ISIS has in the region, rooting out the fighting positions of ISIS fighters," the statement concluded.
U.K. Army Major General Christopher Ghika, deputy commander of the coalition, said in the statement: "ISIS presents a very real threat to the long-term stability in this region and our mission remains the same, the enduring defeat of ISIS."
The statement came after Trump announced on December 19 that ISIS had been defeated in Syria, prompting him to order the complete withdrawal of 2,000 U.S. military personnel from the country. The announcement appeared to come as a surprise to U.S. officials and international allies, and drew criticism from Republicans, Democrats and several world leaders.
A Pentagon source told Newsweek following the announcement that it was too early to detail the timeline of the withdrawal. The military did not expect the move, and the withdrawal would be phased and immediate, the source said.
On December 20, Defense Secretary General Jim Mattis stepped down from his post in an unforeseen resignation, stating Trump had "the right to a defense secretary whose views are better aligned with yours on these and other subjects."
Republican Senator Lindsey Graham of South Carolina, generally perceived as an ally of the president, called the withdrawal a "huge Obama-like mistake. With all due respect, ISIS is not defeated in Syria, Iraq, and after just returning from visiting there—certainly not Afghanistan," he tweeted. Graham warned pulling out risked enabling ISIS to regain strength in the region.
French President Emmanuel Macron was among world leaders to question the wisdom of the withdrawal. Macron said at a news conference in Chad on Sunday: "I very deeply regret the decision. To be allies is to fight shoulder to shoulder. It's the most important thing for a head of state and head of the military. An ally should be dependable."