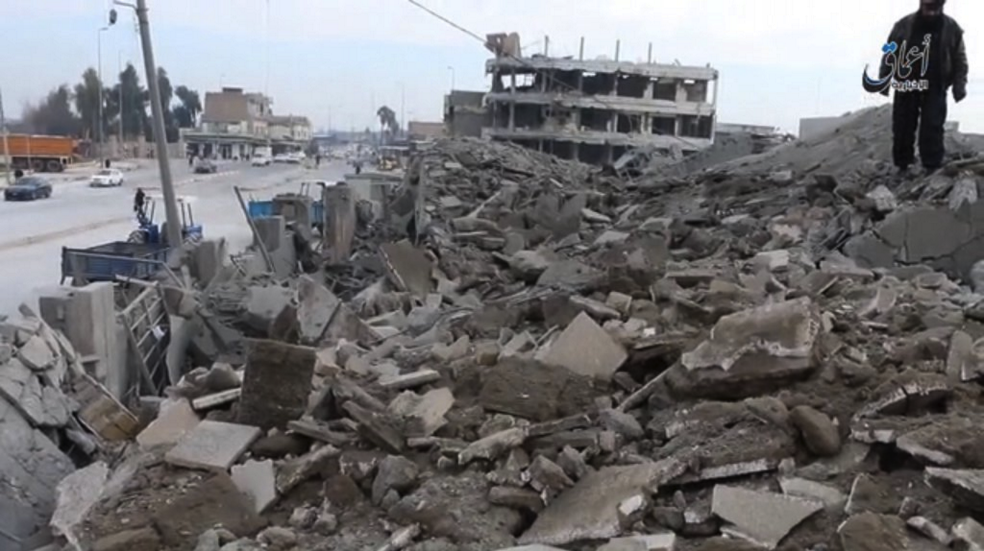 The U.S.-led coalition targeting the Islamic State militant group (ISIS) in Iraq destroyed four bank facilities in air strikes in the northern city of Mosul early Sunday, according to the coalition, activists and ISIS's Amaq news agency.
The radical Islamists released a video showing buildings on fire and damage to bank facilities in Iraq's second-biggest city. They claimed that the strikes targeted the offices of the Central Bank, al-Rasheed Bank, al-Aqari Bank and Abu Tammam Bank.
ISIS media said that the bank buildings were "targeted in multiple strikes after midnight" on Saturday, according to Evan Kohlmann, co-founder of U.S.-based jihadi monitoring service Flashpoint Intel.
On Sunday, the U.S.-led coalition confirmed that it had targeted "two ISIL financial storage centers, and two ISIL financial distribution centers" in Mosul, using another acronym for ISIS, and that "all aircraft returned to base safely." When asked about the locations of the strikes on Monday by Newsweek, the coalition did not immediately respond.
However, the activist group inside Mosul, known as Mosul Eye, claimed that all of the buildings were emptied of cash before the strikes and that the coalition was targeting the city's everyday infrastructure.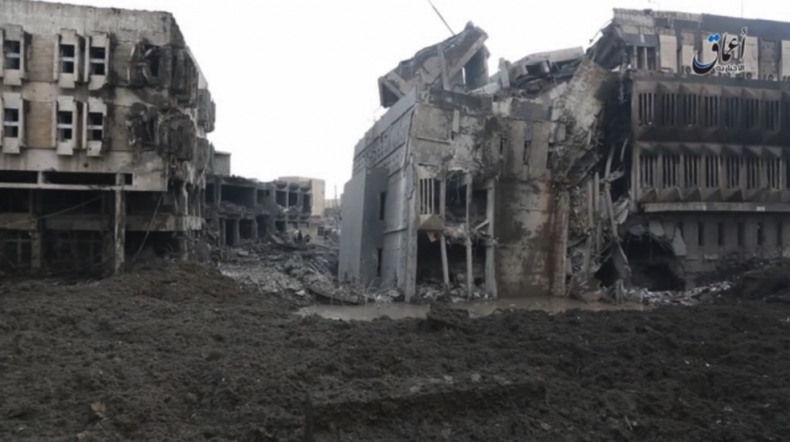 "The banks were totally empty of any cash and we still do not understand why the coalition still insists to target empty banks," the group wrote on Facebook on Sunday, adding that at least 16 ISIS militants were killed in the strikes, although this number could not be independently verified. "We request the coalition to clarify in a statement about targeting 'civil sites' that are part of the infrastructure of Mosul and does not belong to ISIL."
The coalition conducted 12 strikes in total on Mosul, also targeting "two separate ISIL tactical units," an "ISIL headquarters" and "12 ISIL fighting positions."
This is not the first time that the coalition has targeted ISIS's banking facilities. It is conducting a bombing strategy that seeks to disrupt ISIS's financing operations, purportedly destroying another bank, al-Zuhour, in Mosul in January, according to a video released by ISIS.
Last month, a senior U.S. defense official told Newsweek that a coalition air strike destroyed "millions" of dollars of ISIS cash reserves in Mosul that were used for funding oil, looting and extortion.
In the militant group's land-grab across northern Iraq, it stole hundreds of millions of dollars from financial institutions, the Iraqi finance minister said in 2015.