U.S. Life Expectancy Is Falling Because Fentanyl Drug Overdoses Are Killing Americans in Terrifying Numbers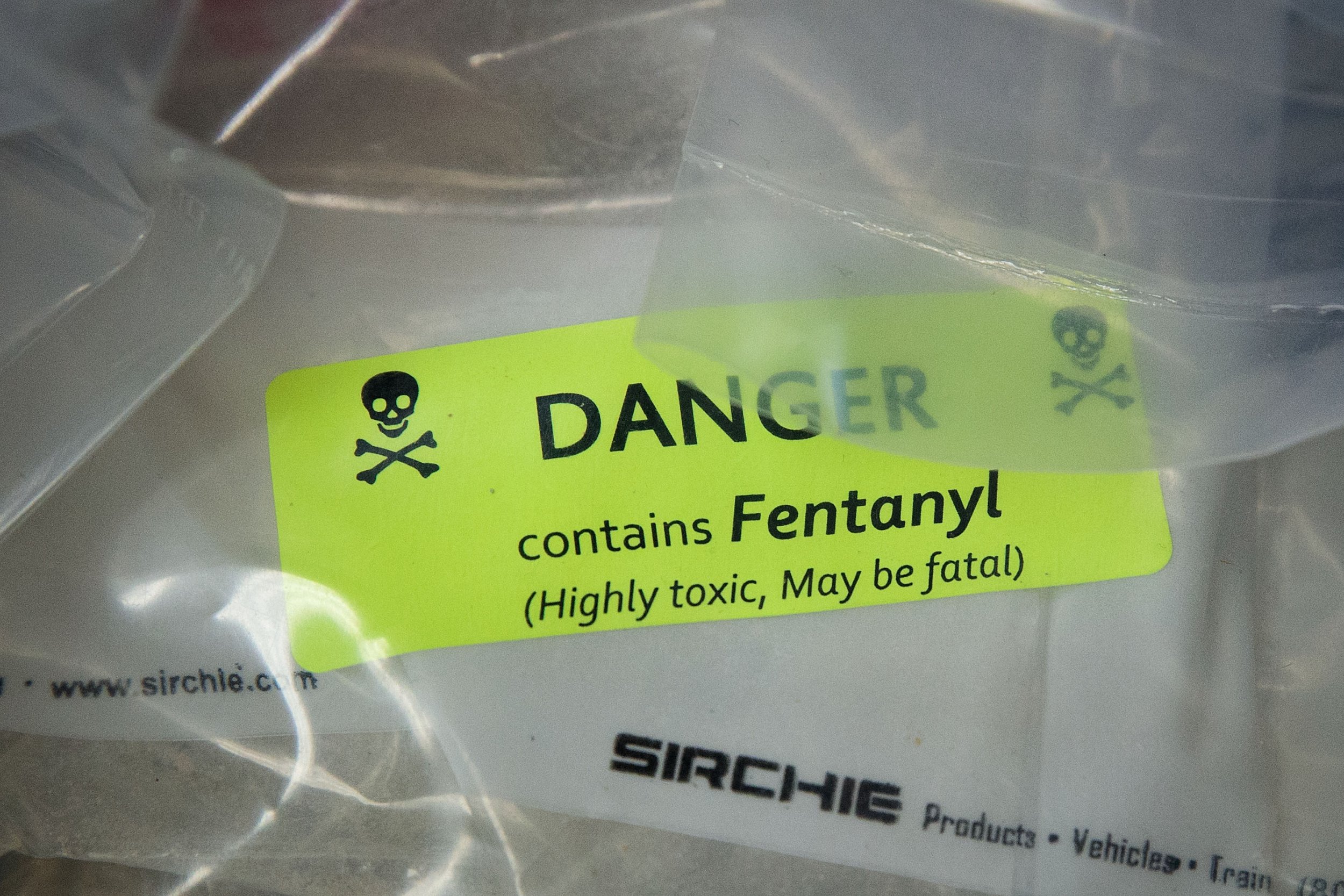 Updated | Late last year, a man went to his 10-year high school reunion in a small town just outside of Charleston, West Virginia. His close-knit community meant no one was forgotten a decade after graduation. "Everyone knows who is there and who is not there," said Dr. Daniel Ciccarone, a researcher from the University of California, San Francisco.
The former classmates began comparing notes—not about jobs and families, but about lives that had already ended. "Half of his high school class is dead," said Ciccarone, who visited the region and interviewed the man in February. "Drugs, alcohol, pills and heroin."
This true snapshot is a vivid illustration of data released Thursday morning by the Centers for Disease Control and Prevention. For the first time in a generation, the life expectancy for Americans has declined for the second year in a row. The decline is driven primarily by continued, massive increases in deaths from drug overdoses—about two-thirds of which are overdoses on opioids like heroin and fentanyl.
West Virginia is particularly hard hit, with 52 overdose-related deaths per 100,000 people in 2016. That's 32-percent higher than in Ohio, the state with the second-highest rate. Across the country, the death rate due to fentanyl overdoses doubled between 2015 and 2016 and has likely continued to climb even higher in 2017.
Even among this carnage, the number of deaths from synthetic opioids is shocking. This category, which omits methadone, used for recovering opioid abusers, is dominated by fentanyl and fentanyl-like drugs. The national death rate due to overdoses of these drugs doubled, from 3.1 deaths per 100,000 people to 6.2.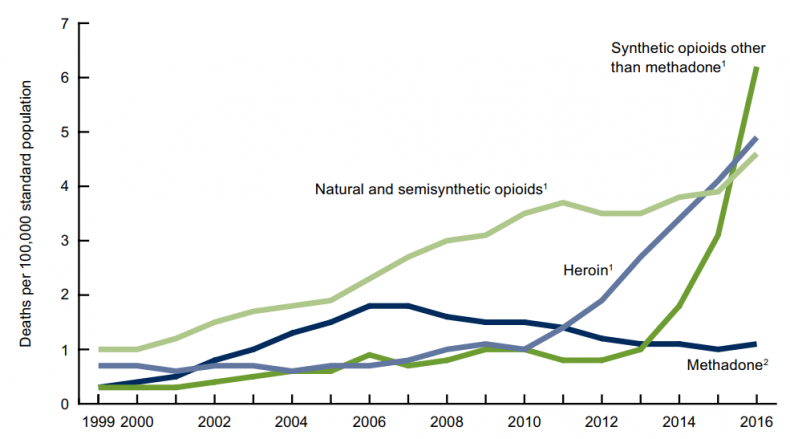 A graph included in the report detailing the death rate due to opioid overdoses, broken down by category, bears a resemblance to a climate scientist's notorious hockey stick graph—that is, a nearly vertical increase indicating a steep spike within a short time frame. In other words, something is going horribly and frighteningly wrong.
"This is an attack curve. This is what makes an infectious disease epidemiologist stay up at night, when they start seeing data like this," Ciccarone said. And perhaps that is the better way to frame this particular crisis, he said—as if there is an insidious biological agent spreading throughout the country. In a way, there is.
"We've been looking at this like a drug epidemic," he said. "This is a poisoning epidemic. Fentanyl is not a choice. It's a contamination crisis."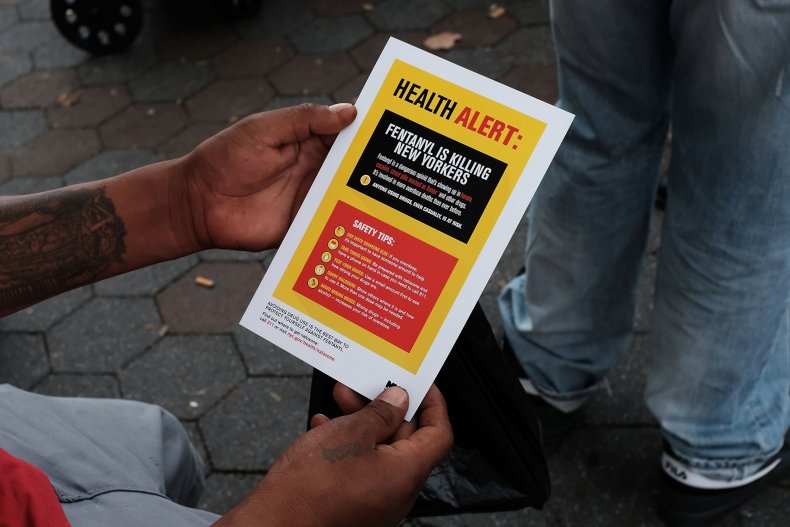 About 63,600 Americans died from drug overdoses last year, the CDC data show. About 42,000 of them died after taking opioids. Among these deaths, 19,000 were due to a synthetic opioid.
Those who are familiar with the toll these drugs are taking have come to expect such figures—but that doesn't make them less disturbing. "We've been watching the numbers rise pretty rapidly. When we compiled our final file for 2016, we knew that it was going to be a big increase," said Bob Anderson, chief of the mortality statistics branch at the CDC's National Center for Health Statistics. "When you look at that graph for the synthetic opioids—I don't know. Surprise is not quite the right word. It just astounds me to look at it. But we knew this would happen."
It's true that fentanyl is not the only reason behind the decline in life expectancy observed last year. Because heroin and fentanyl are often mixed, determining the actual cause of death can be impossible. And factors other than drugs influence life expectancy data, too. The rate of deaths from heart disease also dropped less than expected, for example. Americans can still expect to live a pretty long time—78.6 years—and the decline in life expectancy seems small, dropping by just 0.1 year. (According to the World Health Organization, the average life expectancy around the world is about 71.4 years.)
However, Anderson said, there's no reason to believe overdose deaths will decrease next year. The numbers from this year so far don't look good. "My guess is that when we get the final data for 2017, we're going to see more of the same," he said.
Such an increase will be in spite of the fact that steps could have been taken, Ciccarone said. "We have good clinical and public health tools to address opioid use disorder," he said, including real-time surveillance of the kinds of drugs that are currently available. Using some so-called harm reduction strategies, which aim not at eliminating drug use but making it safer, might also help; Ciccarone noted these include establishing "overdose prevention sites" where people can take drugs with supervision and distributing naloxone, a drug that can reverse an opioid overdose. But the resources and the will to offer these measures are missing.
"It's a crisis," Ciccarone said. "I've been studying this for a long time. This is the worst I've ever seen."
This story has been updated to include more information on treatment and public health tools for opioid use disorder.
SaveSave