The elusive leader of the Islamic State militant group (ISIS) may have once again surfaced in a rare recording shared across social media Wednesday by his global followers.
The 55-minute recording entitled "Give Glad Tidings to the Patient" and attributed to ISIS's official Furqan Media Group urges Muslims to continue waging a violent holy struggle against perceived enemies, including the West and other countries involved in military operations against the group in Iraq and Syria. The group seized half of both countries in lightning offensives in 2014, when Baghdadi made his first and only public appearance. Since then numerous reports of his death or serious injury have emerged as his group lost nearly all of its territory. The last recording claiming to be of Baghdadi was released by the group in September.
"For the Mujahideen [holy warriors] the scale of victory or defeat is not dependant on a city or town being stolen or subject to that who has aerial superiority, intercontinental missiles or smart bombs," Baghdadi said, according to Reuters.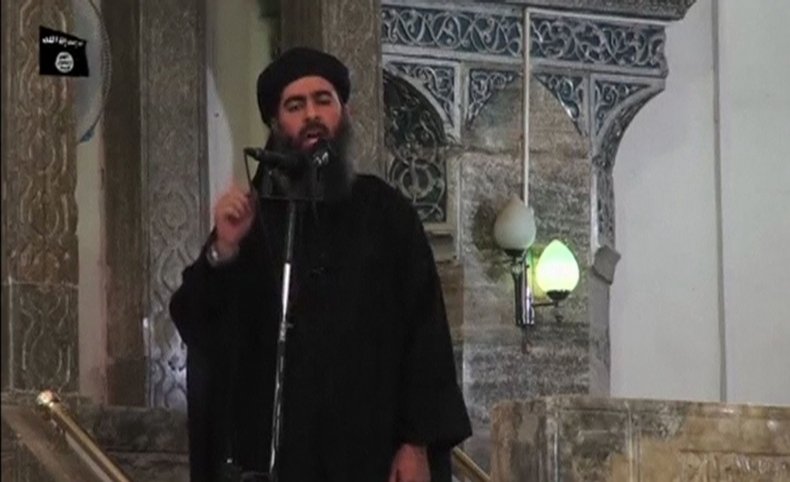 Baghdadi, who first led what was known as the Islamic State of Iraq in 2010 before spreading it to Syria and renaming it ISIS in 2013, is one of the most wanted men in the world. His jihadi takeover of Iraq and Syria drew international military action from a U.S.-led coalition, Russia, Iran and other regional powers. While the group has been pushed to the brink of defeat, the voice purporting to be Baghdadi focused on recent events that he said signified victories on the part of ISIS.
In the message, Baghdadi said that the fight against ISIS had inflicted an economic strain on the U.S. As a result, the U.S. was "living through its worst period in modern history" and was lashing out with sanctions "as was witnessed in Turkey." He also discussed U.S. foreign policy toward Russia, Iran and North Korea, saying their refusal to abide by U.S. foreign policy was a sign of its growing weakness as well as of a crumbling coalition against ISIS.
He then discusses the military situation in Syria, mentioning lost battles in the southern Damascus suburb of Yarmouk and in Sweida, where the Syrian military has recently regained control. Syrian President Bashar al-Assad—backed by Russia and Iran—has retaken most of the country, leaving only about a quarter in the hands of the U.S.-backed Syrian Democratic Forces and the northwestern province of Idlib under the control of an Islamist-led insurgency. Baghdadi called on rebels here to pledge their allegiance to ISIS instead of reconciling with the government. The apparent Baghdadi recording also criticized U.S. policy in Iraq, claiming Washington had handed the country to Iran, and appealed for Muslims in Saudi Arabia and Jordan to overthrow their kingdoms.
"The phraseology used in the introduction segment, as well as in messaging used to promote this material is intended to convey Baghdadi is alive. Islamic State has broken from its normal tactic of rigorously promoting announcements of forthcoming address by Baghdadi and the group's spokesman," terrorism analyst Michael S. Smith II told Newsweek in a statement, noting that social media notice was only given about an hour and a half prior to the tape's release as opposed to more aggressive social media campaigns in past cases.
This suggests Baghdadi's security protocols have changed somewhat, and there is virtually no interaction between his handlers and the propagandists tasked with proliferating these materials on popular websites where they can then work to identify prospective recruits after people help with promoting these addresses," he added. "The absence of the usual business of providing notice of a forthcoming address suggests Islamic State perceived there is an urgent need to distribute this material, which could function as a trigger for attacks."
If alive, Baghdadi, whose son the group said last month had been killed in a suicide operation in Syria, is believed to be hiding in a rapidly-shrinking pocket of desert land between Iraq and Syria, where both local and international powers were hunting for the secretive jihadi leader.