U.S. Made 2 Calls in 4 Months to Assure China It Would Not Attack During Trump Admin: Book
Joint Chiefs Chairman Mark Milley made two calls to China over a 4 month period to assure the Asian nation that the U.S. would not attack, according to a new book from two Washington Post journalists.
Milley, the U.S' top military officer, made the calls on October 30, 2020, just days before the presidential election, and on January 8, 2021, two days after the U.S. Capitol riot as Congress met to confirm Joe Biden's win over Donald Trump, the duo's book, Peril, says.
According to a released excerpt from the book, Milley believed Trump suffered a mental decline after the election, in which he spoke to House Speaker Nancy Pelosi about possible precautions against unnecessary nuclear launches or military actions. Milley also reportedly asked senior officers to swear an "oath" to include him in any order from Trump to launch nuclear weapons.
In the calls, Milley, worried about Trump's actions in his final weeks as president, and assured General Li Zuocheng of the People's Liberation Army that if the U.S. were to attack China, he would warn of it beforehand.
The second call to China, the book excerpt says, was to assure China of the stability of the U.S. government, although Li was not easily convinced.
Milley promised him, "We are 100 percent steady. Everything's fine. But democracy can be sloppy sometimes."
For more reporting from the Associated Press, see below.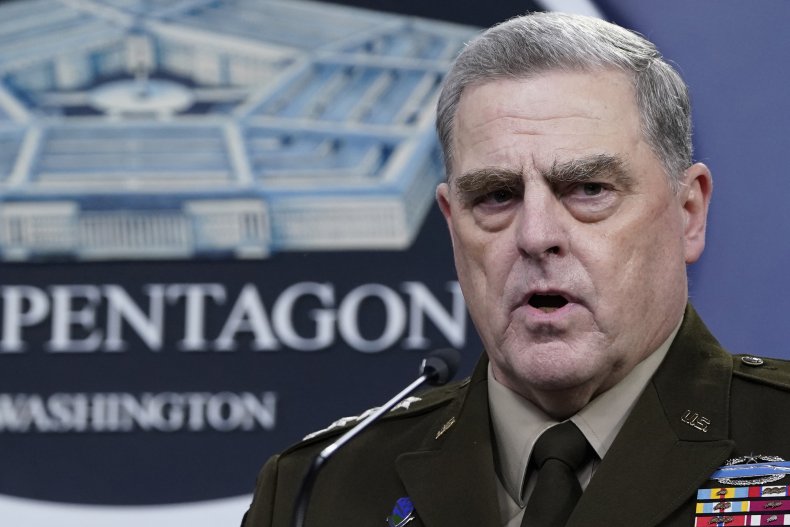 Milley was appointed by Trump in 2018 and later drew the president's wrath when he expressed regret for participating in a June 2020 photo op with Trump after federal law enforcement cleared a park near the White House of peaceful protesters so Trump could stand at a nearby damaged church.
Requests for comment from Milley were not immediately returned. Milley's second warning to Beijing came after Trump had fired Secretary of Defense Mike Esper and filled several top positions with interim officeholders loyal to him.
The book also offers new insights into Trump's efforts to hold on to power despite losing the election to Biden.
Trump refused to concede and offered false claims that the election had been stolen. He repeatedly pressed his vice president, Mike Pence, to refuse to certify the election results at the Capitol on Jan. 6, the event that was later interrupted by the mob.
Pence, the book writes, called Dan Quayle, a former vice president and fellow Indiana Republican, to see if there was any way he could acquiesce to Trump's request. Quayle said absolutely not.
"Mike, you have no flexibility on this. None. Zero. Forget it. Put it away," Quayle said, according to the book.
Pence ultimately agreed. He defied Trump to affirm Biden's victory.